LONDON – 28 January 2017. We're delighted to announce the latest release of FundPress, which includes a number of major feature updates. Whilst our FundPress customers are already enjoying the core benefits such as Data Healthcheck, Data Dictionary and Disclaimer Management, this new release enables fund marketers to really orchestrate their data across their digital footprint.
The latest FundPress release includes:
Digital Factsheet Production: Users now have the ability to produce their digital factsheets via a customisable workflow.
Fund Tools Gallery & WordPress Central: Users now have a central place to access and preview their sites and fund tools inside of FundPress. Our fund tools projects can now be deployed to and served from FundPress centrally, which allows our partners to deploy to our system directly even when outside of our environments.
Layout Configurations: A new module that allows users to configure their fund tools and factsheets based on their business rules, but without having to log a support ticket or have an engineer perform changes.
UI Improvements: A general refresh of the UI and improvements to large grids, such as sticky columns and headers.

There are also several exciting features in development right now:
SSO Support: Users who use SAML 2.0 as their identity provider will be able to authenticate their users to our platform with no additional development work. A UI allows them to configure their single sign on integration easily.
Client & User Administration: Will enable our operations and Customer Success teams to add customers themselves through a UI, and to permission modules of our system in a more granular way. Will enable customers to restrict access to certain modules of the application on a user by user basis.
Document Auditing: Allows users to evidence what documents were in use on their websites at any point in time.
Document Analytics and Pardot Integration: We will start to track downloads of documents in our system. These analytics will be displayed in a dashboard and will be customisable per client based on their meta tags. Finally, we will allow customers to push their document analytics to Pardot so that sales teams can include document downloads as an actionable piece of intelligence in their sales and marketing automation process.
KIIDS: We will be expanding our document production workflow to handle KIIDs.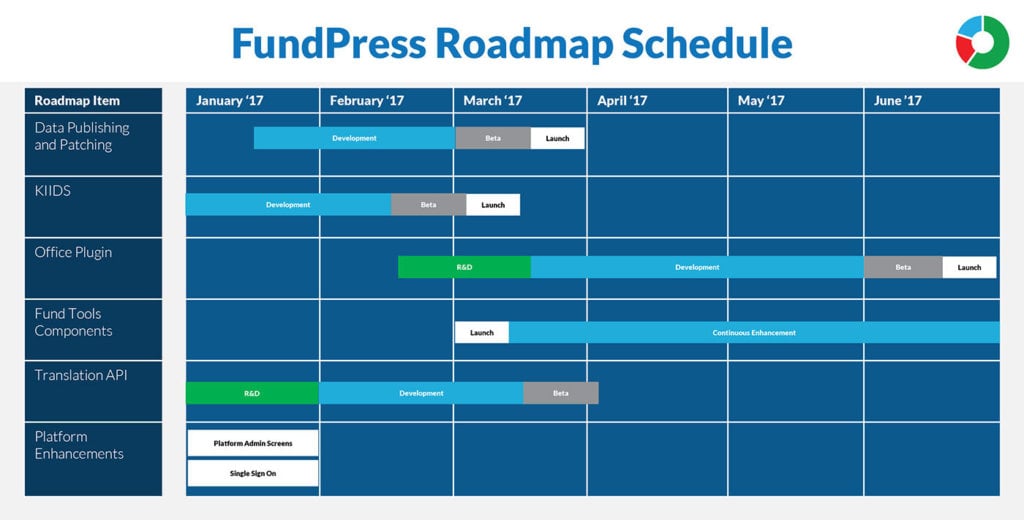 For more information on FundPress and to schedule a demo with our team, please visit this page.