67 global sites delivered in record time to enable a global sales force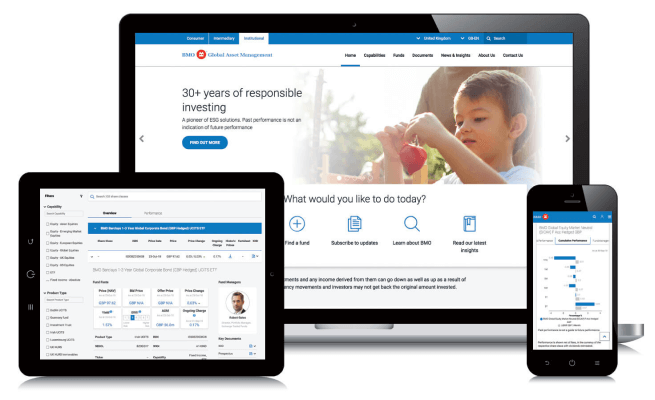 "The BMO Global Asset Management website project was immense in terms of scale and also complexity in delivering over 60 websites with branded components and a fund center for our different regional sites"
- Ross Duncton, BMOGAM Head of Marketing​
About
BMO Global Asset Management (BMOGAM ) is a global investment management firm operating from more than 20 offices in 14 countries. The firm has investment teams operating around the world across a range of asset types. Where appropriate, teams may combine areas of expertise in a broader global structure which, through 11 specialisms, affords a global perspective on the delivery of client-specific products.
BMOGAM is part of the BMO Financial Group. Established in 1817 and based in North America, the BMO Financial Group manages CAD 710 billion in assets and has more than 45,000 employees.
The Challenge
BMOGAM approached Kurtosys with the ambitious goal of delivering a new global website platform within six months. Two key requirements stood out: a new content management system (CMS) platform to manage up to 67 in-country websites, in multiple languages and for multiple investor types; and a dynamic fund center to house up to 500 share classes and 5,000 accompanying documents in a dynamic and consistent user experience. 
BMOGAM wanted a single provider to deliver the whole project, both to reduce supplier management complexity and enable project agility in its partnership/collaboration, using small teams. The firm also wanted to invest in a platform that would enhance digital communications across all its content and data and improve the client experience. 
The CMS element of the project required a product that could be distributed across BMO's marketing teams at a local level and with minimal training, empowering marketers to make website updates quickly and easily without learning complex processes or user interfaces.
The Solution
Kurtosys duly delivered full design and implementation of the 67 in-country websites, with support for multiple languages and investor types and totalling over 1,300 pages – all aligned to the latest BMOGAM brand guidelines. The responsive page design covers all device and browser types and is powered via the Kurtosys Digital Experience Management (DXM) platform. The multi-site installation includes various plugins and components to allow the BMOGAM team to quickly create new pages and sections within all sites at country level. 
In turn, the Fund Center combines data and documents into an 'explorer' interface with custom filters, annualised and cumulative performance charts, and details such as 'fund facts', fund managers and other pertinent information. Kurtosys uses the Cloudflare Content Delivery Network (CDN), reducing page speed and loading times for an optimised global experience across all sites. A standalone document library was also added to allow users to quickly access individual documents or download all documents for any specific product. 
Data and documents are updated via Kurtosys APIs and self-managed by BMOGAM using Kurtosys Data and Kurtosys Documents, which both allow for bulk changes, reducing time and overheads. 
The results
The project was delivered on time and within the six-month deadline, enabling www.bmogam.com to go live on schedule. The project to date represents the completion of Phase one of a larger project, with BMO looking to build out further functionality across the platform globally. With an average project of this scale normally taking up to 12 months.