A complete automation solution for both digital and client reporting
"We hoped to use a provider who were experts in our field, and all the solutions that come with it in terms of regulation and reporting."
- Flora Scott, Marketing​
About
Redwheel is an independent investment manager that provides active strategies investing in liquid assets. They specialise in developed and emerging market equities, convertible bonds and income solutions and has $10.7 billion in assets under management (as of December 2016).
Redwheel are passionate about providing investors with a great user experience and have invested in their digital footprint with a view to making continuous future improvements.
The Challenge
Redwheel approached Kurtosys with a requirement to build out a new website that would accomplish a series of goals for their marketing team. Firstly, they needed a more up-to-date CMS which would allow their team to publish more content, across a range of country sites, such as US/UK specific fund content. Secondly, they wanted a fresh new responsive design which was mobile friendly across the site. Thirdly, they wanted to use the same fund data that was ingested for the web pages for their fund factsheets – and allow investors to download PDFs that were up-to-date (and not over a month old).
They needed a technology platform that would grow with their business and ultimately they were looking to save time and resources by using better digital technology.
The Solution
Kurtosys created a responsive WordPress website with multi-site functionality to cover 17 country sites and two investor types. WordPress training was supplied to the Redwheel marketing team to enable them to create content, use the built-in SEO tools to optimize for search engines and publish across multiple sites. Because of the open source nature of WordPress, Redwheel can add useful plugins as required, but with the knowledge that security is underpinned by the Kurtosys platform.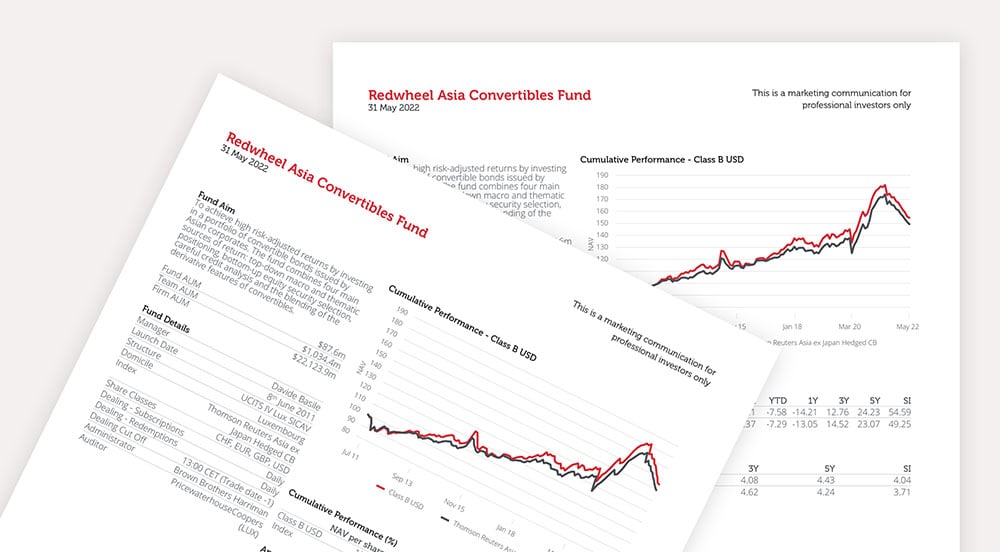 Fund data is ingested into the Kurtosys platform and is used for both the fund product pages and the factsheets that are dynamically generated. Redwheel have saved time and resources by automating processes using their data, and now have a digital platform that can scale with their business.
The results
Here's a breakdown of the some of the core features integrated into the Redwheel project:
Website & Fund Tools
Fully responsive WordPress website
Multi-site instance covering 17 countries and 2 investor types
Drag & drop content editing directly managed by Redwheel
UCITs Fund Explorer featuring share class breakdown and PDF KIID docs
Fund filters for Investment team and share class
Fund Literature library (inc Fund Factsheets, Annual Reports & Prospectuses)
Fund pages for UCITs funds featuring the following components:

Dynamic cumulative performance chart
Fund commentary
Fund Aim, Fund Details and Fund Codes
Fund, Team & Firm AUM figures
Fund details including Top 10 holdings
PDF downloads: factsheets, prospectus, manager insights

Document Generation
22 Digital factsheets across the Redwheel fund range
Hi-res PDFs generated using Kurtosys HTML-PDF technology
PDFs are generated on-the-fly using the same data from the fund web pages