Rapidly configure aesthetically pleasing and powerful elements including graphs, pie charts and text apps with bespoke styling and custom designs. Easily integrated into a multitude of reporting formats as well as web pages.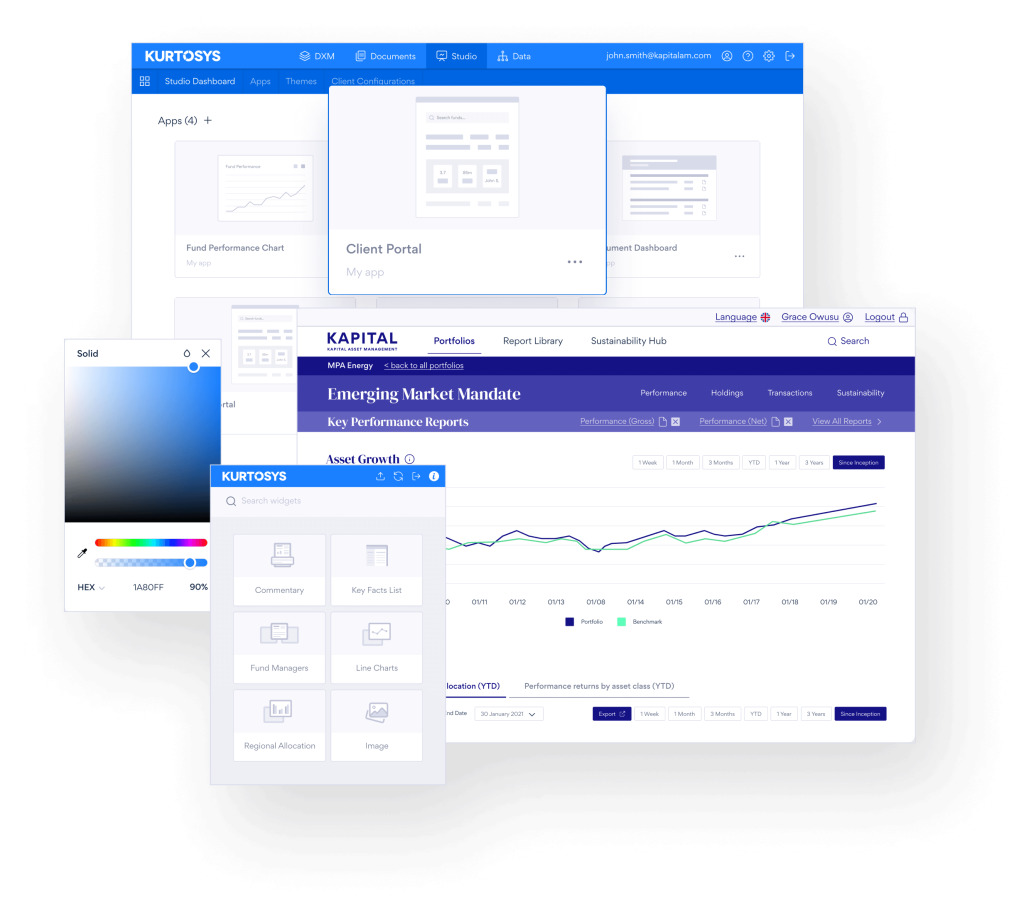 Investment Data Experiences
Studio contains an extensive library of UX modules to build out fund buyer journeys, investor portals, and more.
Configure stunning data visualizations for use in your website or print materials.
Leverage our library of modules and configure them to suit your needs. Create sophisticated digital experiences and documents without the burden of coding, testing, optimizing, and maintaining.
Studio modules connect to Kurtosys Data, DXM, and Documents natively, as well as the 'Studio For' line of plugins to Microsoft Office and Adobe InDesign.
Kurtosys Studio contains a library of over 40 base applications and components, each of which exposes many thousands of variations based on functionality and styling.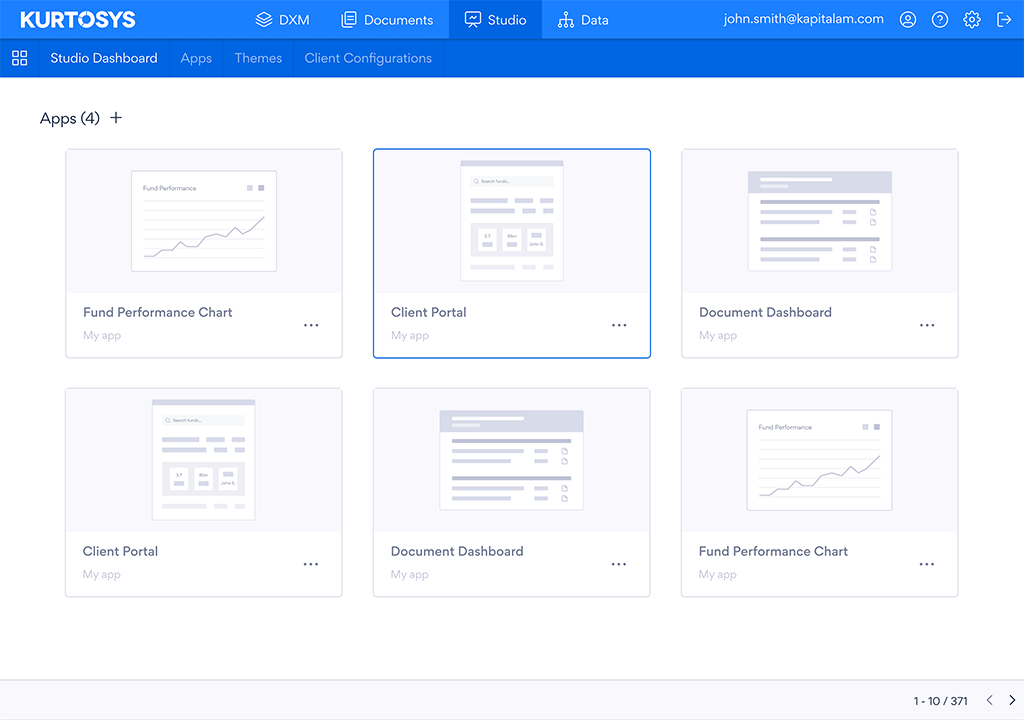 Apps that allow clients to easily and efficiently search for, view and download documents.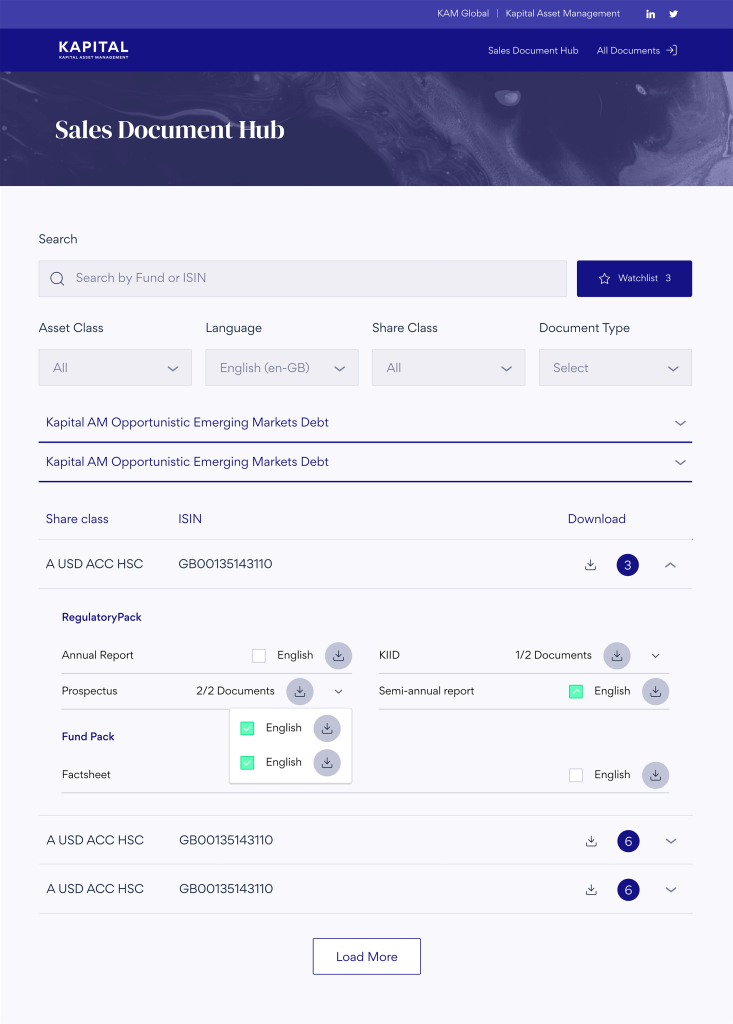 Investment Explorers & Data Discovery
A series of apps designed with client-specific access in mind to search for and view appropriate funds and other data based on investor status and jurisdiction.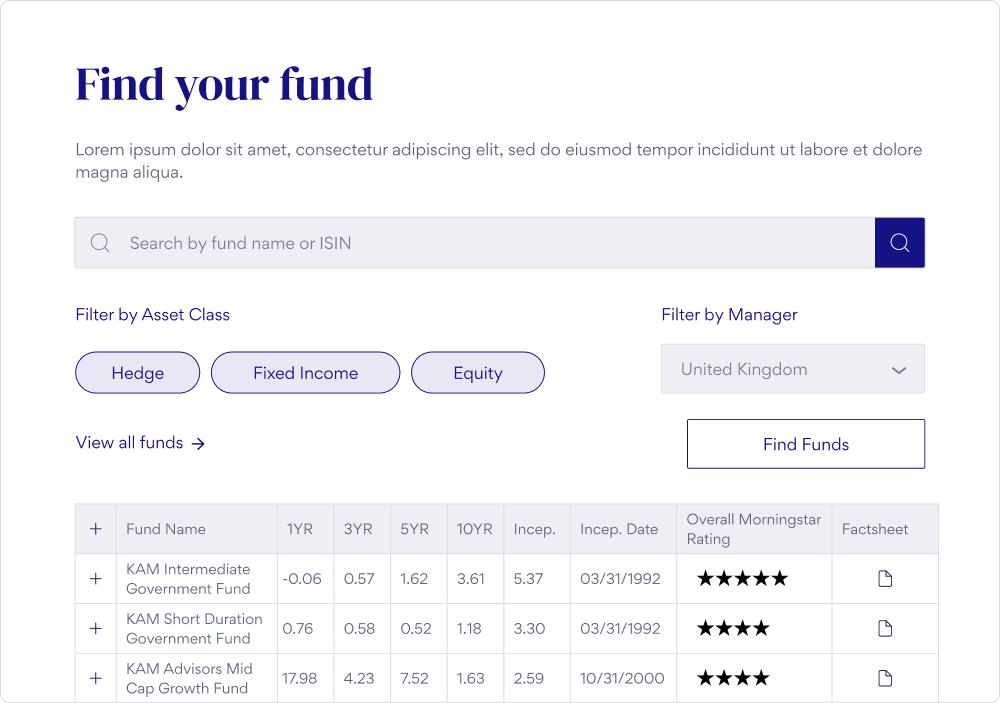 Showcase your fund ranges to prospective buyers and surface critical information.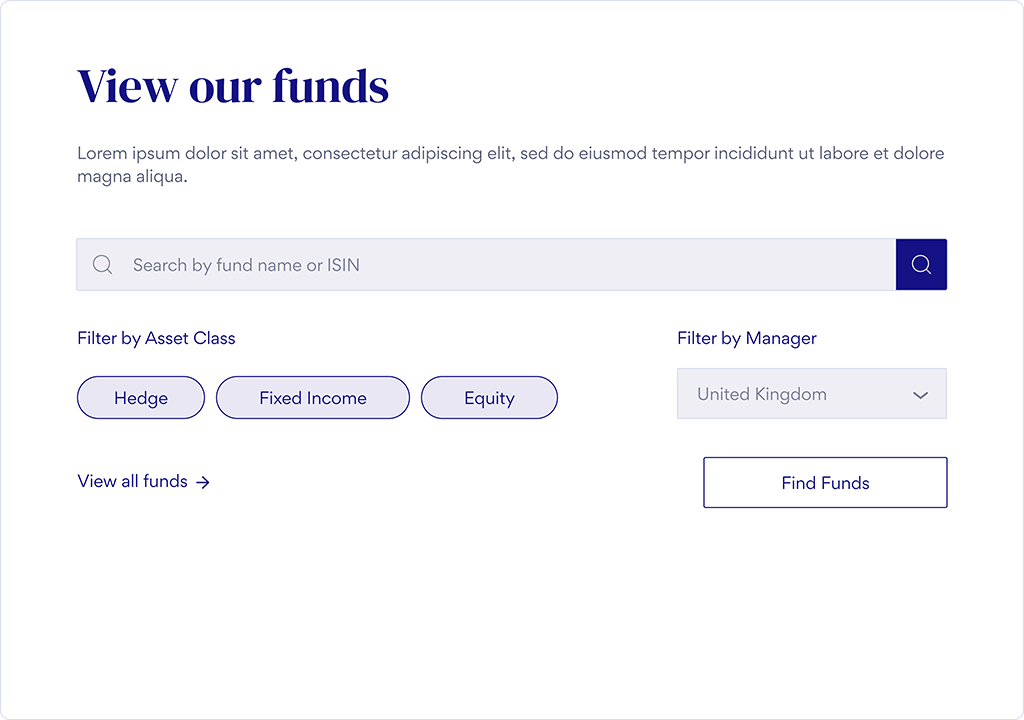 Allow quick access to your product range from throughout your site.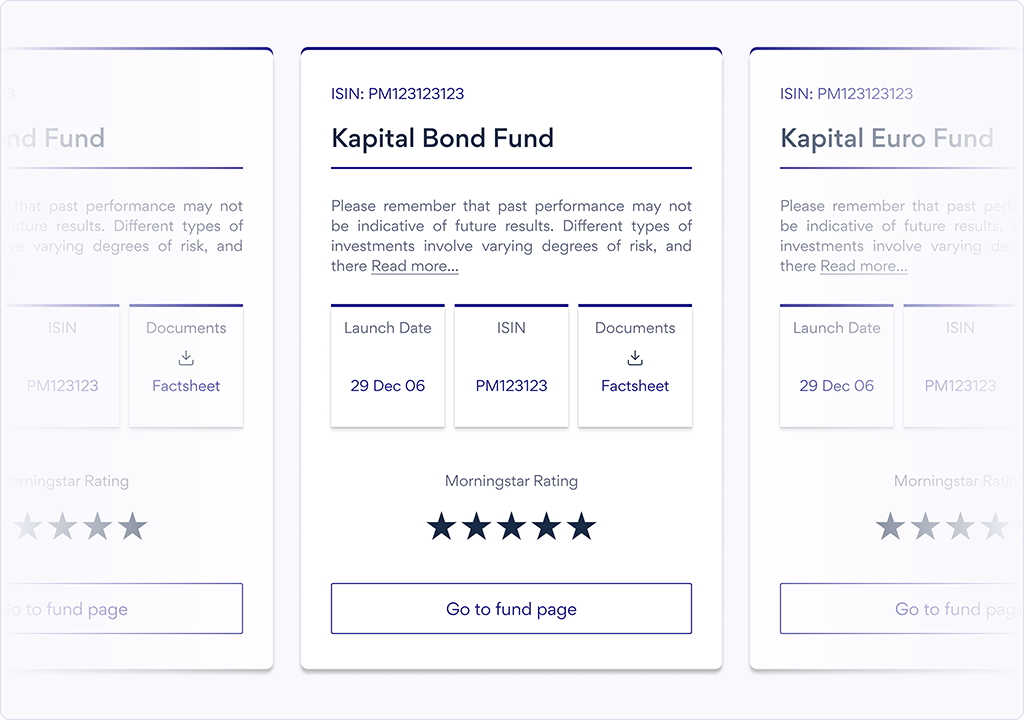 Showcase your featured funds anywhere on your site, including key data and documents.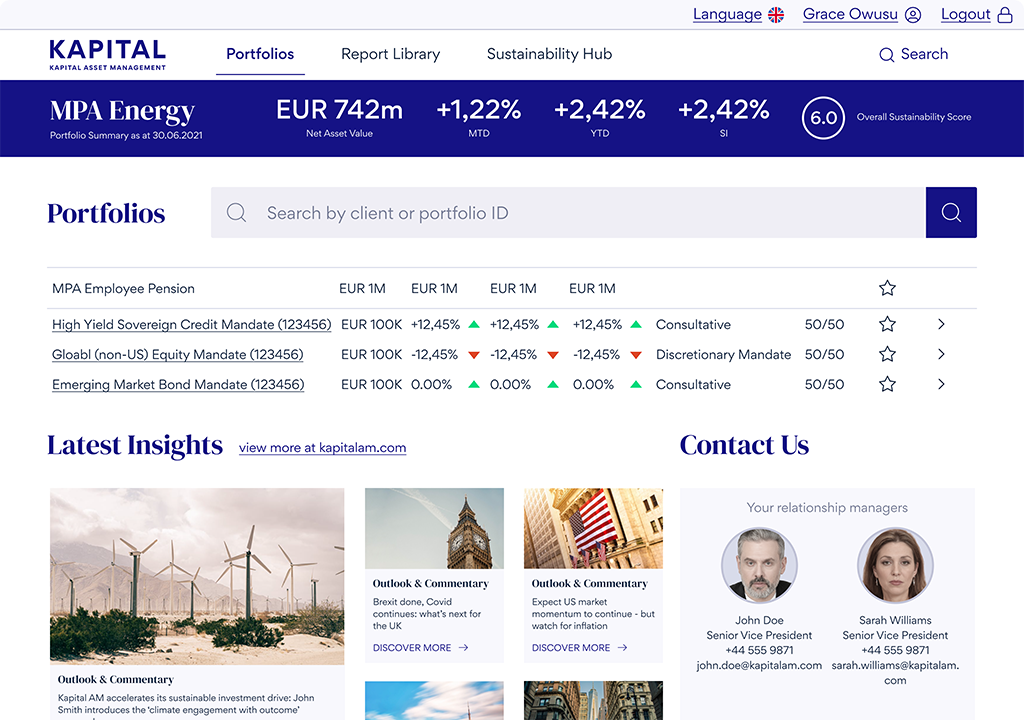 Surface client accounts and related data in our convenient explorer.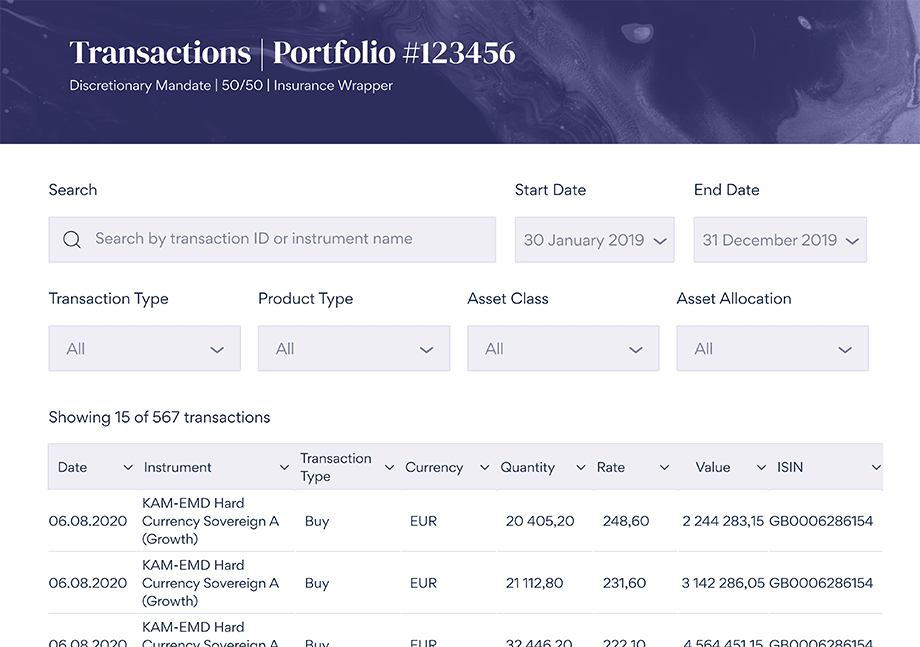 Surface and search entire transaction histories for each individual account.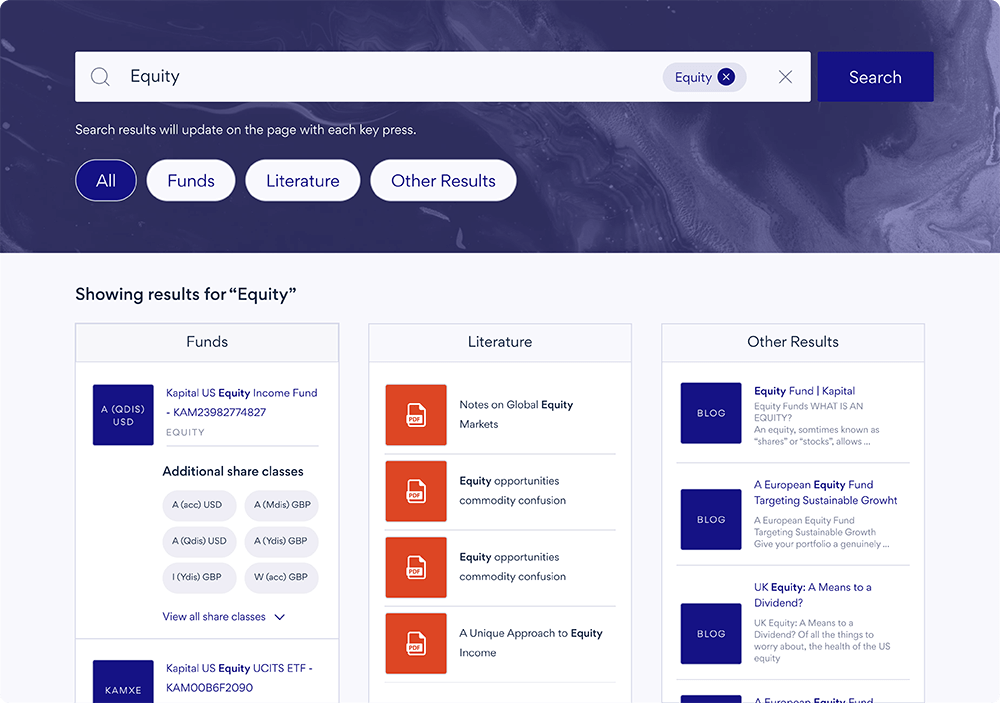 Search across documents, data, and DXM content, all from one global search bar on your site or portal.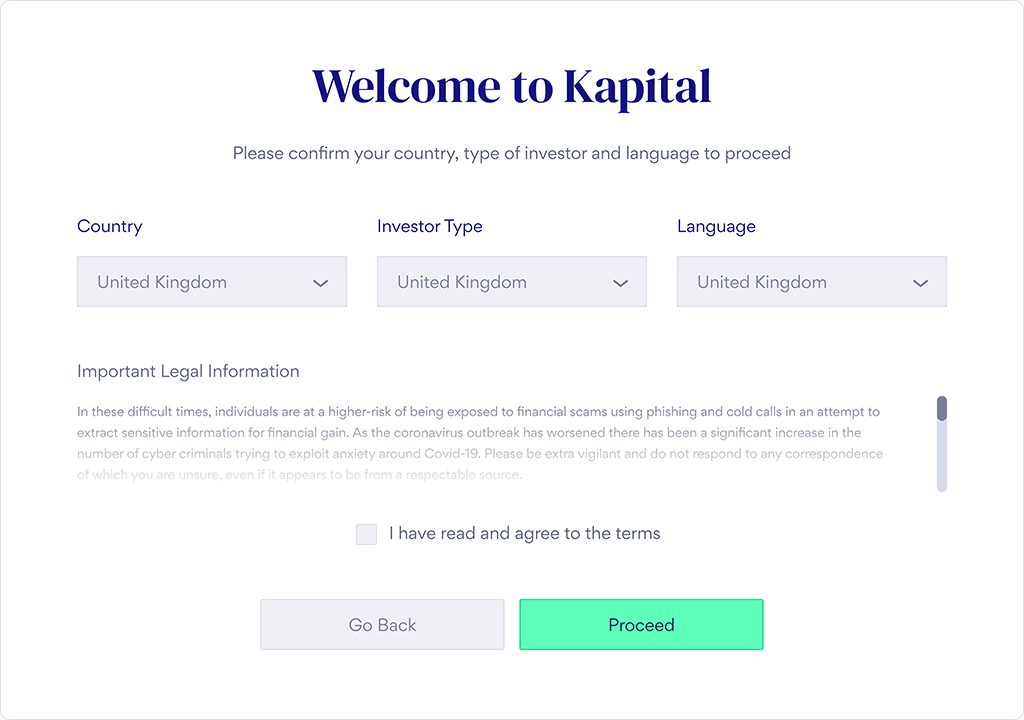 Signpost international investors to the right area of your site in a compliant way.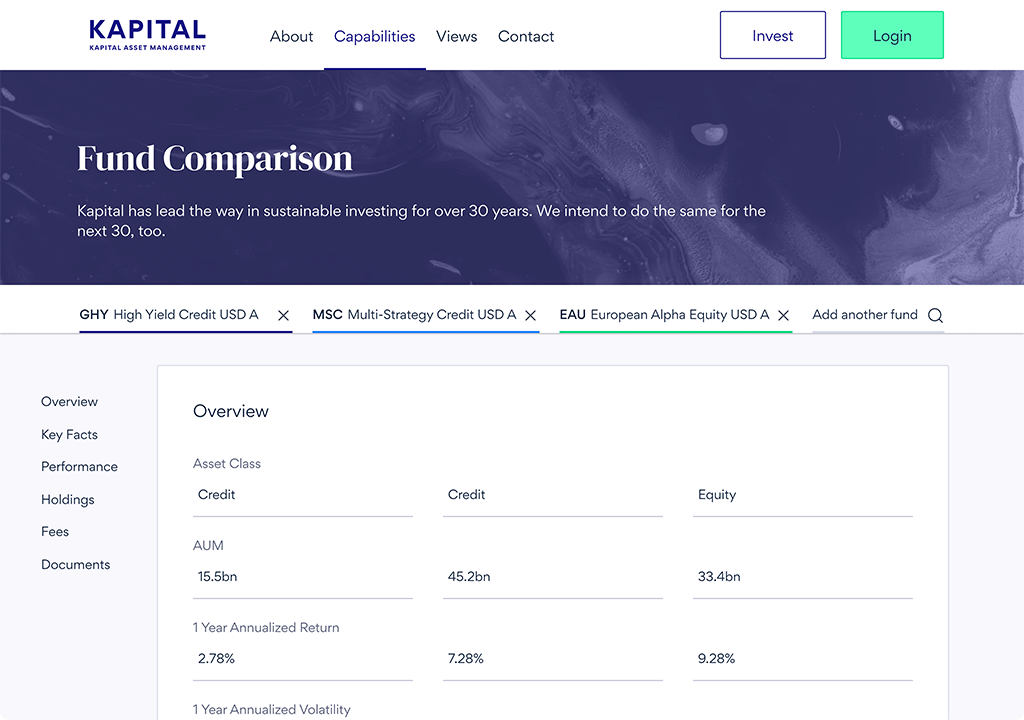 Allow visitors to compare and contrast the performance of various products across a variety of metrics.
A set of apps using authentication and secure logins to allow users to view their confidential data.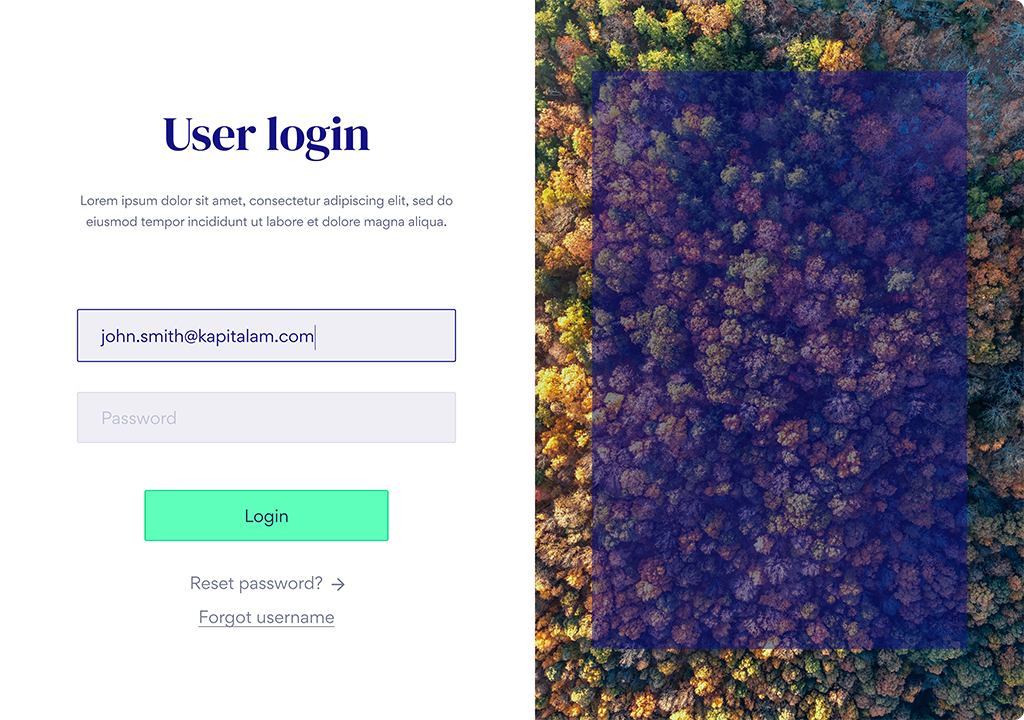 Add secure areas to your DXM site. Create secure portals with sensitive data.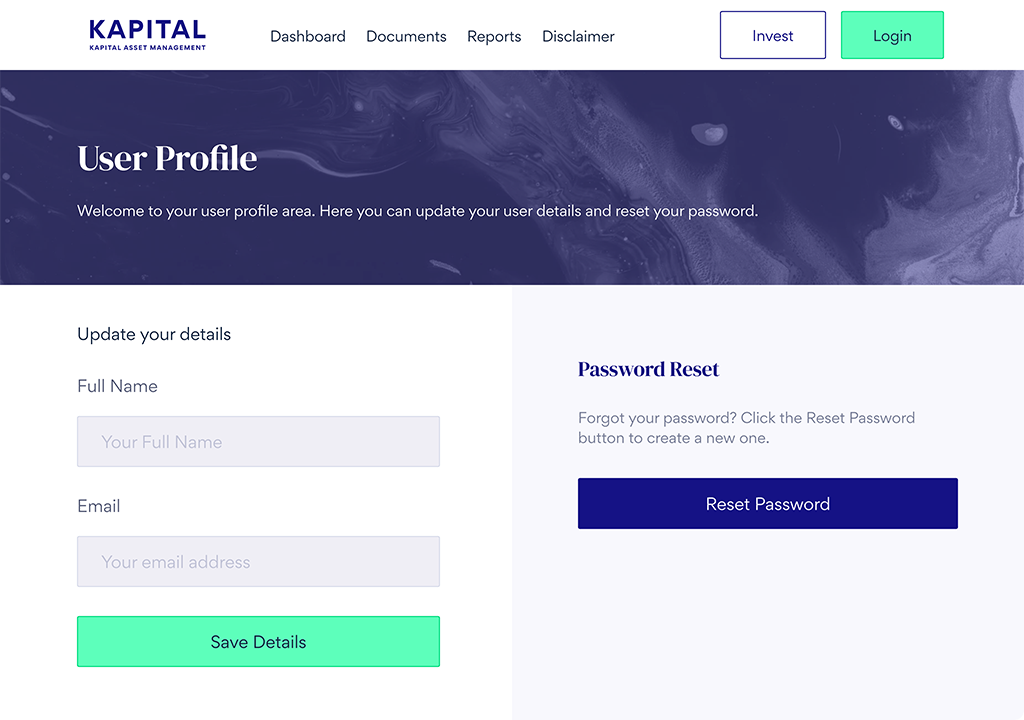 Allow users to manage their own account and authentication details.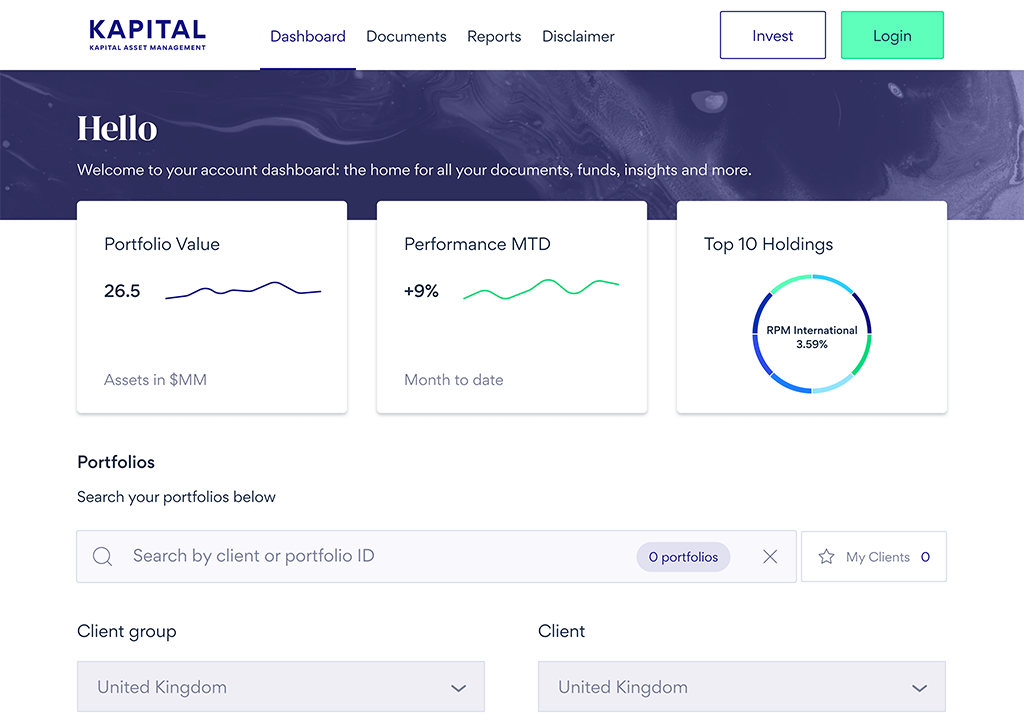 Create sophisticated portfolio construction applications for your advisory clients.
A wide array of apps used for a clear and easy-to-comprehend display of information, statistics, and performance.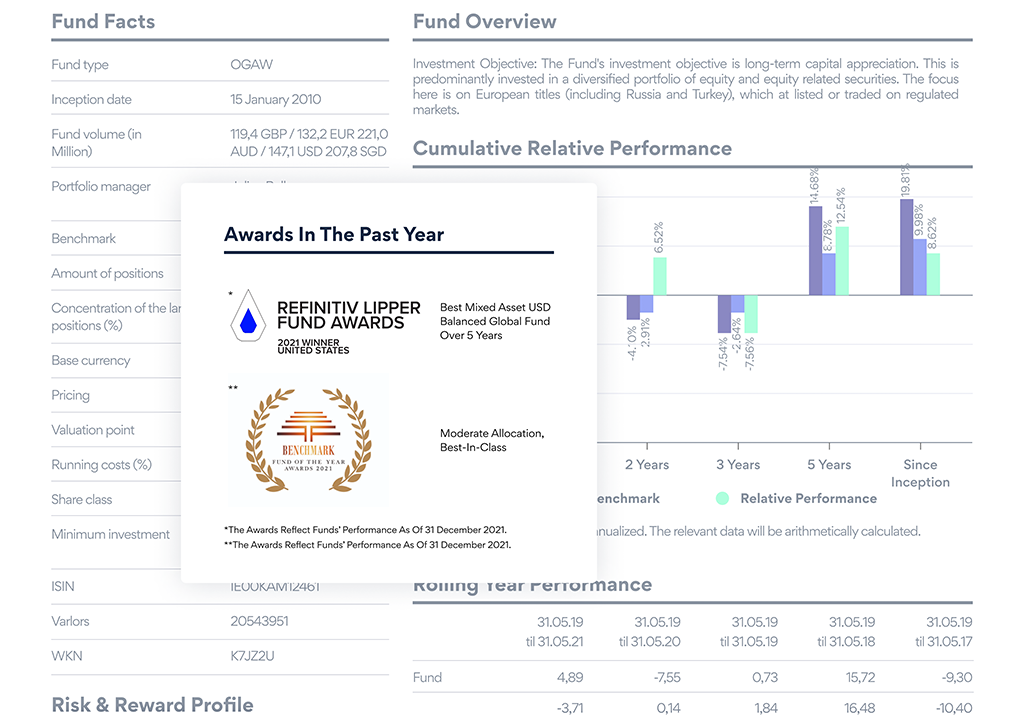 Showcase fund level awards.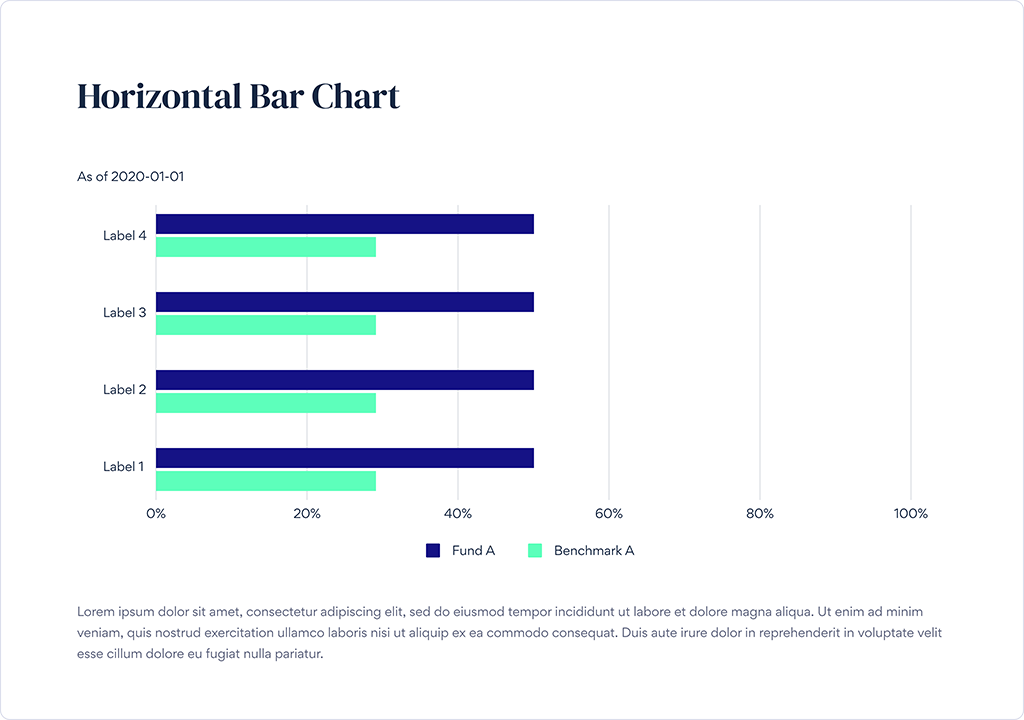 Showcase performance and other metrics in a variety of bar chart layouts.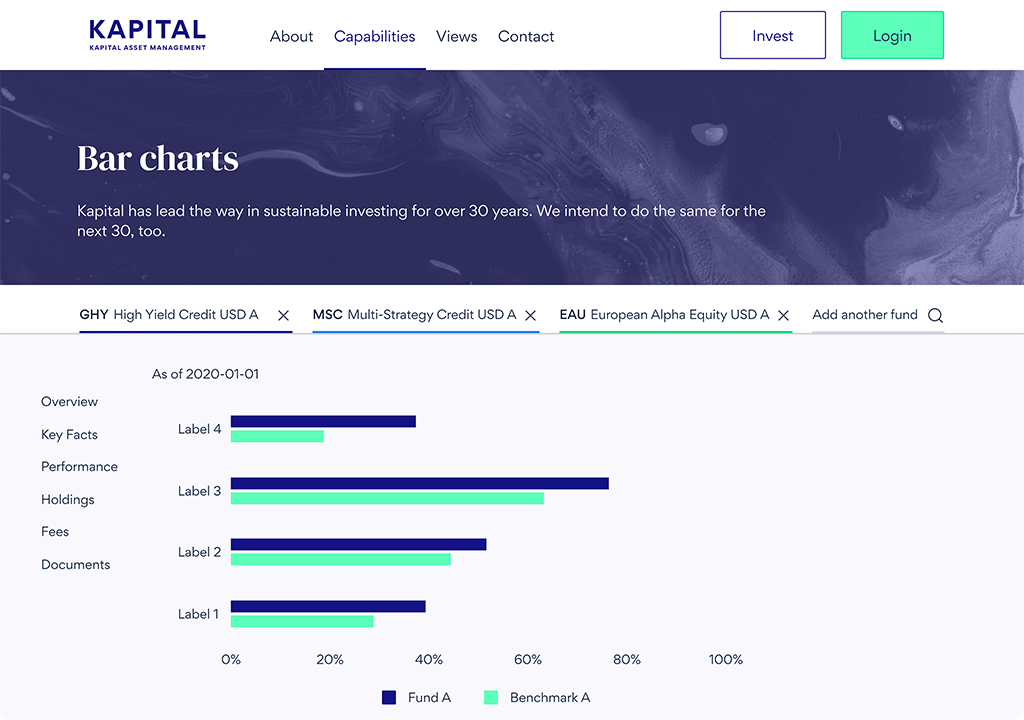 Group multiple charts together in tab groups.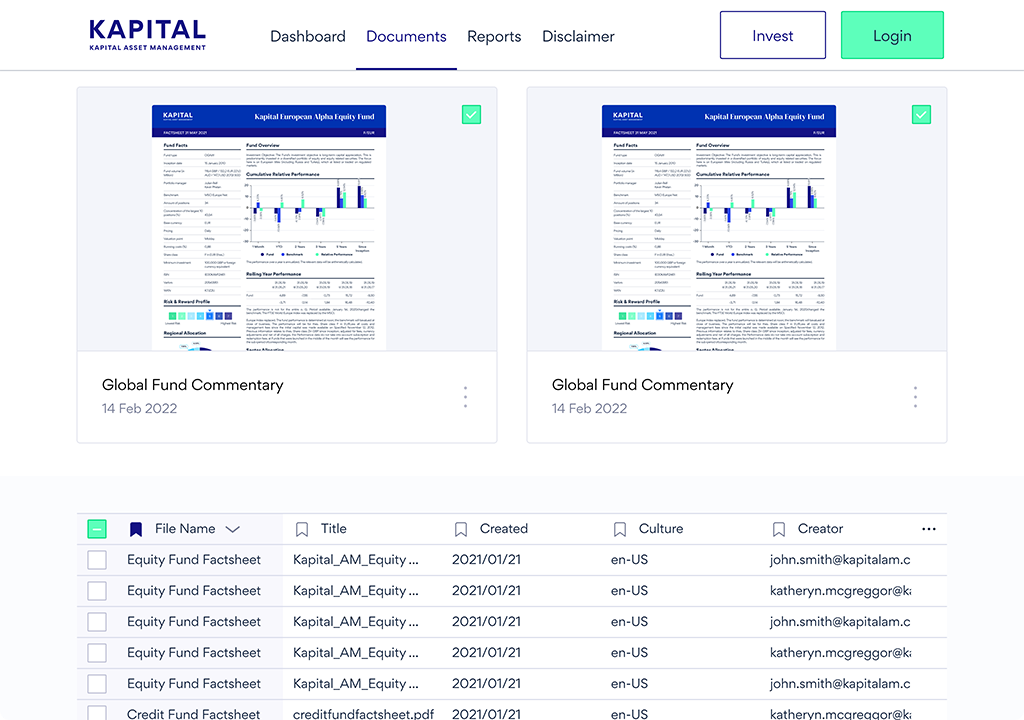 Display product related content, directly connected to your commentary library.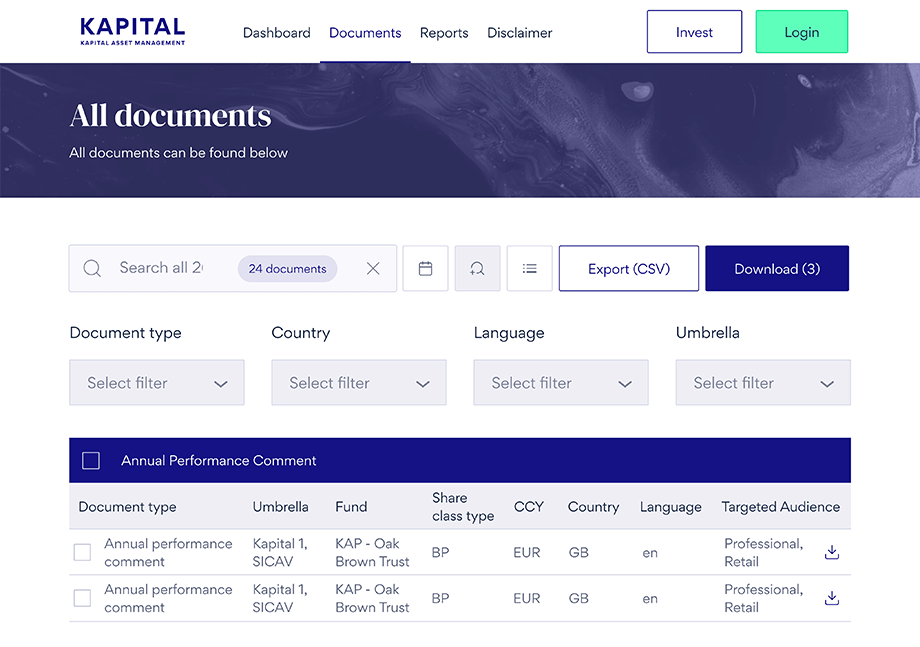 Allow visitors to download any structured data set in XLSX or CSV.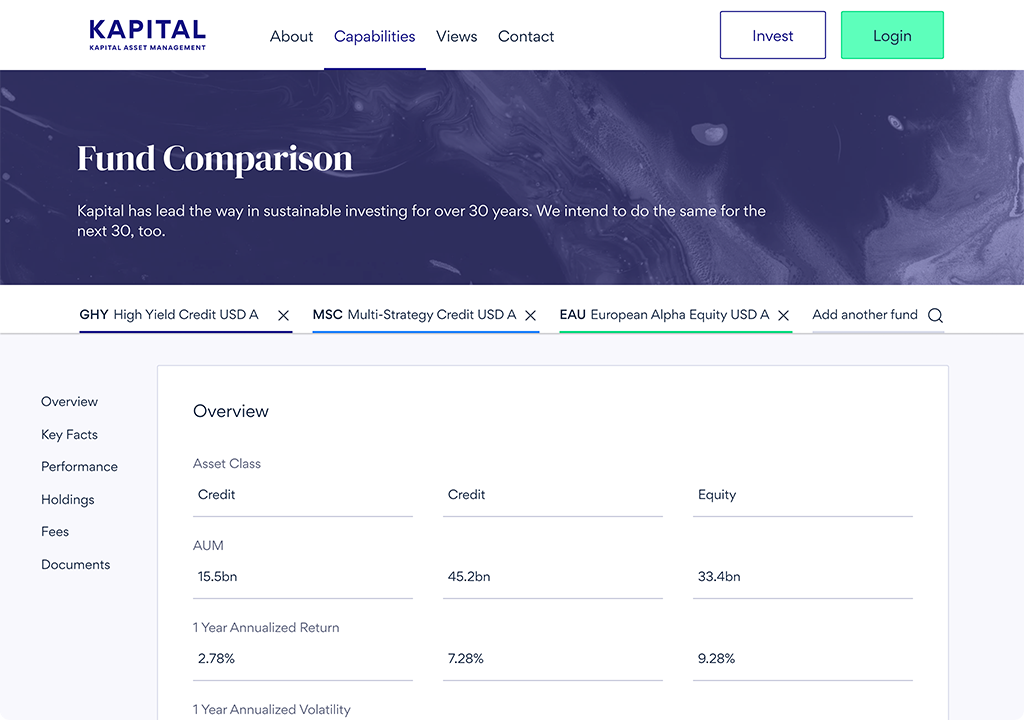 Communicate a variety of financial data in flexible data tables, including features such as grouped headers and totals.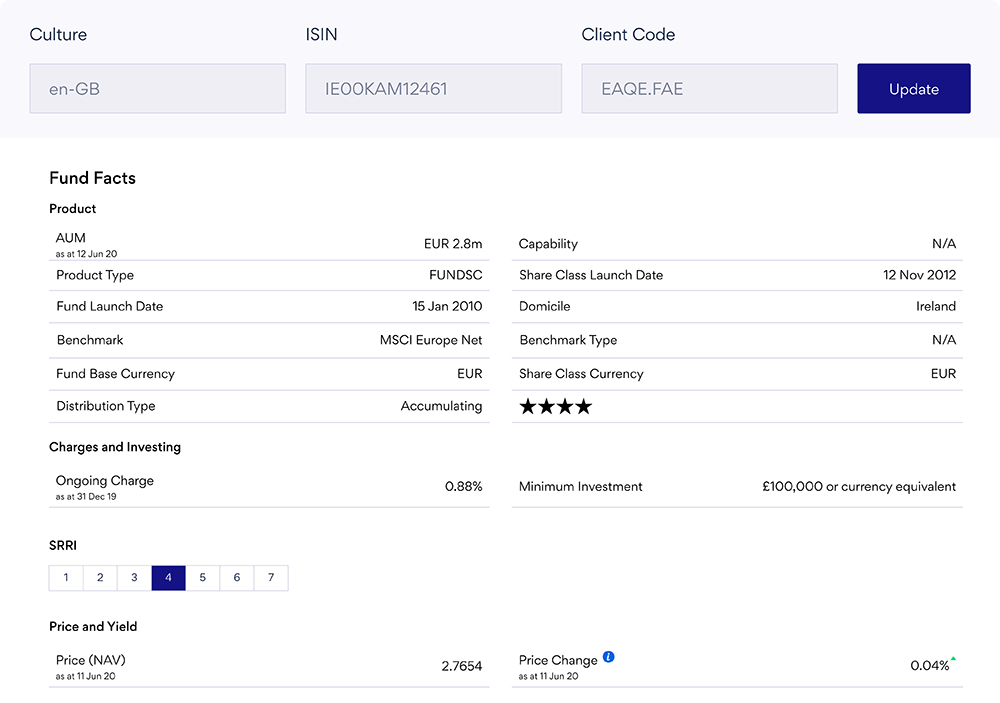 Outline key fund or account information in a facts list.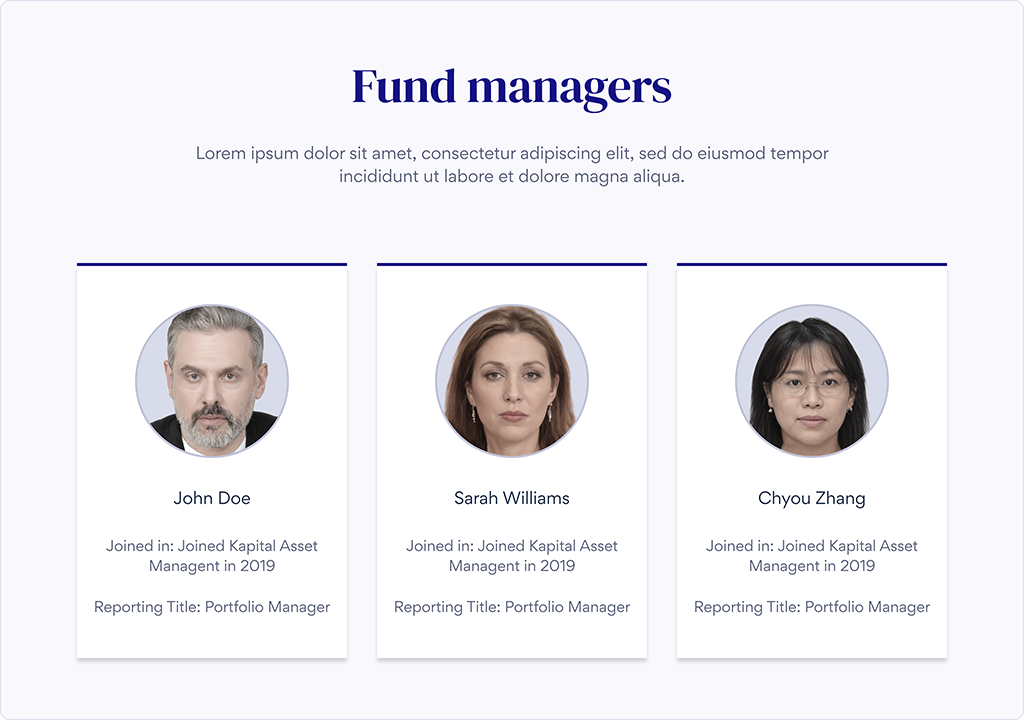 Bring your funds to life by showing fund managers headshots, biographies, and other data such as employment and education histories.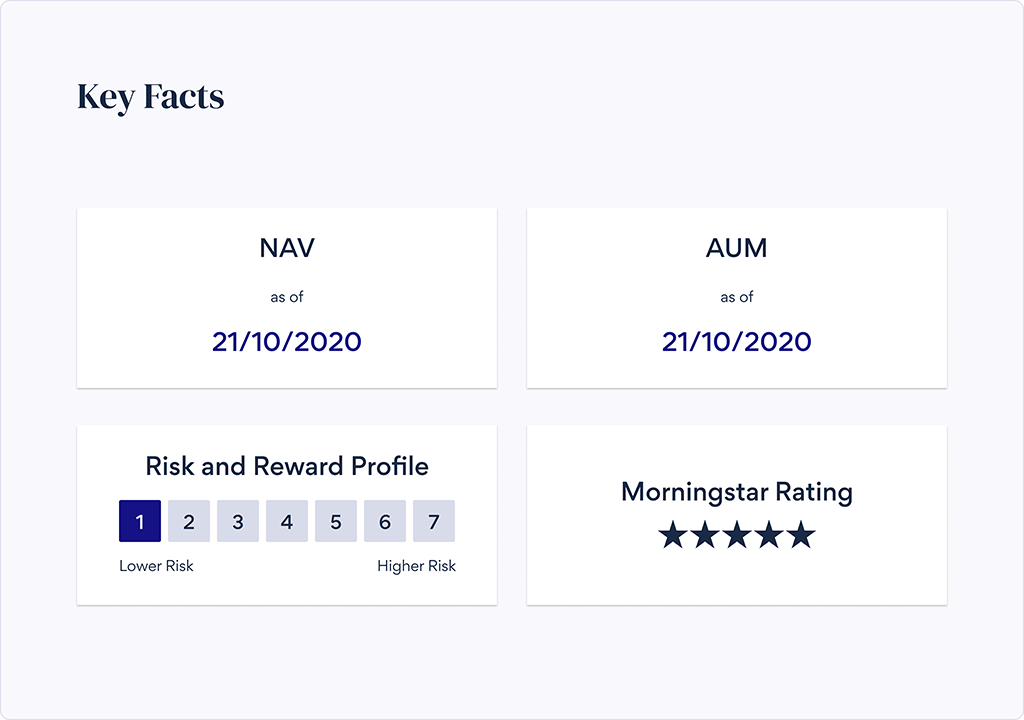 Bring key fund data to life in key facts cards.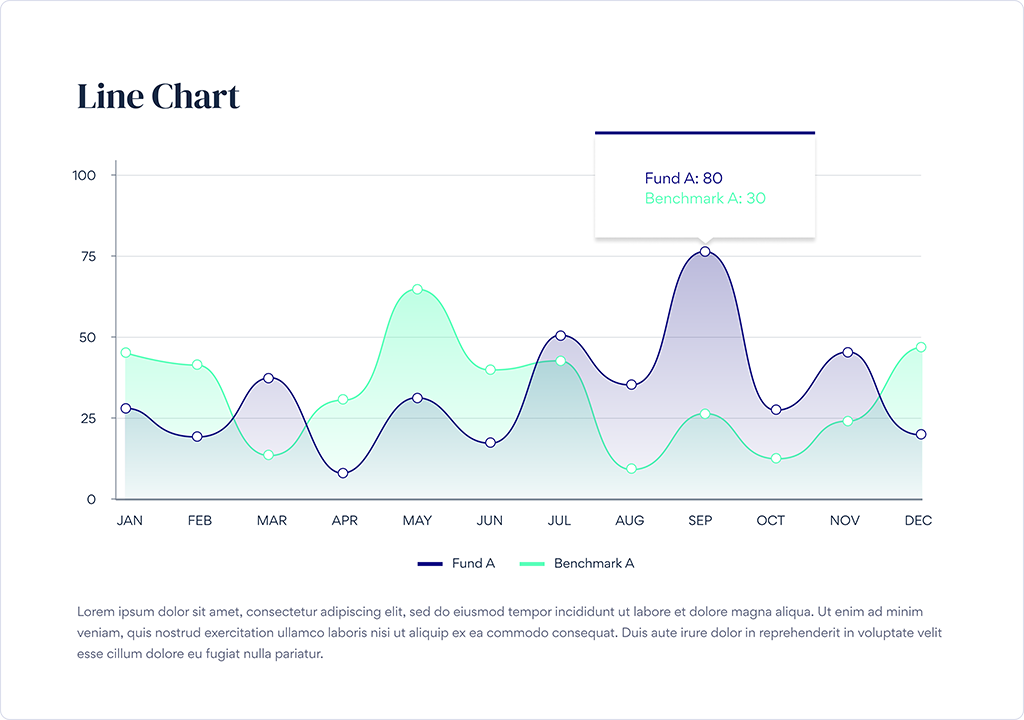 Display historical performance data, style drift, and any timeseries based financial data.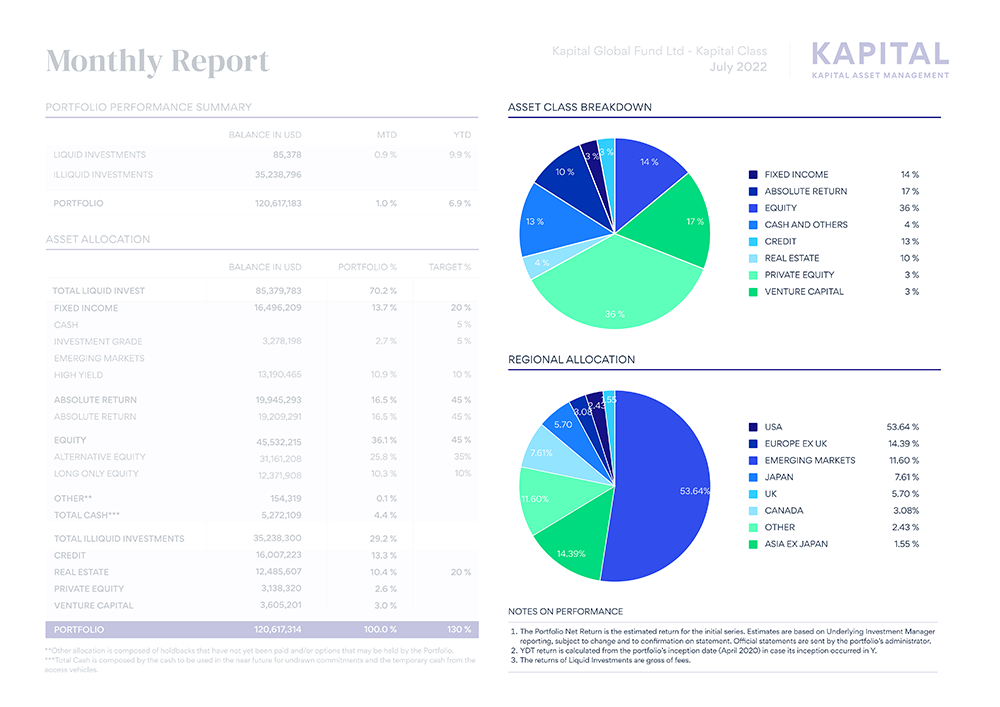 Visualize holdings and other allocation data in customizable pie chart components.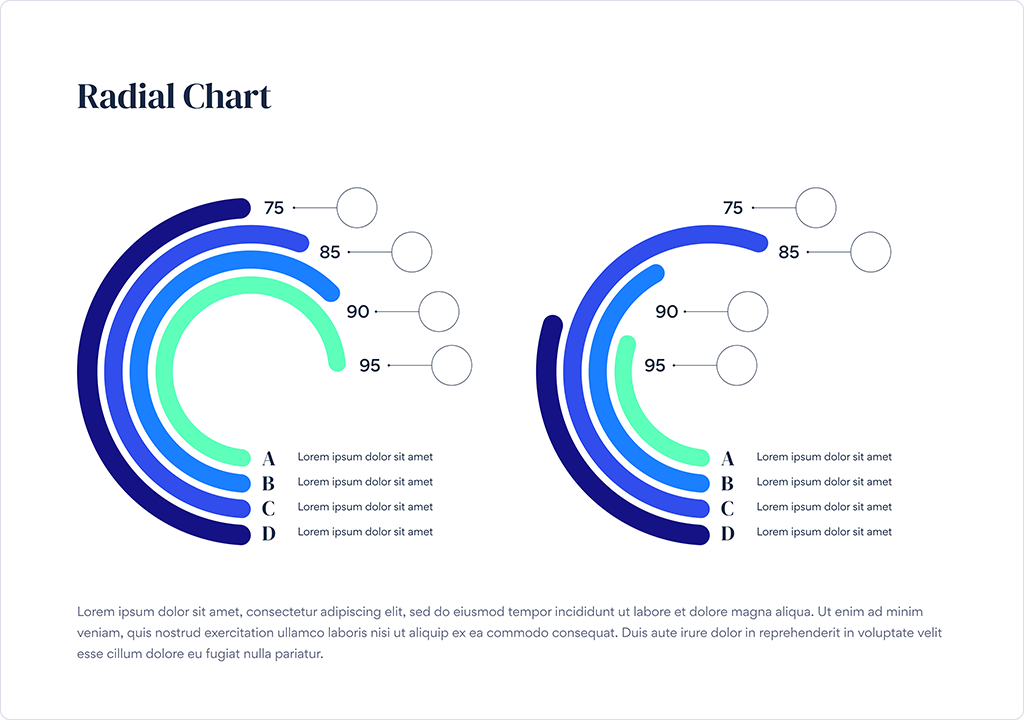 Create sophisticated radial charts, including nested radial charts for holdings data.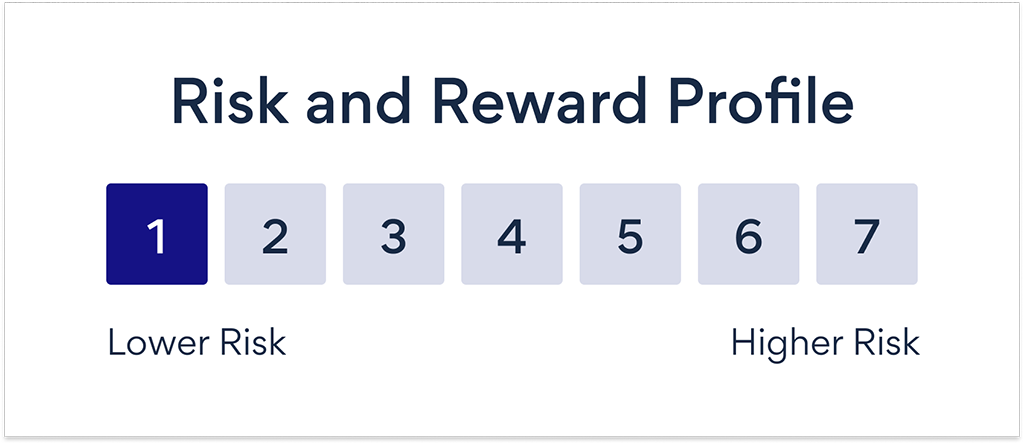 Synthetic Risk and Reward Indicator (SRRI)
Display historical performance data, style drift, and any timeseries based financial data.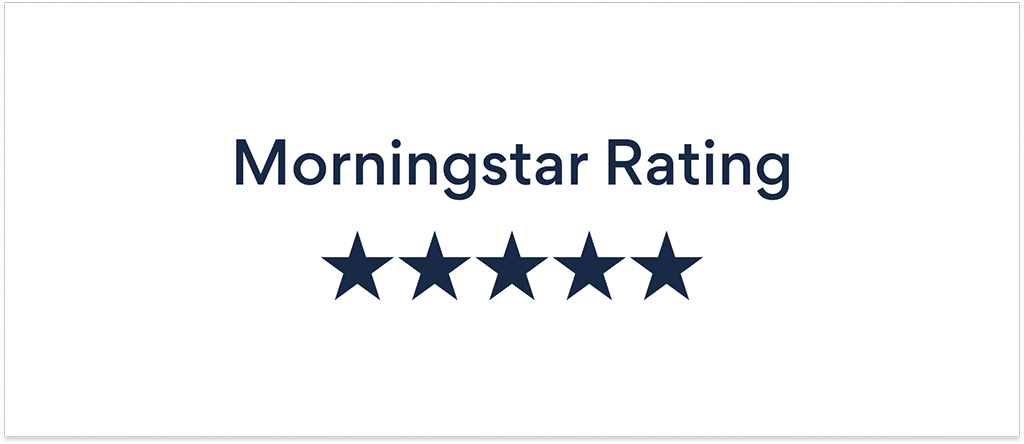 Visualize holdings and other allocation data in customizable pie chart components.
With the increased focus on ESG, these apps clearly display a company's adherence to ESG ratings and impact.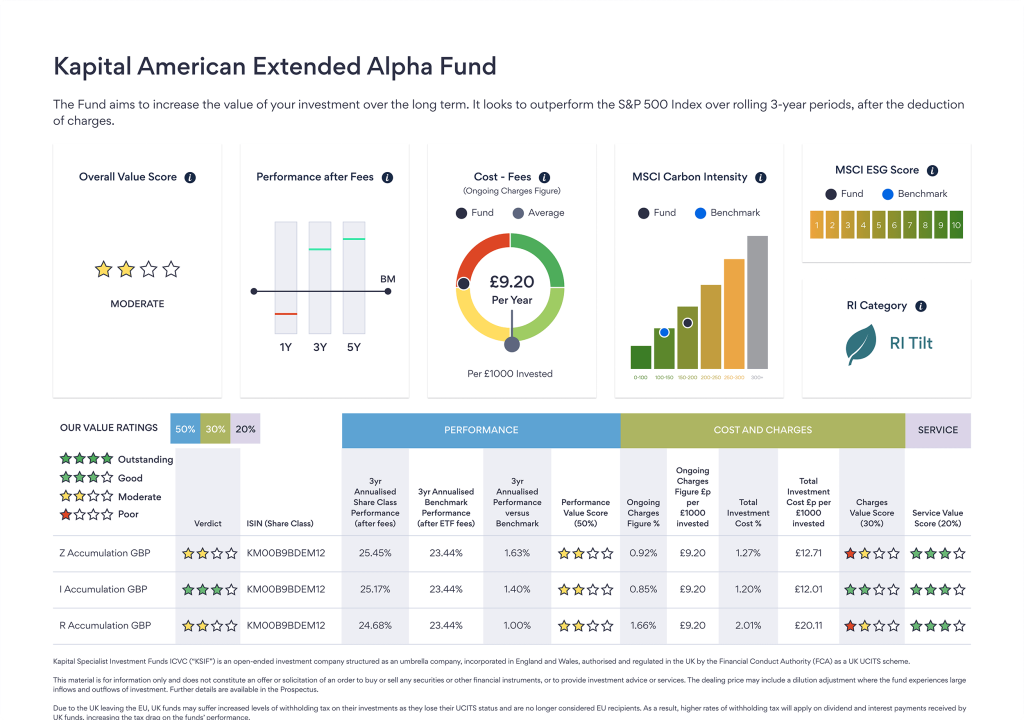 Digital navigation and page structure
Apps which allow a user to easily and intuitively navigate a web page. ​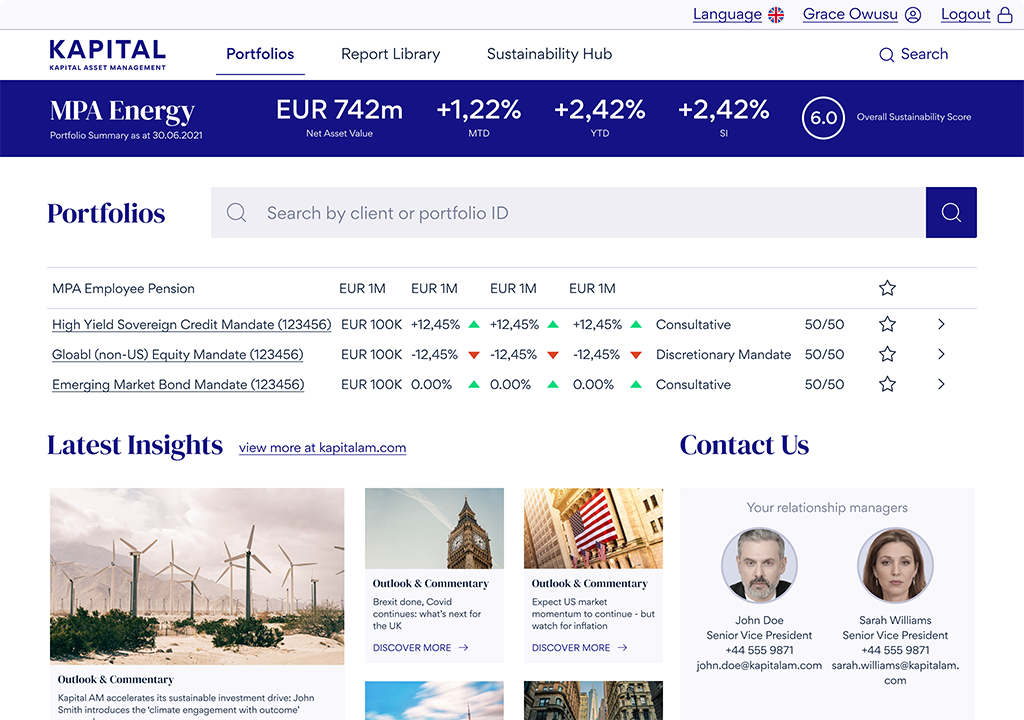 A library of all apps and bespoke themes, and the space in which new apps are created.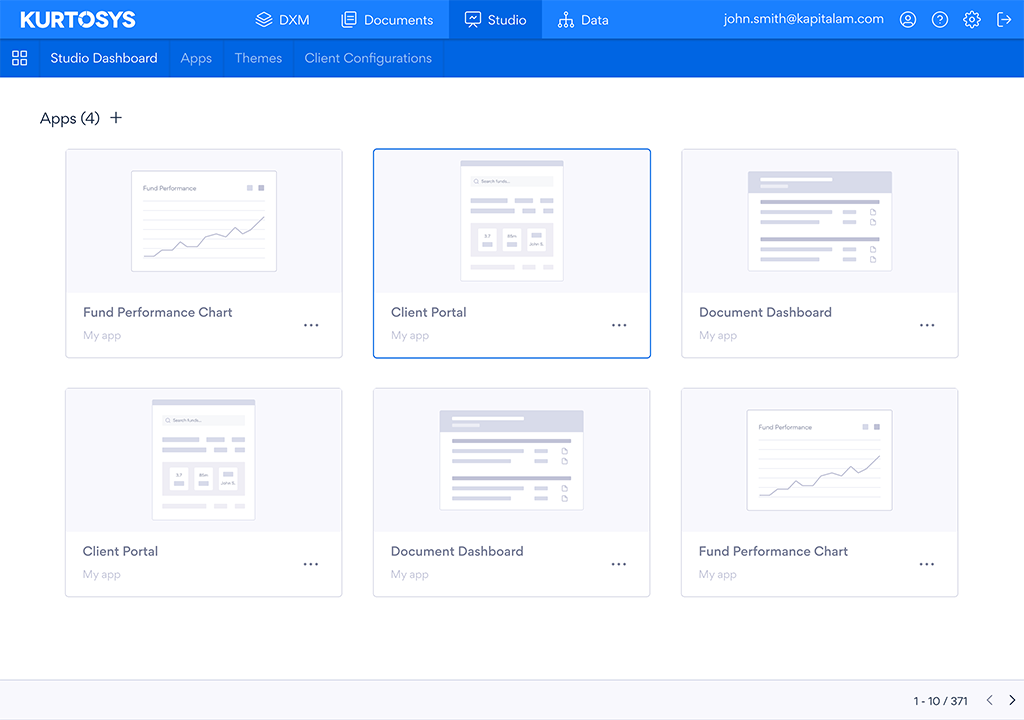 Studio configuration console
The design space for creating apps, styles and multiple configurations with ease and without the need for developer intervention.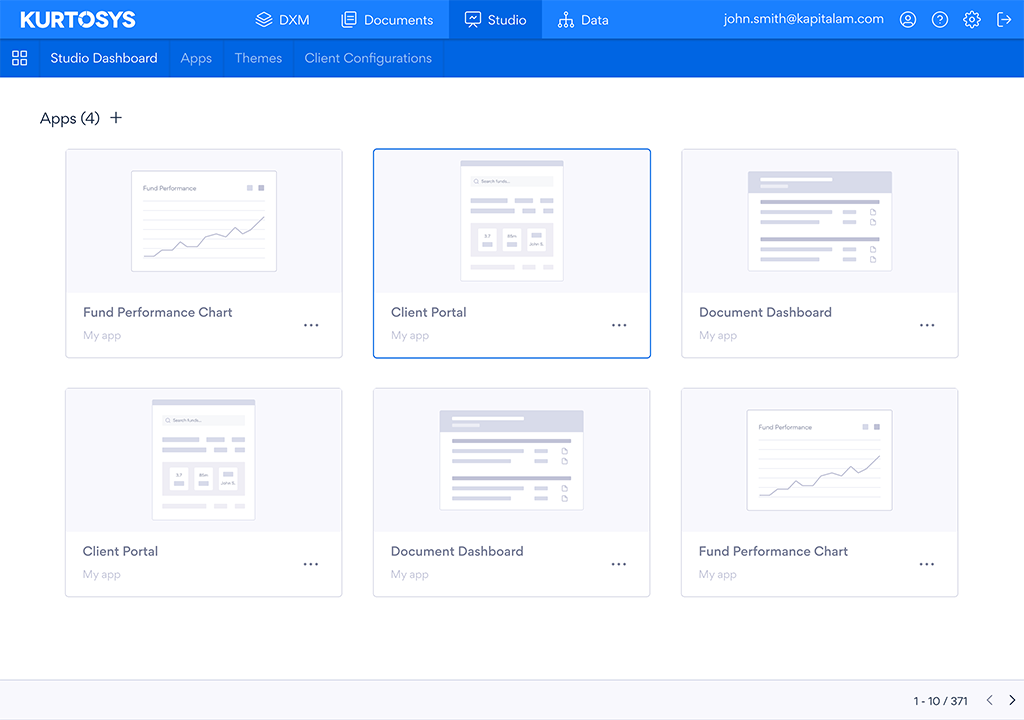 Integrations are done via the Studio for Office and/or Studio for InDesign platforms. These platforms utilize data stored in the Kurtosys App and Studio Apps to build templates that can produce thousands of data driven documents.
Customized client reporting used to take up a large amount of time and effort. Our automation engine reduces the time taken to produce content, ensuring investors receive their reports timeously – a key moment for client satisfaction. Customization no longer means manual, error-prone content creation. Our automation engine allows client reporting teams to apply workflows and approvals to content, while our health check module ensures data is of the highest quality.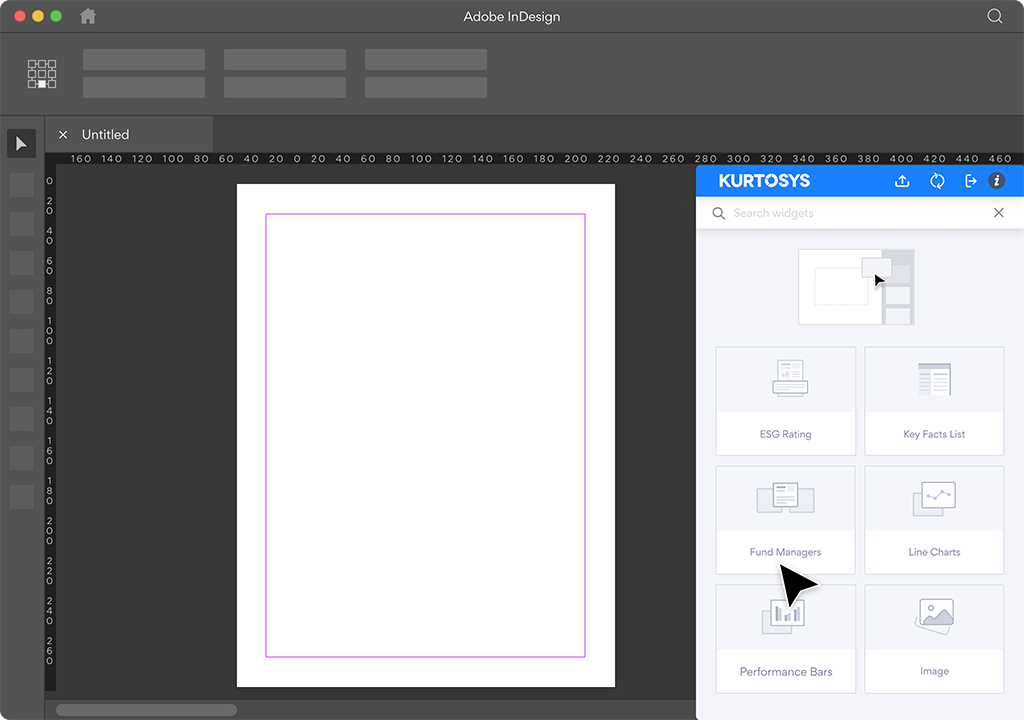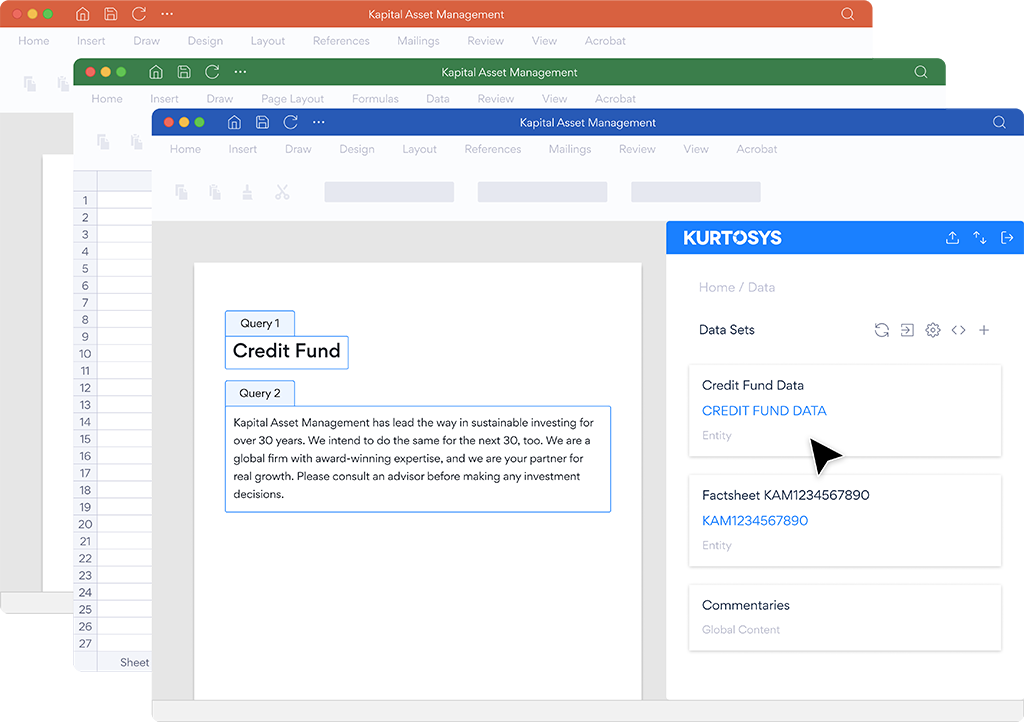 Create Word document, PowerPoint presentation and Excel spreadsheet templates, which together with Kurtosys App Data can be used to produce Client Reports, Sales Presentations, EPT or EMT documents from a single template.