LONDON, UNITED KINGDOM – Mon 18 Jul 2016 – Harry Thompson, Co-Founder at Kurtosys Systems spoke at the Sinai Jewish Primary School in London to Year 6 students. This event was organised through the Founders4Schools programme which started in 2011 with the aim of improve the employability of students by connecting them to business leaders. Teachers use Founders4Schools to find business leaders that will inspire students about tomorrow's jobs and how they relate to the subjects in the classroom. Harry has participated in a number of these events which have covered a wide range of themes such as:
Digital Marketing
Life after school – making it big in the world
The magic of STEM (Science, Technology, Engineering and Maths)
Mentoring business plans and product ideas
About Harry Thompson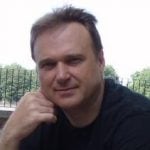 Harry is a graduate of The University of Salford, in Manchester with over 30 years of experience in startup companies. He is a founder, board director of Kurtosys Systems. Harry has steered the company's strategies on product and technology since inception providing secure, resilient and scalable hosting services in the Cloud and on traditional enterprise platforms.
Harry was excited to speak to this group of students on the 18th July. Harry has said this about the event:
As always, I enjoy speaking to students at these events. We all appreciate the need to encourage the next generation and Founders4Schools gives me an opportunity to help teachers connect their pupils with the outside world. It's a big responsibility. At all of the schools I have visited, these students are completely engaged and looking to us for inspiration.
Founders4Schools said this of the event:
instead of burdening students with the uncertainty of what the next chapter of their education holds, the speakers inspired the students with their insight into the exciting opportunities awaiting them.
You can read more about the event here.
Connect with Harry Thompson through his Twitter or LinkedIn accounts.
About Kurtosys
Kurtosys is a global provider of digital marketing and client reporting tools that help asset managers attract and retain investor assets. Since 2002, our team of industry experts has been using digital media to transform the way that financial information is presented, shared and consumed. Kurtosys offers a broad range of fund marketing and investor servicing solutions – from Fund Factsheets and Fund Websites to Client Reporting and Secure Portals. Headquartered in New York, Kurtosys has offices in London, Cape Town, Reno, and Gurgaon (India). For more information, visit our website and subscribe to the Kurtosys blog, or follow us on Twitter.