The wealth management industry is at a cross roads.
Increasingly high costs of client servicing, a lack of successful investment in technology and changing demands from clients are all combining to reap havoc on the industry.
In the UK market – both onshore and offshore – the playing field is getting more complicated by the inherent regulatory risks in providing "advice".
In our opinion this is an opportunity not a threat. Whilst so called robo-advisory platforms will undoubtedly grab a share of the market and be impactful in terms of asset gathering, we at Kurtosys feel there are significant opportunities for discretionary providers to take a leadership position in the market place.
People want advice. And people want to trust their advisors. Just like we have begun to trust Apple Pay and challenger banks, people are seeking to trust their advisors.
Digital is no longer an option if this position is to be cemented. The "old school" needs to wise up and understand that whilst digital is no silver bullet, it is most definitely a major enabler to repositioning their brand and product offering.
Digital client servicing offers the industry an opportunity to put into effect a strategy for keeping pace with a rapidly evolving market that needs to change. In order to be successful there are many factors to consider.
Read on to discover some that we think are important.
Client servicing is getting expensive
Financial suitability assessments and review are mandatory
"Long tail" clients require attention
Clients are comparing your services as well as the strength of the relationship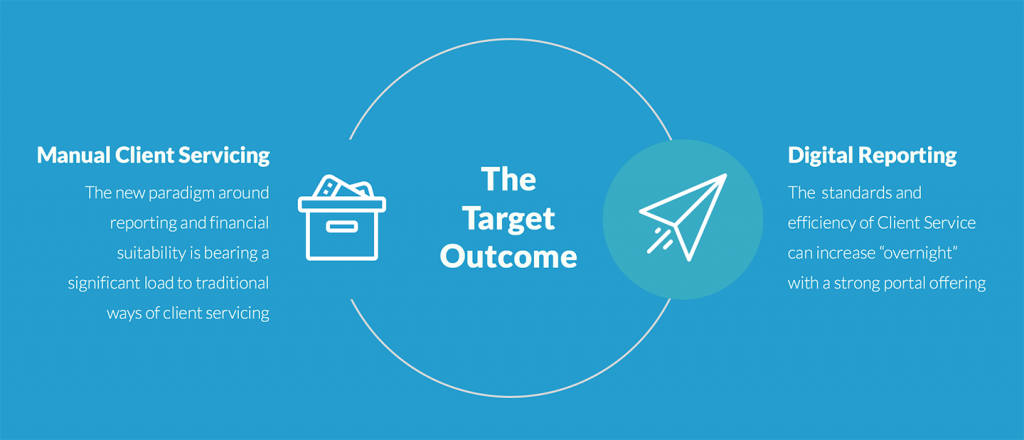 Buy or Build
Up until very recently, companies had no alternative other than to build portals through internal or bespoke developments. This has changed with platforms like InvestorPress and other portal offerings available today.
Finding the right technology is critical to the success of digital client servicing. Back in January of 2017, BNP Paribas Wealth Management unveiled a new Client Experience venture co-created with customers and fintech firms.
This seemed like a fantastic initiative to use the latest fintech software to improve client servicing, whilst involving both internal and external stakeholders. BNP Paribas Wealth Management also claim to be the first private bank to appoint a chief digital officer (five years ago), so they are clearly further ahead than most players in the industry.
The resulting products used included myBioPass – which enables the customers to log into their accounts and perform transactions using biometric authentication.
Improving your investor's user experience
We care so much about the investor user experience that we made our company tag line 'Your Investors Matter'. Whilst we develop portals for some of the world's largest asset managers, it's mostly their customers who are the end users – so we've invested heavily into our technology to create a better digital client servicing experience.
"64% of High Net Worth (HNW) individuals expect their future wealth-management relationship to be digital; so much so, that nearly two-thirds would replace their current firm unless it's skilled at digital outreach through integrated channels"
–Source: Capgemini Financial Services Analysis 2015
Because we've been building secure portals a long time, we obviously believe that outsourcing is better than trying to build solutions internally. We've also seen many asset managers struggle (and fail) with complex projects that essentially become more costly and take far longer to complete. Products like InvestorPress come with a range of off-the-shelf features and benefits:

Digital is an opportunity, not a threat
To conclude, we believe that by harnessing the latest digital technology, it will ultimately help asset managers increase profits, reduce manual and laborious tasks, reduce compliance risk, enable sales teams and increase customer satisfaction.