IPE recently published their latest list of the Top 400 global asset managers based on assets under management, so in true Kurtosys marketing style, we decided to create an infographic featuring the top 50 asset managers by AUM and highlighting the differences in 2019/18 data.

Assets managed by these firms total a staggering €66.4trn (approx $75.5trn), but it only represents a modest 1% increase on 2018's data of €65.7trn (approx $74.7trn). The top ten asset managers manage an eye-watering third of all assets in the top 400 list, but six of these have seen a decrease amid reports of market volatility in the industry. Despite this, the top five asset managers have been consistent for the past six years, with J.P. Morgan creeping closer to the top five with a 1% increase in AUM in 2019. Fidelity and Vanguard were the winners this year with +4.7% and +4.1% increases in AUM respectively.

With many mergers and acquisitions happening in the industry, many asset managers will be pushing hard to mitigate the threats they face from disruptors, D2C platforms and stricter regulation. Massive investment in technology is clearly happening as investment managers race to digitally transform and become more customer-centric. The question is can they adapt fast enough to attract and retain these assets or will this list paint a different picture in 12 months time?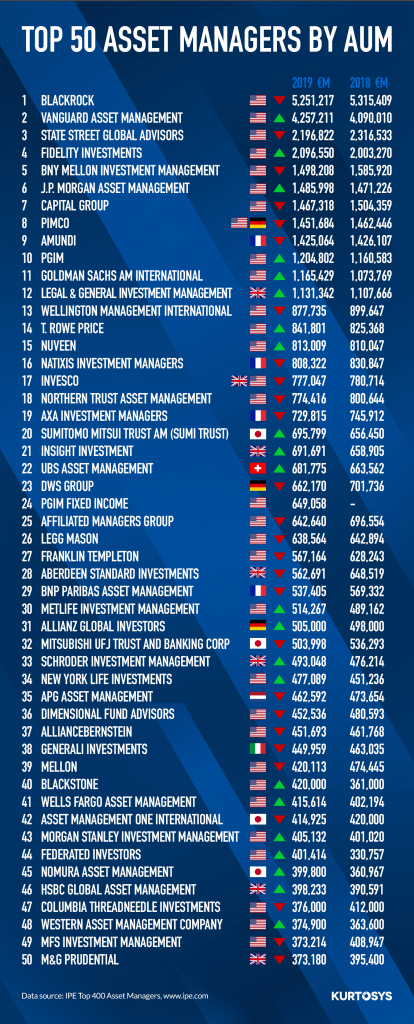 Data source: IPE Top 400 Asset Managers, www.ipe.com