3 January 2018 saw the implementation date for the Markets in Financial Instruments Directive II (MiFID II). After years of work, financial firms faced a last-minute dash at the end of 2017 to finalise their compliance efforts.
What followed this effective date was the introduction of reprieves for firms that still weren't fully ready to meet standards set by regulators, some up to 30 months. With that in mind, it seems like the MiFID II conundrum is set to continue for quite some time yet.
In this short video, Allie Filippova outlines the main objectives of MiFID II, how the financial world reacted at the start of 2018, and what the ongoing implications of the directive will be going into the future.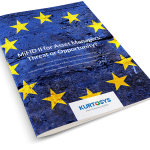 The European Union (EU) MiFID II regulations, which come into effect in January 2018, will have a huge impact on the asset management industry. But many managers do not yet have the technological solutions to comply and thrive in the new regime and software providers expect a capacity crunch as investment houses rush to prepare. We look at some of the issues and opportunities.