The range of digital marketing tools we have at our disposal is getting bigger every year. But sometimes it's hard to keep up with the innovation that's happening around us, and more specifically how these tools can play a part within a given industry such as investment management. In this four part series, we take a look at a cutting-edge digital marketing techniques that could be used in the fund management world and throw in some examples to help you picture it. First up, marketing automation.
Digital marketers need a spectrum of tools to keep up with potential buyers. Why? Because research shows that buyers research online before making decisions and will check competitors, forums and social media. Also, buyers will wait longer before engaging with sales teams so smart technology can help shorten the buying cycle and engage with prospects.
You have probably noticed that when you read the use cases for new digital marketing platforms and services, they nearly always use e-commerce related products like trainers (sneakers) or sofas (couches).



Naturally, they make good examples, but it's sometimes tricky to translate to your industry and get your head away from e-commerce.
So how can we apply the savviest digital marketing tools to fund marketing? Here is a quick breakdown of one of the four techniques we will cover in this series — the backbone of any digital marketing department, marketing automation.
Marketing automation platforms can streamline your firm's digital marketing efforts by targeting, engaging and converting ideal prospects efficiently and effectively through automated email and landing pages. Naturally, the secret sauce is having high quality original content to send to prospects and carefully planning and scheduling the delivery.
Benefits
Nurture prospects like financial advisors through email drip campaigns
Measure the ROI of marketing campaigns
Track prospects and leads through point scoring
Dynamic landing pages
CRM & Social integration
Services to consider
Pardot
Marketo
Eloqua
HubSpot
Fund Marketing Example
Marketing automation translates brilliantly to the asset management industry. Fund websites are usually filled with associated downloadable documents like sales aids for advisors, prospectuses and fund factsheets. If these PDFs are gated behind forms, there is an opportunity to gather valuable information by using progressive profiling – hitting people with different form fields as they download more content. Advisors and investors can be entered into targeted drip campaigns to help keep them informed and interested over time.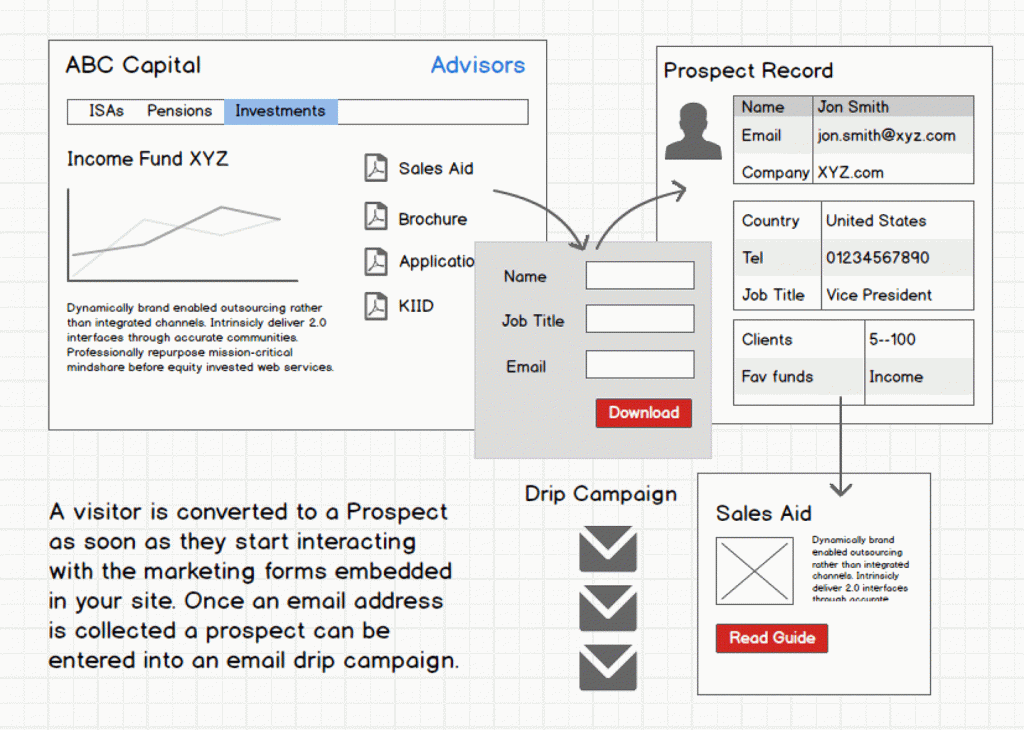 Check out an infographic we made last year: "The Big Picture: Marketing Automation for FinServ Marketers".
Naturally, financial services companies are subject to tougher rules and regulations, but marketing automation software caters to the financial services world too. For instance, Pardot makes it easier to stay within compliance with their auto-BCC feature, allowing you to easily store all Pardot-generated emails via a third party archival system. In the next post of this series, we will cover the benefits of optimization and user tracking.