This week's edition of Kurtosys Spotlight features our psychological podcast with Dr Simon Moore, Jupiter's Paul Kay, successful storytelling in investment management marketing, asset management's fintech foray, neuroinclusion, and #MentalHealthAwarenessWeek.

Digital Leader Spotlight: Paul Kay, Head of Technology at Jupiter Asset Management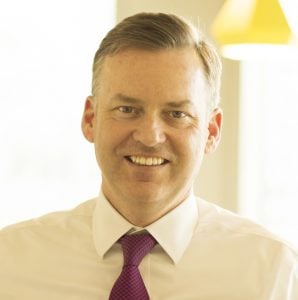 At the head of innovation at Jupiter Asset Management is Paul Kay, who is well aware of the asset management industry's need to remain at the forefront of technological advancement, particularly in regards to cybercrime, and regulatory compliance to remove manual processes.

Jupiter, in order to help find a solution for MiFID II compliance, recently installed Aladdin, BlackRock's proprietary investment platform (also known as an investment book of record). This was of course a large-scale implementation challenge, but one which the team succeeded in before the due date, taking data from Aladdin to Jupiter and using an EDM to store it for client reporting.

As a forward-thinking technology professional, Paul has high hopes for the future of asset management; the furthered use of video conference calling, and the outsourcing of infrastructure to major cloud providers including Microsoft Azure or Google Cloud Platform for instance. Jupiter has already appointed a cloud architect for the first time in its history.

Paul is part of our Most Influential Digital Leaders in Asset Management gallery; check out the top 50 here!

You can also check out Paul's views in this interview conducted by Sam Shaw.

Podcast: Connecting the Dots – Dr Simon Moore
In this latest episode of our Connecting the Dots podcast series, we chat to Dr Simon Moore, CEO at InnovationBubble, an insights and behavioural consultancy firm for the finance industry built by a team of psychologists.

As such, Simon gives us some excellent ways in which financial services companies can best connect with their clients, helping them to 'find out the whys' and to sustain loyalty through psychological means. Simon gives us a rundown of how he made the journey from an animal behavioural therapist (studying dolphin behaviour in Cuba!) to a brand psychologist.

Using helpful analogies along the way, from assembling Ikea furniture to waiting for the bus to booking a holiday, Simon outlines how firms need to market to three different psychological personalities which we all inherit, and how brands needs to adhere to a universal security and control complex. Through explaining how 70% of our decisions are made due to rapid cognitive bias, firms need to adjust their marketing accordingly, whilst also avoiding segmentation which he believes companies lazily rely on to choose personas.

Elsewhere, we discuss how automation can both subtract from creating a connection but also facilitate it, as well as some of Simon's bug-bears and his useful advice on where to discover more about behavioural psychology online.

Remember, you can catch all of our episodes from the podcast series on our SoundCloud page, iTunes library or Spotify.

Webinar Replay: Successful Storytelling in Investment Management Marketing Communications
This week, we teamed up with financial services communications agency Vested to present out latest webinar, looking into how storytelling can be so important to investment management.
Missed it? No problem, you can see a replay of the talk below.

Featuring Vested's CEO Elspeth Rothwell, UK Director Katie Spreadbury and our Global Head of Digital Rich Watts, this 40 minute presentation and Q&A sessions touches on the following topics:
Why storytelling matters
The importance of making emotional as well as rational connections (particularly in a fact-based world)
Storytelling to support complex messaging and audience needs
Where authentic stories come from
Omni-channel storytelling

We hope that you find the salient points included useful for your marketing campaigns!

Video in Focus: Neuroinclusion
This week we're taking a look into neuroinclusion for businesses: an issue that we haven't looked at in prior editions, and shared by Diversity Project on social media – an organisation looking into improving diversity within the investment industry across all fronts.
Great video via @HSBC on #neurodiversity and how it can benefit companies! @high5nd #neuroinclusion #diversity https://t.co/RXPAL9j2y1

— Diversity Project (@DiversityProj) May 15, 2019
As you can see in the video above, HSBC has run a great campaign to look into how people's differences can together create a diverse and all-ranging set of skills for a company. The employees included in these interview have Asperger's Syndrome, dyslexia, dyspraxia and ADHD, among others.

And whilst many can pigeon-hole conditions as weaknesses, instead this is an enlightening look into the fact that seeing business problems or tasks differently can bring many perspectives and solutions to a financial institution. It's time to celebrate neurological differences, with everyone bringing a fresh look or skill to any side of a business.

Featured Event: North American Financial Information Summit


Coming up very shortly is an event targeted at the financial services space, focusing in particular on the data side of things: the North American Financial Information Summit (NAFIS).

The event is a one-day affair, taking place on May 21st 2019 at the following address: Convene 1 Liberty, Convene 1 Liberty Plaza, 1 Liberty St, New York, NY 10006.

NAFIS is now in its 17th year, run as a joint effort between Inside Market Data, Inside Reference Data, Inside Data Management and Waters Technology, with backing from 16 Advisory Board members from companies including Morgan Stanley, State Street and Deutsche Bank.

Participants from buy-side and sell-side firms, as well as technology vendors and service providers will be in attendance for a conference consisting of informative talks, workshops and discuss sessions, and networking breaks to mix with experts in the industry.

Already announced as keynote speakers for the event include managing directors, chief data officers and data scientists, heads of technology and global innovation and strategy leaders from asset management firms including BlackRock, Vanguard, UBS Asset Management, BMO and BNY Mellon.

For more information about this great event, and to register, please visit the NAFIS website.

Fintech News: The trend gets trendier


There's been a lot of movement in the asset and wealth fintech revolution recently, and it's a trend that certainly seems to be building and, in the case of Bloomberg's news reporting, it's going to get even trendier, borne out of Berlin's Prenzlauer Berg district.

The company in question is Elinvar – a B2B2C solution platform for asset and wealth managers which allows its users to digitalise its business models. It's current clients include some of Germany's oldest private banks including M.M.Warburg & Co., Donner & Reuschel AG and Fuerstlich Castell'sche Bank.

The Berlin-based firm has just received a huge cash injection from Goldman Sachs, bringing its capital raised to more than €20 million – impressive, especially considering Elinvar was only founded in 2016.

Ampega Asset Management and Finleap will each own 32.8% of Elinvar, but Goldman will now hold 13.9%, and is all part of Elinvar's growth of the company, looking to increase from 80 to 100 employees by the end of the year and to expand its footprint in other European countries.

Whilst fintech in the past has been dominated by those in the payments, insurance and lending categories, it's refreshing to see asset and wealth management getting it's time in the spotlight and assistance from these technological providers for full financial teamwork.

Social Spotlight: Mental Health Awareness Week
This week in the UK has been #MentalHealthAwarenessWeek, and companies all over the country have taken to social media to highlight their own initiatives to raise awareness for mental health in business, a problem that is more prevalent than many know, with the need to talk through issues being just the start to remove the stigma surrounding the issue.

We've seen great examples from asset managers that have got involved with awareness this week, including Schroders, who have their own mental health network to provide support to staff…
It's Mental Health Awareness Week here in the UK. We are wearing our green ribbons to show our support fordestigmatising mental health. A big thank you to our mental health first aid network too who provide our employees with peer-to-peer support. Together we can #endthestigma. pic.twitter.com/qaxH0T54Tq

— Schroders (@Schroders) May 14, 2019
…and Standard Life Aberdeen have shared a series of podcasts from their employees discussing their own experiences with mental health, starting with this edition.
To show our support of #MentalHealthAwarenessWeek we'll be sharing a number of podcasts from our colleagues talking about their experience with #mentalhealth.

All stories and a full recording of Iain's powerful message are available at https://t.co/CI0K8EM0Ba #powerofokay pic.twitter.com/58xeApxENX
— StandardLifeAberdeen (@SLA_plc) May 13, 2019
It's a cause that's gaining serious traction, and with further efforts from individuals and institutions alike, we can finally #endthestigma.

If you'd like to have news, people, a new website or articles featured here, please get in touch via Twitter or email us at [email protected]