The need for institutions within the financial services industry to embrace digital is of the utmost importance, and the way that asset managers go about their digital marketing strategies is at the forefront of our radar here at Kurtosys.
Throughout April and May, we've kept a close eye on fund managers' digital properties to assess exactly how they have utilised digital marketing to assess and present the global market landscape to investment professionals.
Here's a compilation of the best digital strategies we've found from fund marketers responding to the biggest influencers for markets, stocks, asset managers' funds and investors. As you'll find out, wealth management servicers were particularly interested in the outcome of Trump's first 100 days as President and the French election between Emmanuel Macron and Marine Le Pen.
Schroders: Strong infographics, always
Schroders' marketing is consistently impressive with its use of infographics, which have become the investment managers' staple technique to most efficiently present their insights. The following are some of Schroders' most effective infographics from this month.
With key elections past, present and future in the US and Europe (2017 has had a dramatically political start), here Schroders highlights the global impact of markets on populism, including:
The UK economy being more resilient following Brexit
China being the leading nation in globalisation
Made in the pre-Macron era, it predicted that his win would mean that "investors could flock back to European assets"
Asia is likely to benefit most from improving capital expenditure
Via their Twitter channel, Schroders animated the separate sections of this infographic to make it a standout feature, like this for example:
Globalisation reversal, volatile interest rates and diverging markets are all a result of an increase in #populism https://t.co/8aaDMw9KkN pic.twitter.com/2kdvT6f2eN

— Schroders (@Schroders) May 2, 2017
As a global investment manager, Schroders clearly strives to present a holistic view of the world economy and its impact on investors the world over. Covered within this illustrative economy roundup are:
The strength of the dollar under Trump's leadership in the US and its implications worldwide if the currency is weaker in the future.
President Zuma's firing of a respected finance minister in South Africa, leading to a negative reaction from investors and continuing growth struggles in the country's economy.

In Britain, following Brexit, Theresa May's surprise snap election has caused a stir. Politics aside, the issue is also of particular note to investors. Senior European Economist and Strategist Azad Zangana highlights in this article the effects of an expected 'softer Brexit'. Investors are welcoming the announcement, since the sterling is at its highest level against the dollar since September 2016.
Offering a broader scope is Schroders' monthly markets review for April 2017, a report covering the UK, the US, Europe, Asia, Japan, and Emerging Markets. Covering equities in each region, the report highlights significant gains and returns and the fact that emerging markets have outperformed developed markets (due to the weakening of the US$); Emerging European markets have seen an influx in interest from investors refocusing on stocks.
Schroders also made effective use of video as a fund marketing technique, with Nicholette MacDonald-Brown presenting a '60 second roundup' of the recent Macron victory, with top news to investors being that economic growth can occur with fear reduced and that valuations are attractive again, particularly relative to the US, with a return to positive inflows in the European market.
The company has also updated and rebranded itself through their marketing channels, including their Twitter account: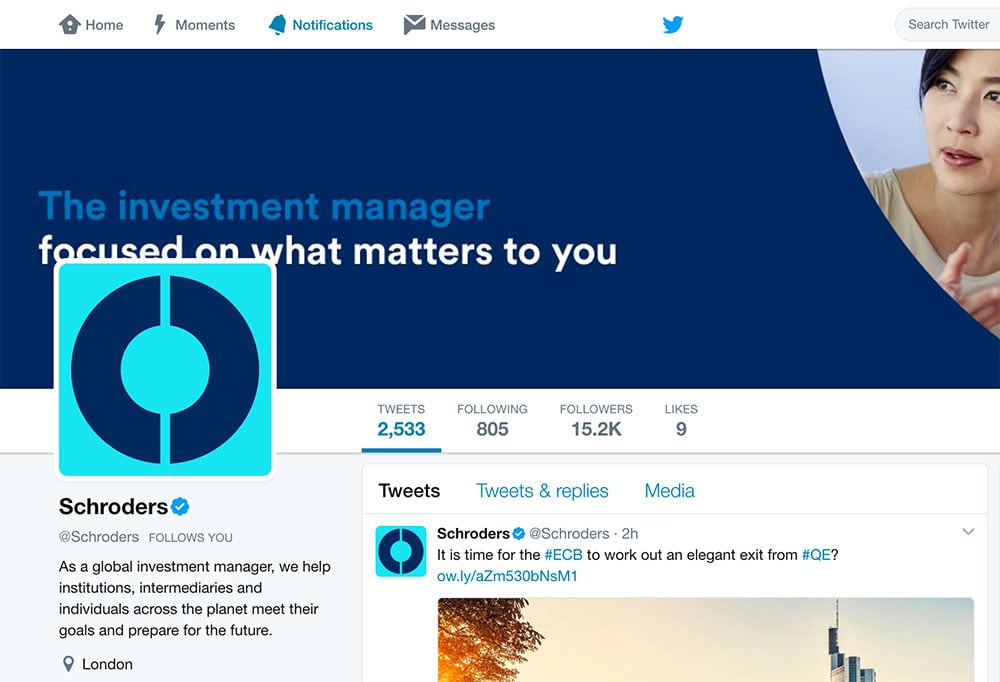 …and their website, which features a stylish animated video on its simple-to-navigate homepage…
…and appropriate pages for private investors, asset managers, or advisers, which have a block layout full of content covering insights from fund managers, fund data and relevant investment news.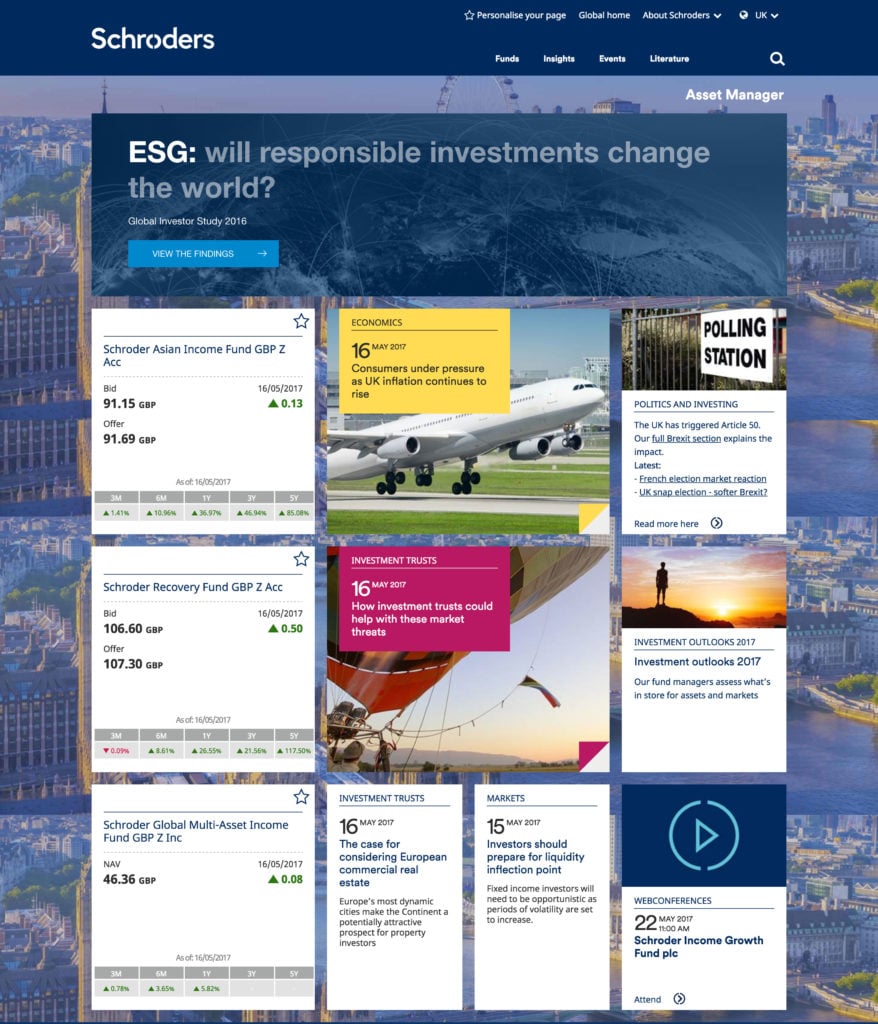 PIMCO – Full of facts & figures
PIMCO have been particularly useful in presenting fund information via their Twitter channel. Following in a similar style to Schroders, the most effective tweets are those that are animated:
How have active #bond managers performed versus their passive peers? https://t.co/HgKrGA4Rqx pic.twitter.com/Gdw1SRQkJF

— PIMCO (@PIMCO) May 14, 2017
Although they certainly share all fund data effectively via Twitter through the use of static graphs, like this example: part of an ongoing active vs passive investors debate, consistently researching how they are performing against each other.
Across categories, #Active bond managers have outperformed their benchmark after fees https://t.co/7VEqQ11xLt pic.twitter.com/yHR3LWqkgf

— PIMCO (@PIMCO) May 11, 2017
PIMCO also utilises Twitter Polls to gain insight from their followers in the industry, with users predicting China's growth outlook in 2017, and PIMCO have gone even further to connect with their investor audience by using personal tweets. Following the news of Puerto Rico's national debt and bankruptcy, PIMCO used a targeted tweet, linked to the event's implications for municipal markets. Both examples are below:
What's your 2017 growth outlook for #China? One important, yet overlooked factor: https://t.co/4Z5VzRGpP3

— PIMCO (@PIMCO) May 12, 2017
Should you be worried about #PuertoRico's bankruptcy? https://t.co/VeeHhirCY7 #munis pic.twitter.com/K29hmWzfSS

— PIMCO (@PIMCO) May 9, 2017
PIMCO's blog also offers a monthly market update across countries and asset classes. This month's article focused on the effects of the French election, but also gives a detailed US payment report (with employment figures included), outlines the strong performance from emerging market assets in 2017 so far (with investor confidence remaining high) and the fact that only stocks in China fell compared to other countries, possibly due to regulators tightening up to reduce fraud in the financial system. Positive flows into municipal bond mutual funds supported the market; the Bloomsberg Barclays Municipal Bond Index returned 0.73%. PIMCO ends by explaining where they expect growth in certain areas' GDP.
Oppenheimer Funds – Getting interactive
This month, Oppenheimer reacted to Trump's first 100 days as President by displaying their views on what they believe will happen to the US market, particularly the bull market in relation to US equities. On their site were interactive graphs that can be adjusted by the user…


…and these interactive graphs were also marketed as gifs on their Twitter page:
A few possible investment approaches following the first 100 days of Trump? Here are three: https://t.co/bbrewFwFCl pic.twitter.com/HQRUWBtQak

— OppenheimerFunds (@OppFunds) May 12, 2017
These embedded videos within Tweets have been proven to be Oppenheimer's key strategy for fund marketing also, with excerpts explaining, for instance, how to create wealth from long-term investing, or insights into the investment behaviours of millennials:
Next-gen wealthy investors have an appetite for deals & calculated risks. Our research w/ @CampdenWealth explains: https://t.co/IhxzDOcUeD pic.twitter.com/8kux6QXWGv

— OppenheimerFunds (@OppFunds) May 16, 2017
The focus on millennial investing does not stop there; OPFunds has released a survey – 'Coming of Age: the investment behaviours of ultra-high net worth millennials in North America' – with (again) interactive infographics to display who was surveyed, graphics displaying the results, and more results are to be released in due course. You can download the full report here.
Legg Mason – A visual approach
One investment management firm going to the next level in presenting their company culture is Baltimore's Legg Mason, whose photos are excellent at promoting their values.
Their Instagram presents a large selection of photographs from various events, partnership schemes and mentor programmes worldwide, which in the past month included Morgan State University's #LifeAtLeggMason, ANBIMA's Investment Funds Congress in São Paulo, as well as their team celebrating Earth Day in April. Last month was also their #FinancialLiteracyMonth: educating about funds via social media.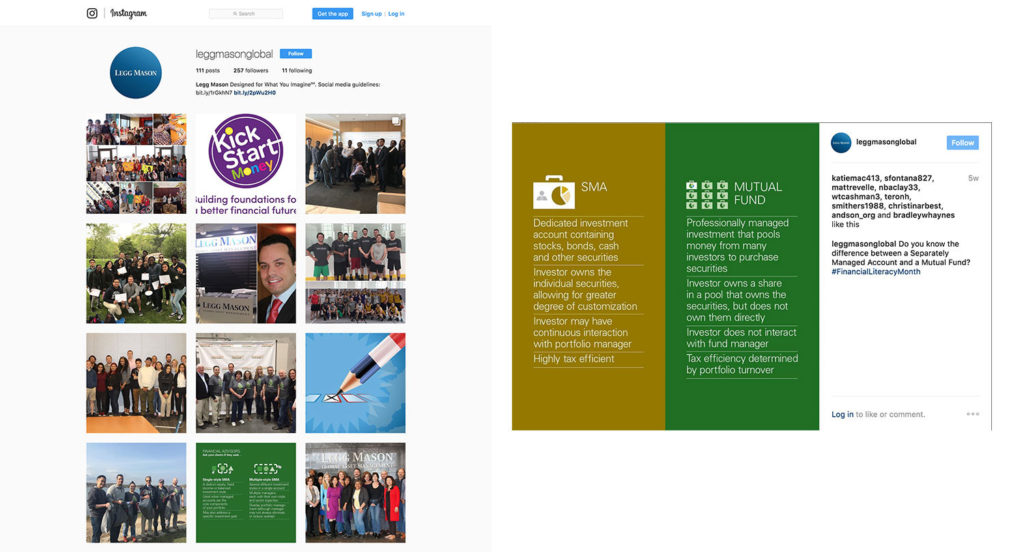 Legg Mason's social media strategy promotes themselves in slick animated videos. One significant example explained how they became a global investment company, and they make handy "Investor Education" videos, published to their prolific YouTube channel.
The company also publishes regular videos at the end of each fiscal quarter. April saw Fiscal Q4, and Legg Mason CEO Joe Sullivan discusses Legg Mason's quarterly goals, results and new partners.
Legg Mason's investment insights blog also aligns with the other examples we've seen, by discussing the implications of Macron's win on financial markets. As you can see from this post, different angles are discussed by various portfolio managers.
As political issues continue to have ramifications for the global financial market and investment companies, we'll be sure to find out exactly how asset managers are keeping up with the latest news, and see how their digital marketing techniques effectively translate their findings to educate investors.
If you've seen other noteworthy examples of digital marketing within asset management, let us know in the comments below, or you can tweet us.