The need for institutions within the financial services industry to embrace digital is of the utmost importance, and the way that asset managers go about their digital marketing strategies is at the forefront of our radar here at Kurtosys.
Throughout June, we've kept a close eye on fund managers' digital properties to assess exactly how they have utilised digital marketing to assess and present the global market landscape to investment professionals.
Here's a compilation of the best digital strategies we've found from fund marketers responding to the biggest influencers for markets, stocks, asset managers' funds and investors. This month saw the result of the UK's snap election, with the threat of a similar event brewing in Italy, all of which are to increase speculation for investors and throw shade on the global economy.
Nomura: Proactive & Professional
Japanese investment bank Nomura has been prolifically political throughout this month, mastering their use of Twitter to promote their ongoing assessments of financial markets.
Whilst also sending users to the appropriate insights page of their website, their graphic-centric tweets successfully conveyed their speculations about changes in global markets, particularly during the UK's General Election on June 8, all in keeping with Nomura's distinctly red branding. As you can see below, the bank marketed their ideas chronologically in a 'before, during and after' fashion, starting on June 6…
PODCAST: Less than 48 hrs till the UK general election-how will markets react to the unexpectedly close race? https://t.co/4bmH7pNQIt pic.twitter.com/6prboqDiYW

— Nomura (@Nomura) June 6, 2017
…then highlighted the macro implications for wins for either the Conservative or the Labour Party on the day of the vote…
What are the macro implications of a Labour or Conservative victory? #ElectionDay2017 #GE2017 https://t.co/4bmH7q5s73 pic.twitter.com/bvIyQdw2dQ

— Nomura (@Nomura) June 8, 2017
…and with the result being a 'hung parliament', Nomura kept investors informed about what that may mean for the worlds of politics and finance.
What does a hung parliament mean for Brexit? #GE2017 #HungParliament pic.twitter.com/l6NpYCsXTl

— Nomura (@Nomura) June 9, 2017
What does a hung parliament mean for the UK economy? #GE2017 #HungParliament pic.twitter.com/c75IHG2ZbS

— Nomura (@Nomura) June 9, 2017
Given the implications the election's results will have on the ongoing Brexit negotiations, Nomura has gone one step further to present exactly what the terms 'Hard' and 'Soft' mean in a usefully scaled Brexit infographic.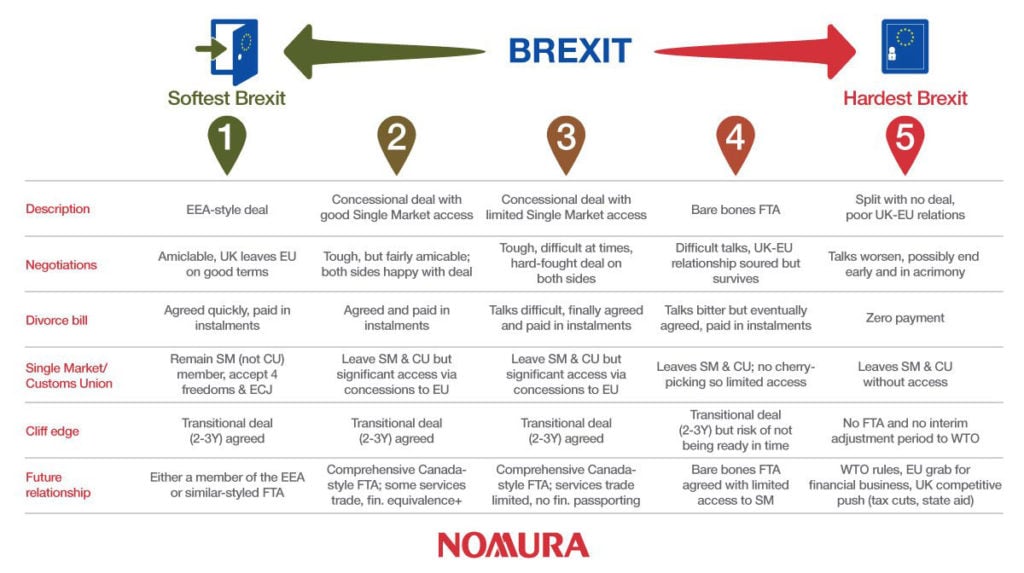 This month has also seen a weekly output from the marketing team in terms of podcasts, all 10 to 15 minutes long and focusing on European markets, mainly due to the current political climate. They can be found, and directly listened to, on their website.
June also saw Nomura's annual Investment Forum Asia, which was documented continually throughout its course on social media using the hashtag #NomuraForum, showcasing talks from their analysts and investment professionals. One innovative social media technique utilised by Nomura is the use of a 'social wall' which collates moments together into one viewable platform, as shown below.
As a tweet from June 7 also showed, event-goers were also kept abreast of the latest goings-on at the Forum.
Great to have screens at the #NomuraForum @RitzCarlton displaying our live tweets to keep our guests updated throughout the conference pic.twitter.com/Sepy33aSdW

— Nomura (@Nomura) June 7, 2017
Company culture is also an important side to Nomura's digital marketing strategy, with this month showing the investment manager's support for LGBT in London during Pride Month…
Our #LGBT network busy recruiting Allies in the London office today #proud #visibility #inclusive #diversity pic.twitter.com/J40KuCdKC0

— Nomura (@Nomura) June 13, 2017
…and a food waste-centric charitable effort in Hong Kong.
Re-screened the @JustEatItFilm in our HK office – such an important message. Let's work together to #StopFoodWaste. @FeedingHK pic.twitter.com/wd6Fmv8pJ1

— Nomura (@Nomura) June 19, 2017
Clearly, Nomura has used social media to successfully present both investment advice and financial outlooks whilst promoting their own brand through event-sharing and their co-operative efforts.
Franklin Templeton: Popular Bloggers
Of course, Britain's General Election was the talk of the investment town for many of the asset managers we focused on. In a similar vein to Nomura, Franklin Templeton Investments took the opportunity to offer speculative investment insights due to the prospect of a hung parliament, promoted via their Twitter channel in two ways.
Firstly, using a relative image and probing associated text…
The #GE2017 result has plunged the UK into political uncertainty. David #Zahn shares some investment insights. https://t.co/KVK3gF8WQw

— Franklin Templeton (@FTI_Global) June 9, 2017
…but also a block quote-style extract from author David Zahn, lifted from the attached article on Franklin Templeton's popular investment blog entitled "Beyond Bulls & Bears".
What might the prospect of a hung parliament in the UK mean for investors? David #Zahn weighs in. #GE2017 https://t.co/KVK3gF8WQw pic.twitter.com/dtMMbOztIk

— Franklin Templeton (@FTI_Global) June 9, 2017
David Zahn also featured on CNBC to discuss his views immediately in the wake of the election which you can see here, but as well as self-promotion, Franklin Templeton re-tweeted a Financial News article which offered offered a more holistic view of the hung parliament's implications for investors, with insights from various industry professionals.
'Chaos and mayhem' – City reacts to UK election result https://t.co/KxkFqbfWNC via @FinancialNews

— Franklin Templeton (@FTI_Global) June 9, 2017
Running parallel to this news was the increased likelihood of a snap election in Italy, an event also marketed by Franklin Templeton using a slideshow video format to present the views of Portfolio Manager Robert Mazzuoli.
Franklin Local Asset Management's Robert Mazzuoli weighs in on the proposed change to Italian electoral law. pic.twitter.com/sf3bAVYvVp

— Franklin Templeton (@FTI_Global) June 7, 2017
We are also fans of this company's weekly-updated speculative graphics from the European Trading Desk team; this week's example is shown below…
Here's a roundup of key events our European Trading Desk team has its eye on in the week ahead: https://t.co/C4XJPWcMlM pic.twitter.com/ydeMFFVJXj

— Franklin Templeton (@FTI_Global) June 20, 2017
…and their blog is even going off-piste. At the start of this month, we were fond of this article which compared investing to pop-culture hit Groundhog Day. The tweet's featured image, of course, fuelled interest.
#ChrisMolumphy: US interest rates are likely to keep moving up, but they may be capped by global factors https://t.co/EPPC3lvuGJ

— Franklin Templeton (@FTI_Global) June 3, 2017
Franklin Templeton also offer insights via monthly video blogs, whereby their investment professionals act as thought leaders in a roundtable discussion of the "latest global outlook across asset classes". They can be found on this page, and each of the insights were also embedded into separate tweets. They cover the economic shift for developed markets, the risk for US fixed income and today's global market drivers.
Templeton Emerging Markets Group CIO Stephen Dover looks at opportunities & challenges in #emergingmarkets today. pic.twitter.com/uxQJ1WfAMM

— Franklin Templeton (@FTI_Global) June 16, 2017
The website also offers their popular funds on their homepage for investors, as well as a fund explorer; great tools to be displayed prominently by fund managers.
Standard Life Investments: Branding Specialists
Standard Life Investments also offers two types of global economic markets overview. On their website, the wealth management company offers 'Weekly Economic Briefing' articles, giving updates on changes in various financial areas, these being the United States, the UK, Europe, Japan and Developed Asia and Emerging Markets. Notable events that are covered this month include the meeting of the Financial Open Market Committee in the US, income inequality in Europe and (welcome back!) the UK election. These insights can be downloaded as a separate .pdf (as is the case for many of their investment insights) and the charts included with the text are also displayed via their Twitter page.
Good news from #Europe: the economic backdrop continues to improve. Take a look at the #ECB projections https://t.co/bEwJwvCmXJ pic.twitter.com/gyGbZIHbNC

— Standard Life Invest (@SLI_Global) June 16, 2017
Elsewhere, Standard Life offers global analyst videos for each month. Firstly, the 'Global Outlook' is briefly explained by Head of Global Strategy Andrew Milligan…
…and at the end of each month, economic markets' impact on investors are reviewed in a longer video. You can find a gallery of the 2017 editions here.
On June 13, Andrew Milligan's review of the UK and global economy was also live-streamed via Bloomberg TV, and advertised on Twitter.
Watch Andrew Milligan, Head of Global Strategy, discuss the UK and global economy on @BloombergTV today at 3pm BST https://t.co/pcxVTf7Goz pic.twitter.com/FqJLMnNamw

— Standard Life Invest (@SLI_Global) June 13, 2017
It's safe to say, from looking over Standard Life's marketing overall, that it is impossible to ignore the investment company's partnership with the British and Irish Lions Rugby team, who are currently on tour in New Zealand (Putnam also similarly endorses certain golfers and the Boston Celtics).
Aside from marketing funds, this shows Standard Life's excellent usage of social media marketing. All of the team's in-game action, results, interviews and fan pictures take up much of the Twitter timeline…
A huge drive from the Lions in the scrum results in a penalty try!
Sky Sports 1 now.
Brought to you by @SLI_Global https://t.co/Y2oOevx0Qz

— Sky Sports Rugby 🏉 (@SkySportsRugby) June 17, 2017
The @lionsofficial fans arriving and hoping to see a world-class performance #MABvBIL #LionsNZ2017 #AllForOne https://t.co/k9AsNTJSr7 pic.twitter.com/9W2VZzAJE8

— Standard Life Invest (@SLI_Global) June 17, 2017
…and pretty much all of their Instagram page.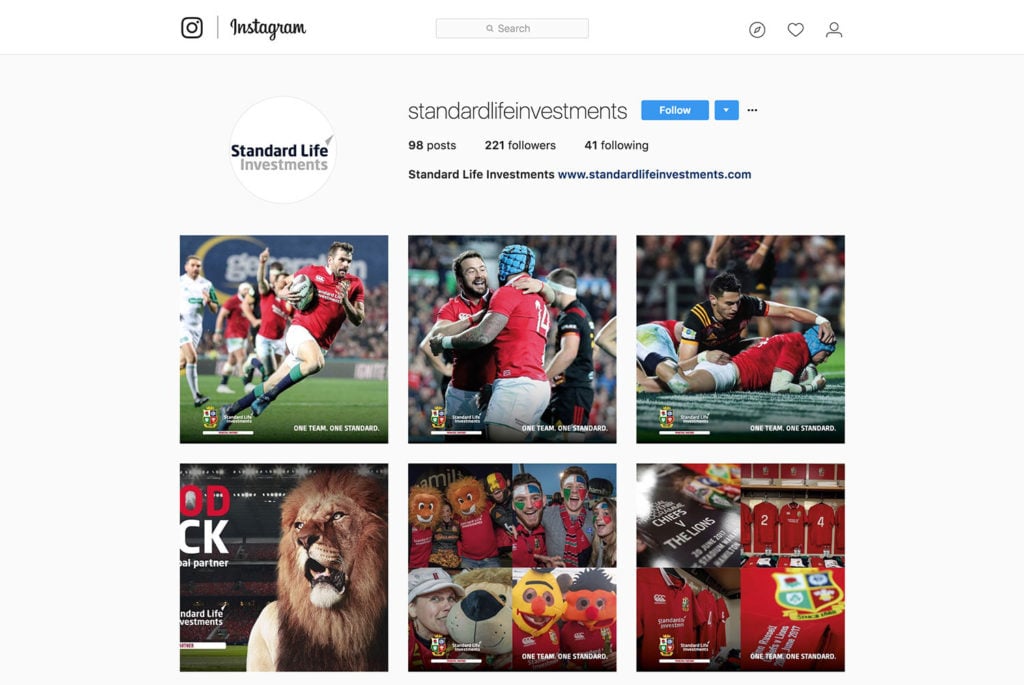 This is a lesson in committed promotion of their brand (notice their logo and "One Team. One Standard." slogan emblazoned everywhere) alongside their invaluable insights for asset managers and investors alike.
Generali: Something Different
The Generali Group's main focus is on insurance, but their video marketing efforts to emphasise this are superb and useful for fund marketers to emulate (more from Generali Investments to follow).
The professionally-made videos are embedded into Tweets (with links to their website). For instance, this June example is useful in outlining the role of an actuary in insurance…
Let's explore together the heart of the #insurance business: the role of the #actuary https://t.co/0hvItgwiwS pic.twitter.com/lWC1Mcaru1

— Generali Group (@GENERALI) June 19, 2017
…as well as this "Allegory of Insurance, Nemes, 1925" feature; a poster of the Generali agency in Budapest from 1925 provides the exposition for an impressive animation (featuring Indiana Jones and Kill Bill visuals) to outline the confluence of insurance and cinema.
A poster from 1925 of a Generali agency in Budapest reminds us that the relationship between insurance and cinema is fact and not fiction pic.twitter.com/XHuWZWeVaF

— Generali Group (@GENERALI) June 16, 2017
Specific to investment professionals, this nifty cartoon also highlights how insurance can be used as a form of investment, accompanied by a tongue-in-cheek #InsuranceforDummies hashtag, which could have longevity as part of a marketing campaign.
Have you ever thought of insurance as a form of investment? There are indeed two kinds of policies. Enjoy the #InsuranceForDummies cartoon pic.twitter.com/GAaLXJgX8k

— Generali Group (@GENERALI) June 7, 2017
Similarly to Standard Life, Generali Investments market overview is handled by their research team and presented in two formats on a monthly basis. Firstly, a written documented can be downloaded as a .pdf each month, covering the financial markets in a global view as well as taking a closer look at different markets including the USA, China, Japan and Central and Eastern Europe. This month's edition can be found here.
Additionally, investors can view a monthly market review in a video format, ready to be downloaded in an MP4 format as part of 'GI in Action'.
Finally, Generali Group's Instagram is also making huge strides to develop their charitable economic campaigns. Through striking images and accompanying stories, their posts are a bold marketing hit, and you can find an example below.
June brought up an interesting new twist in British politics, with its ongoing impact on Brexit a great deal to investors in the UK and Europe. As we have seen, fund managers are increasingly marketing their own views of the constant political and economic changes that affect the world through use of blog articles, downloadable documents, video, infographics and social media campaigns.
We'll keep a close eye on how fund managers are using their digital marketing techniques to display the implications of global events on investments.
If you've seen other noteworthy examples of digital marketing within asset management, let us know in the comments below, or you can tweet us.