We know it's easy to overlook the "little things", but as mentioned in a recent post about micro UX, the smallest detail and function can make a noticeable impact on an asset manager's website.
There's a special section of a company's website that is a "must have" for establishing a strong online presence – a blog. Blogs are a critical component of any site, especially for a fund manager. These content hubs help drive traffic to your website, increase SEO optimization and position your brand as an industry leader.
In the spirit of honing in on the often-overlooked, yet important elements of a website, we've provided suggestions that will enhance any asset management blog. We picked up these eight tips by reviewing some of the asset managers that really understand the art and science of the blog.
#1 Keep your blog fresh with valuable content
Cambridge Global Asset Management and Invesco post frequently. Readers will return to a blog that's updated often. They will want to seek out the latest and greatest content.
Good blogging takes time and resources. If bandwidth is an issue, post once every month like Cambridge.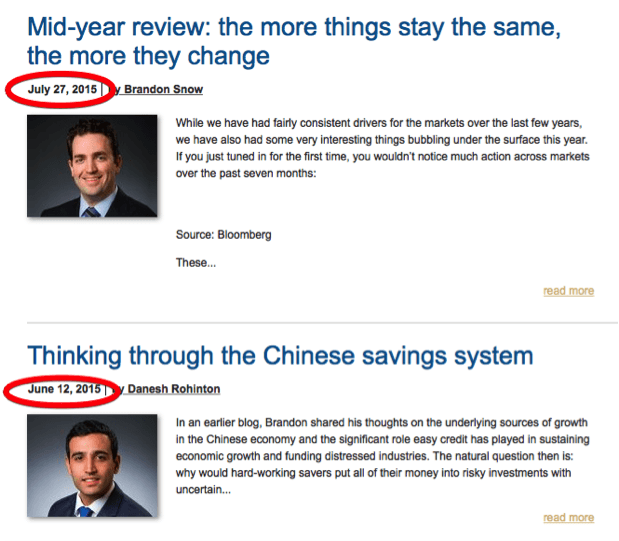 Or if that's not an issue, try publishing once or twice every week. Invesco does a stellar job in serving up new articles multiple times in a week.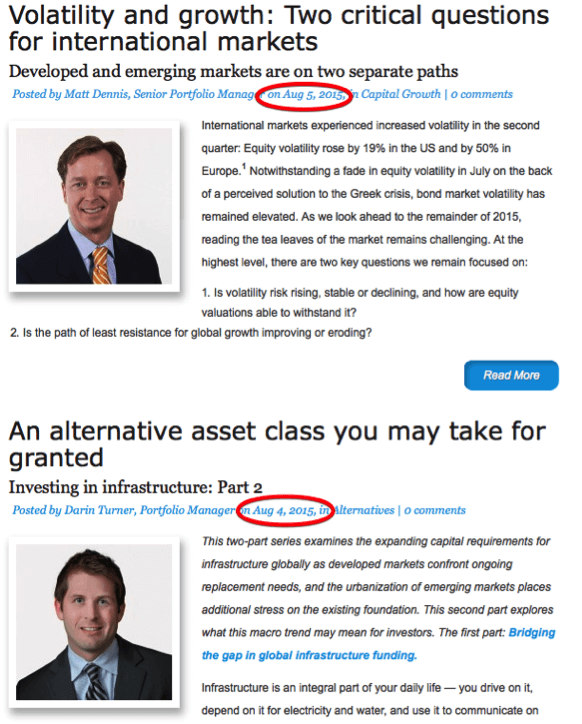 #2 Include a CTA at the end of every article
A call to action (CTA) prompts the reader to immediatly respond after reading an article. This helps create more conversions and leads the interested reader down the funnel.
Natixis uses a personalized, non-demanding CTA in every blog post. The firm offers more of the same content after a Greek-debt related post.



Lord Abbett uses the same call-to-action at the end of each of their blog posts. They've created an eye-catching, clickable banner for the reader to download an app.



We recommend having a different CTA at the end of each post. If you're asking the reader to download a whitepaper or watch a video, that content should be relevant to the theme of the article they've just read.
#3 Create a tagline and/or name for your blog
Carefully crafting a tagline or name for your blog is a creative way to engage readers and enrich your brand.
M&G calls their blog "Bond Vigilantes".  A clever name like this one can help the blog seem more interesting and fun, especially when the content can be very technical. They also include an "about this blog" section that provides the reader a short blurb about the purpose of the blog, which lets the user know exactly what to expect.



Neuberger Berman takes it one step further with their tagline, making the mission of the blog clear to readers. They aim to please their investors with the best insights possible. Neuberger Berman makes the firm's audience known too – institutional investors.



A nice, creative play on their firm's name, Forward Investments blog is titled 'fwd thinking blog'.



Russell makes it apparent that you're on the Russell blog. This might seem strange to mention, but have you ever gotten lost on a website that had tons of content before? I certaintly have. It's nice to be reminded about what section of a multi-page website you're on. Before even reading an article, the viewer knows who is authoring their posts via the short tagline. The articles are coming straight from some of the smartest brains of the organization – their investment managers.

#4 Use different filters to organize blog articles
Some of the filter types include date, author, topic, most shared, most viewed, and most discussed. Morgan Stanley has a short list of filters based on categories.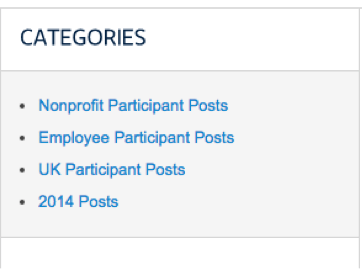 Having filters for the variety of your posts organizes your blog so that viewers can narrow down their search. A filter by topic is especially important because viewers are able to find specific information on desired themes.
#5 Include a comment section
Blackrock includes a comment section at the bottom of each article. We love that they encourage feedback with a question too!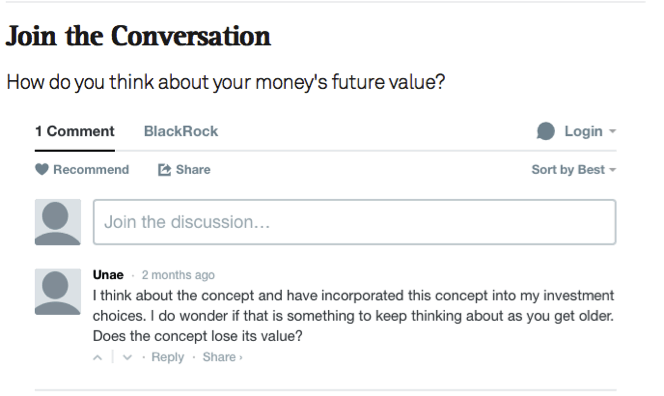 Having a comment section on your blog creates engagement from your audience. You can receive immediate feedback on posts and easily connect with clients and prospects. But beware — before setting up a comment section on the blog (we recommend Disqus) make sure you're ready to answer. Consider having the author of the post respond to the comments in a timely manner.
#6 Make your blog easy to find on your main website
Goldman Sachs takes a different approach to their blog. They've decided to focus on human resources and company culture. Regardless, their blog is easy to spot amongst their other content by including a link to it on a drop tab on their home page.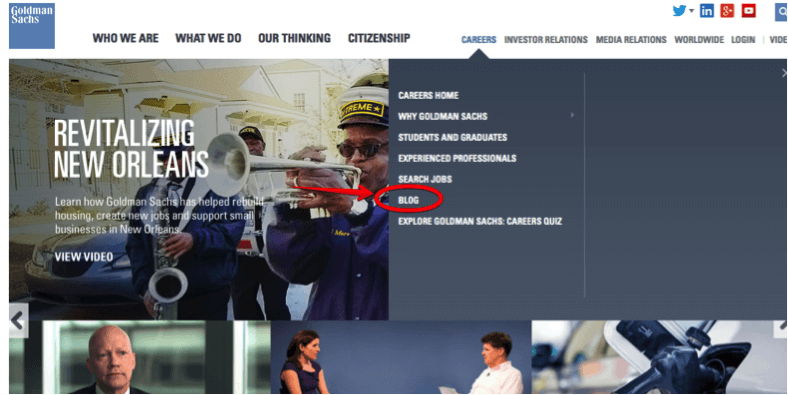 We suggest having a direct link to your asset management blog from your home page. Make sure this link is easy to find in order to direct traffic from your main site to your blog. Your blog is where the interested prospect will find some of the most engaging and informative content. Website users shouldn't have to search the entire Internet for your blog. If it is not easily accessible to the reader, more than likely they won't bother going there. 
#7 Create a "feature" post section
Capture the reader's attention to the newest post by prominently showcasing it. We suggest using a high quality image for feature blogs in order to maintain a superior presence and bring attention to the blog. Putnam does a great job with this. It's also very cool that they've devoted an entire blog around tech for advisors. There are some must read articles on here!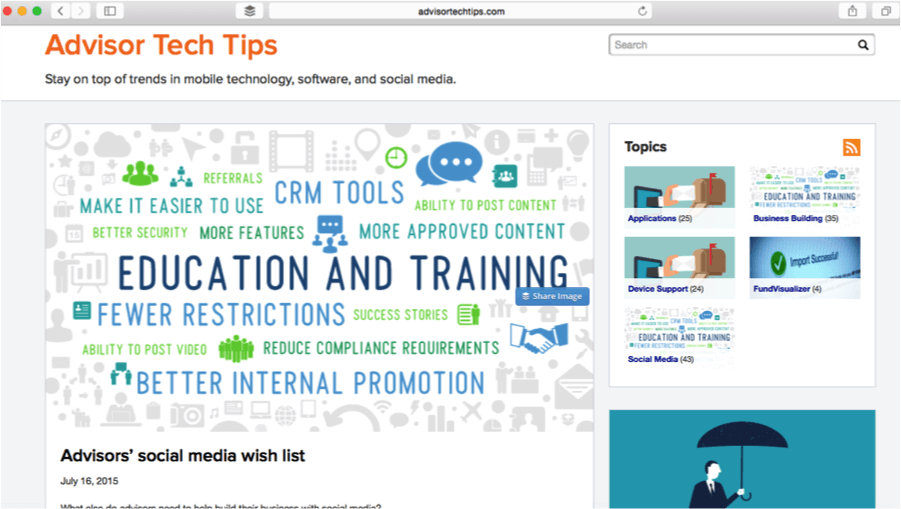 Aberdeen makes it a point to include high quality, eye-catching images for the posts they feature.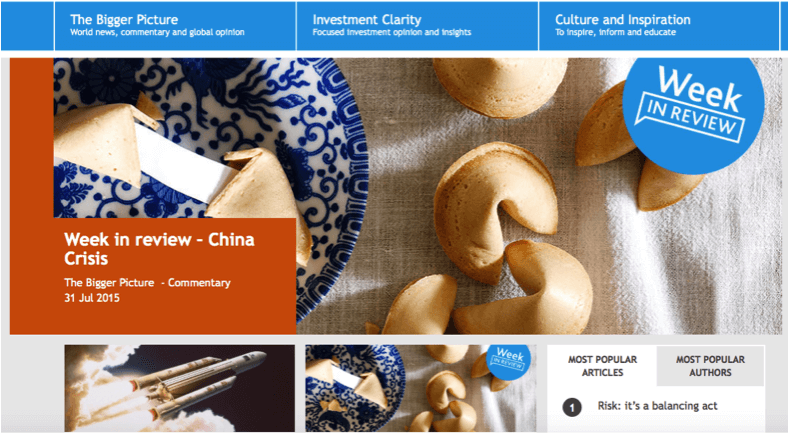 #8 Connect the reader with your Twitter account via a live stream
Once again, Forward Investments pave the way here. Not only has the San Fran-based firm created a name for their blog, but they also include their twitter stream on the side of their blog page. Vanguard makes use of this feature as well. Including an easy-to-view RSS feed, will put the reader in touch with the content on the firm's Twitter account. If the user is not following them, it makes it effortless to do so with one or two clicks straight from the blog.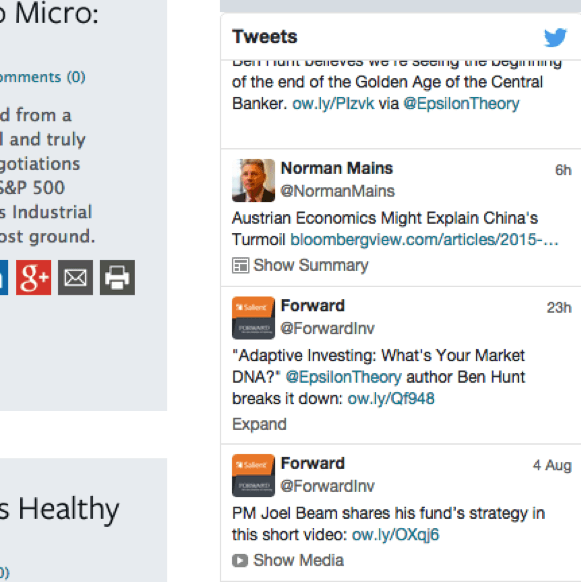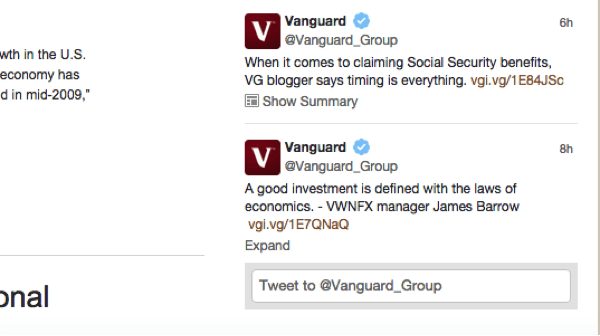 Frequent posting, CTAs, taglines and names, filters, easy accessibility, comments, feature articles and twitter feeds are eight great ideas and ways to optimize your firm's blog. It can become a habit to focus only on the content of your blogs and forget about the other ways to enhance the platform. Remember the "little things". Implement some of these suggestions in order to get an edge over your competition.