It should go without saying by now, but the online presence of asset managers is substantiated greatly through the use of a blog.
Although investment insights and thought leadership content from fund managers can best service potential investors, great content does not stand a chance all alone. There needs to be a focus on a better user experience for these blog pages; the use of custom graphics, infographics and clear calls to action are essential components, as well as leveraging video content for online users with diminishing attention spans.
On top of this, the alignment of relevant content and financial data is an aspect we commend here at Kurtosys, but unfortunately see rarely.
Luckily, here are 8 blogs from asset managers that we feel are leveraging the blog format (often dubbed as 'Insights' or 'Resource' centres too) to a great extent to serve as a benchmark for all content creators in financial services.
In alphabetical order: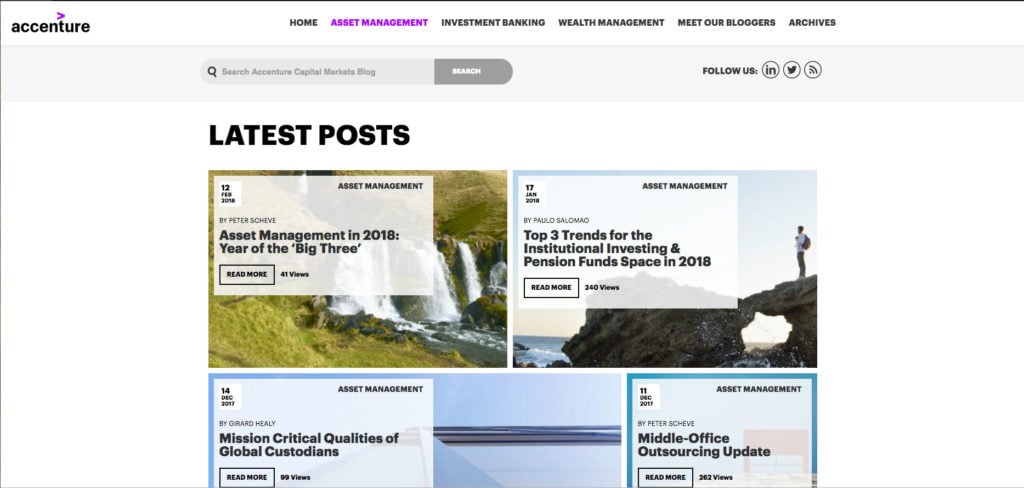 Global management consulting giant Accenture has a wealth of topics on its Capital Markets Blog, none more relevant than its section on Asset Management, of course. There's several reasons too for why this main-page stands out.
Besides the flashy black and purple colour scheme, an animated and interactive 'featured articles' header carousel is exemplary, before delving into the quality content on offer here. Mainly focusing their content on the transformative aspects within the industry, they modestly update their blogs once or twice a month with useful insights and popular 'listicles'.
Plus, the bold block graphic layout works a treat on the eyes, combined with a typeahead search function for maximum user experience.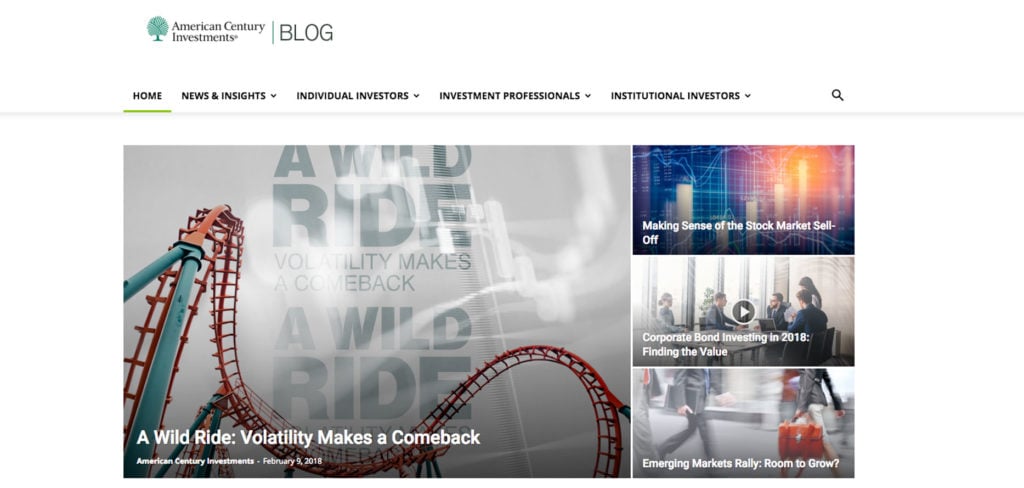 American Century have gone the whole hog to host a dedicated blog site for their investment insights.
Posting updates fairly regularly (every couple of days at the very least), their content ranges from industry specific 'speculation' pieces (acting as familiar 'blogging' territory) to more advanced market analysis articles, some of which are guest posts from subadvisors.
We are particularly fond of their advanced use of video marketing, however, which American Century uses fairly consistently. Whether it's global market forecasts, yearly investment industry retrospectives or thought leadership pieces, professional talking-head videos are used effectively to convey the information.
This is all on top of a neatly laid-out main page to give equal weight to all content types, which can be segmented through a useful toolbar.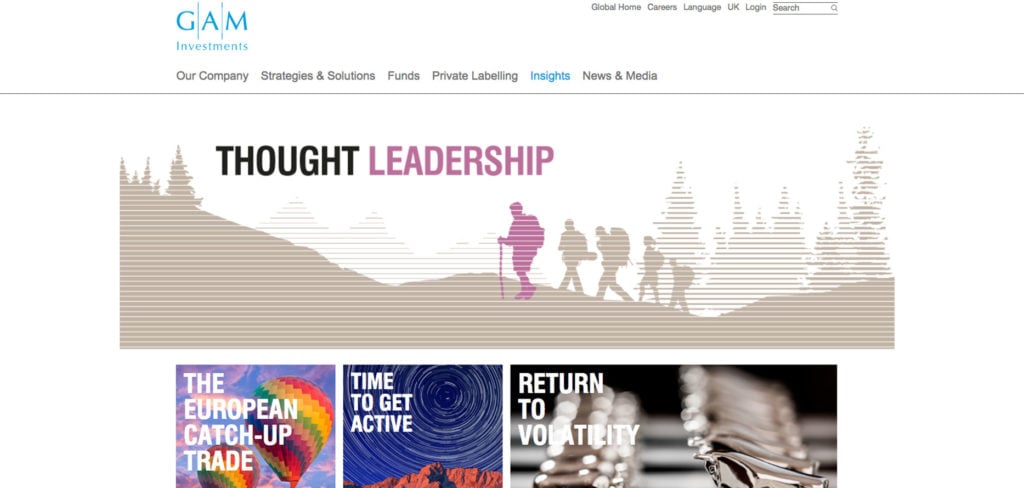 The Thought Leadership branded insights page of GAM Investments works similarly, but places a greater emphasis on its design.
The use of interesting and attention-grabbing graphics is the main draw, which when twinned with short and catchy headline titles makes for an enjoyable user journey through the blog. The construction of article titles and accompanying images is an underrated art in the blogging sphere, but one which we feel GAM has got completely right.
This blog page is trimmed so that the most recent pieces appear as attractive icons first, but users can toggle through seven different topic areas – from macroeconomics to a fund manager spotlight – according to preference in the archive section at the bottom of the page, too.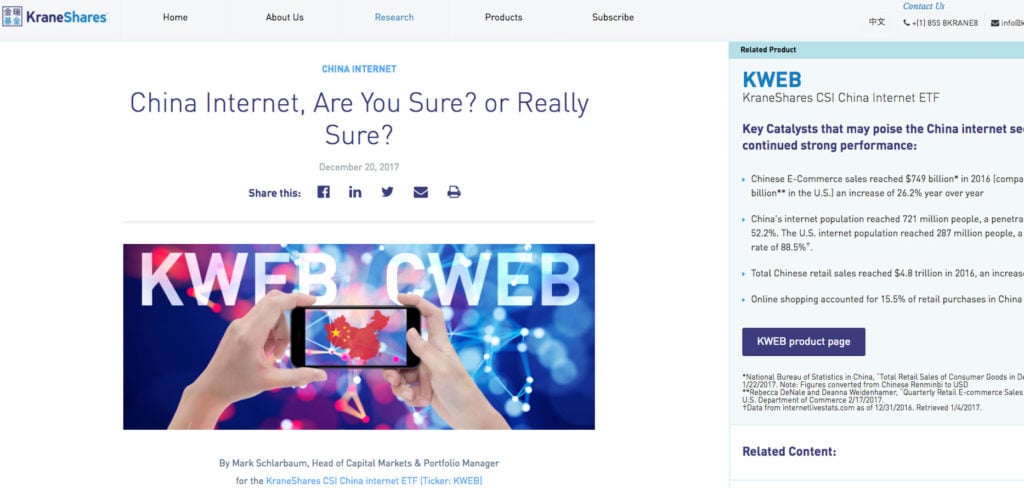 KraneShares is an exemplary ETF site alone, but it's focus on exchange traded funds also enhances its 'Research' centre.
The investment manager is a specialist in Chinese funds, with much of the blog's content focusing on the opportunities in the Chinese investment market, such as this look into the country's Internet sector. Also prevalent on the blog are the listings of KraneShares' ETF launches, which seemingly occur frequently, making for a regularly updated content centre.
Our favourite aspect of this blog section which really sets it apart from other players is the 'Related Product' section to accompany the content. Each post comes complete with the most relatable KraneShares ETF, with fund facts and a link to the product page aligned with the content – an aspect we appreciate greatly at Kurtosys.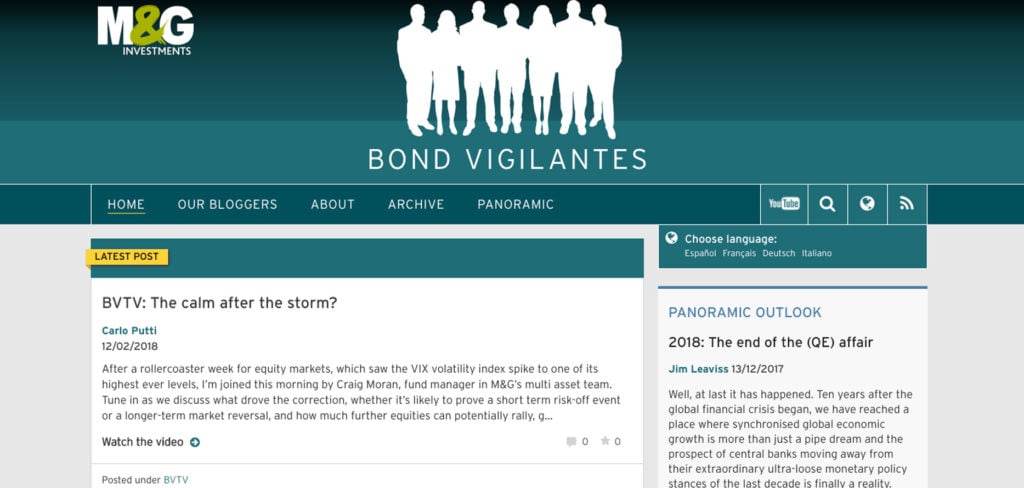 Not many asset management blogs have such a longevity as 'Bond Vigilantes' – the content only subsidiary of M&G Investments.
In fact, this blog dates as far back as 2006, which M&G's Head of Retail Fixed Interest Jim Leaviss notes as a time when "the world looked pretty different", in an economic sense or otherwise. Bond Vigilantes is clearly a successful example of financial blogging, covering topics such as emerging markets, ESGs, tax laws, and even such features as an annual Christmas quiz.
The quality of the content is hardly surprising given BV's army of investment professional bloggers, whose profiles can be viewed here. Other features of note are the BVTV YouTube links for video content, as well as the option to choose between four languages on each page for global reach.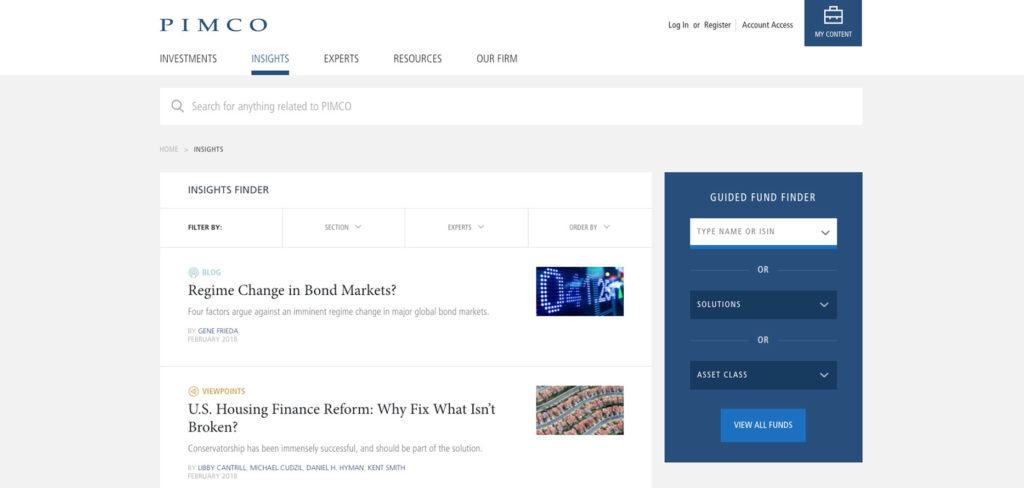 One of the most simplistic yet effective 'Insights' features is that of PIMCO. Essentially, the investment manager has constructed a section tailored to the easy navigation of their content.
Most notably is the 'Insights Finder' modal; a drop-down list which allows the website user to toggle through each subject of discussion, whether it's the most recent content, or even which specific expert writer they wish to view.
PIMCO has only four clearly defined categories to keep the content streamlined, and we love that the 'Guided Fund Finder' is also available next to the insights directory, so that the user is prompted to browse PIMCO's fund range.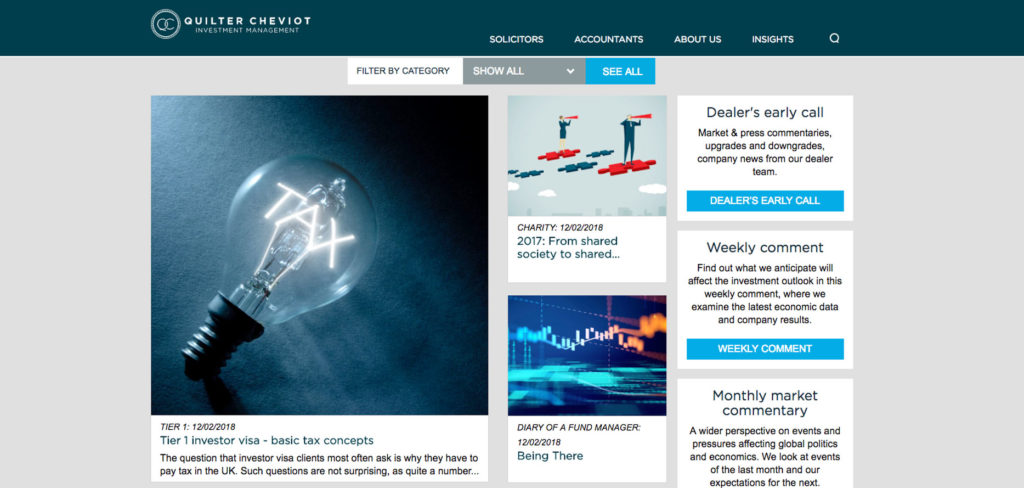 Quilter Cheviot goes quite a step further with their blog categories, but they are a frontrunner in the asset management blogging sphere due to their focus on article series.
The content that they produce is fairly systematic, as with the other examples given, and it's these regular updates which take precedence on the main page of the blog. For instance, the Monthly Market Commentary and the Weekly Comment articles are easily accessible on the right-hand side bar with clear calls to action.
Elsewhere, each category can be segmented in a useful drop-down list and one exemplary form of marketing relates to the excellent (and award-winning) 'Diary of a Fund Manager' series. As well as having its own category, the user can subscribe to the weekly section via an email submission form.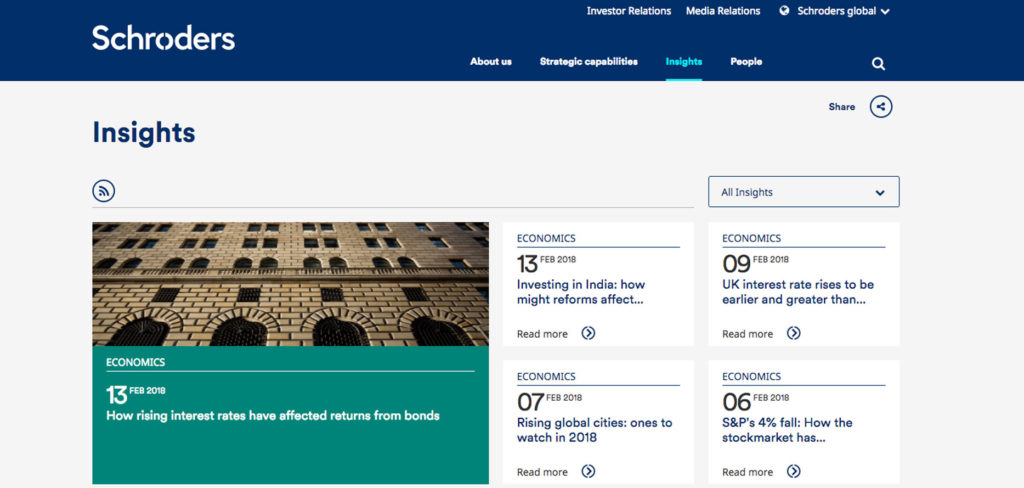 Another great example of an Insights page without the clutter is that of Schroders.
The most recent Economic-centric content is the main offering, with all of the archived articles and features housed in an extensive list of dates given below. Once a user expands the view for a particular date, a calendar view is shown, allowing the user to pinpoint a piece of content with ease.
Schroders also makes use of video content, and in a series format, accessible from the category toolbar featured clearly on the Insights main page. Titled "60 seconds on…", it's a successful roundup which focuses on a particular sector of investment opportunity per episode, as well as global economic outlooks.
If you have found successful examples of asset management blogs recently, please feel free to comment below.
We've put together a gallery of real-world examples of widgets that are all standardized and available from the Kurtosys platform.
View Gallery