Fund world, the week has finally arrived! It's once again time for networking and celebrations aplenty, whilst getting an annual deep dive into the investment industry at this year's FundForum International.

As one of the leading conferences for asset managers the world over, it looks set to be a few days of second-to-none insight from thought leaders, informative discussions on the future of the industry, and the chance to meet new friends and potential business contacts all in the event's new beautiful home of Copenhagen.

With today marking FundForum's first series of talks and networking opportunities, we felt it apt to craft a short rundown of all the best things that you can expect: top industry professionals, featured talks, social highlights, tips and tricks and where to get the latest developments from the conference itself. Time to kick off the summer season with a bang, Copenhagen!

Women in Funds: Christiane Vejlø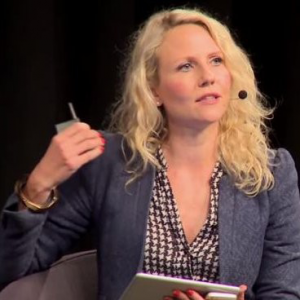 As with past FundForums (for those in the know), the annual Women in Funds reception will this year be held this Wednesday, 26 June. Starting at 18.00 in The Tree House in the Bella Centre. It is this time proudly sponsored by Brown Brothers Harriman and SEB; an excellent chance to network in a chilled drinks-evening setting, complete with Danish pastries.

Another highlight to this event is a featured talk following the day's proceedings from Christiane Vejlø. From her base in Copenhagen, Christiane is one of the leading digital experts in Europe, specialising in the relationship between technology, digital user behaviour and humans, and how this can affect company culture and business transformation.

Not only is Christiane an experience keynote speaker, analyst, and host of an award-winning tech based radio show, she also has a role as a member of the Prime Minister's Disruption Council and acts as Chairwoman of the Danish government's Expert Group on Data Ethics. She has also invested in digital startups, has designed the first tech bag for women (the Knomo Elektonista) and was accepted into the Danish edition of "Who is Who?" (Blå Blog).

You can follow Christiane on LinkedIn.

Please be aware that the event is invite-only, so make sure that you have your place booked by contacting [email protected].

What to Look Out For, with Michael Gruener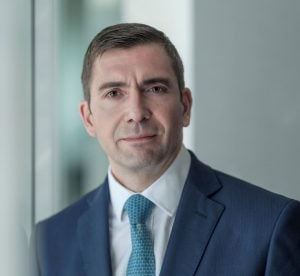 Here at Kurtosys, we like to scope out which digital trends are hitting the asset and wealth management industry, and how firms can face challenges or use technological capabilities for the good.

Funds Europe has asked many of top speakers and company representatives from this year's event what they are most looking forward to discussing and investigating in Copenhagen. You can check out responses from the thought leaders here, and one individual who is as keen as we are to talk all things digital is Michael Gruener, Head of Retail EMEA at BlackRock.

Michael is especially interested in what the next five years holds for the implementation of technology across the entire value chain for asset and wealth managers, and how they can leverage digital to best deal with the influx of large-scale delivery and customer demands, in Europe particularly. With an ever growing appetite for digital enhancements to traditional methods (adding technology to improve face-to-face meetings for example, and the idea of Open Banking etc.), firms have plenty to not only talk about, but to act on; these are all themes that should be covered this week and beyond, as digital capabilities become the epicentre of the fund management world.

Michael has some other excellent views about BlackRock's use of data science, their Scalable digital advisor, and ESG funds (a pivotal talking point at FundForum 2019) in his interview with Sam Shaw and Kurtosys, which you can check out over on our blog.

Featured Speakers
Elsewhere on the digital side of things, here are a few select speakers that we feel should be of interest this week, all putting forward their opinions and futuristic outlooks for the industry in terms of technological disruption:

Rose St Louis, Head of Strategic Partnerships at Zurich UK
With over 20 years in the financial sector, Rose St Louis now works towards Zurich's retail insurance business, and co-founded the Women in Protection Network, addressing the misrepresentation of women in the world of financial protection, as well as chairing Zurich's Women's Innovation Network and teaching financial literacy to students. An all-encompassing expert, Rose will also be part of the following session:

Technology revolutions, inequality and a new role for asset management to address global challenges of funding health and wealth wellbeing -What does the investment management industry need to do to make this a reality? Tuesday 25 June, 09.15

David Tiller, Head of Propositions at Standard Life Aberdeen
With Standard Life Aberdeen now recognised as a leading adviser platform, David will be part of a discussion on "datafication"; with 'data being the new oil', what do innovations in the way we use and store data mean for asset managers?

The Asset Manager Interview – How to approach the implementation of the "datafication of everything" – what does the new asset innovation mean in practice for asset managers? Tuesday 25 June, 10.15

Olivia Vinden, Director, Head of Fintech & Innovation at Alpha FMC
Olivia Vinden works as a specialist in emerging technology for the industry, and is also on the advisor panel of the Investment Association's fintech accelerator Velocity. With her advanced knowledge of tech processes in the front, middle and back office, she'll be giving her pointers on what tech challenges the industry faces in the following talks:

(Even More) Disruption in the back office: Latest market trends in emerging and developing tech
Tuesday 25 June, 14.00
Day 1 Closing Keynote: From the global giants of technology VC to next gen digital leaders, what is going to be the most significant technological development of benefit to humanity in the next five years? Tuesday 25 June, 17.35

Brian Byrne, CEO, Futurist, War-Gamer at Aviador Group
Offering a fresh take and sideways glance at the industry is Brian Byrne, whose company analyses megatrends and geopolitical themes, having worked as a Wall Street advisor, and has led cultural transformation projects in the wealth management sector. Brian has a three part War-Game Trilogy series across the week. The first has taken part today, but the other sessions are listed below; with entertaining and engaging titles, it's sure to be one-of-a-kind!

Staying relevant 1: Why the next big challenge is not tech but people – what are the new rules of the culture and talent wars 2020 that will determine competitive advantage – and how can you retain your ability to stay relevant? Wednesday 26 June, 11.30

Geo-Economic Disrupters War-Game Trilogy Part 2- Wealth management transformed: "When Jung Met Arnold" – How neuro AI and carbon units ("Humans") will terminate first gen robo-advising. How has the game has played out in North America and what can we learn about managing and marketing in the digital era? Wednesday 26 June, 16.45

Geo-Economic Disrupters War-Game Trilogy Part 3: 4D Chess – Digital Data Disruption of Digital Disruptors AKA what now after the demise of the BAATFAANGS? In this third and final part of the War Game Trilogy, as predicted, the long-in-the-tooth FAANGS took a dive in 2018—so who waits in the shadows, like Siamese Fighting Fish, to challenge the remnant(s)? Thursday 27 June, 11.30

The After Party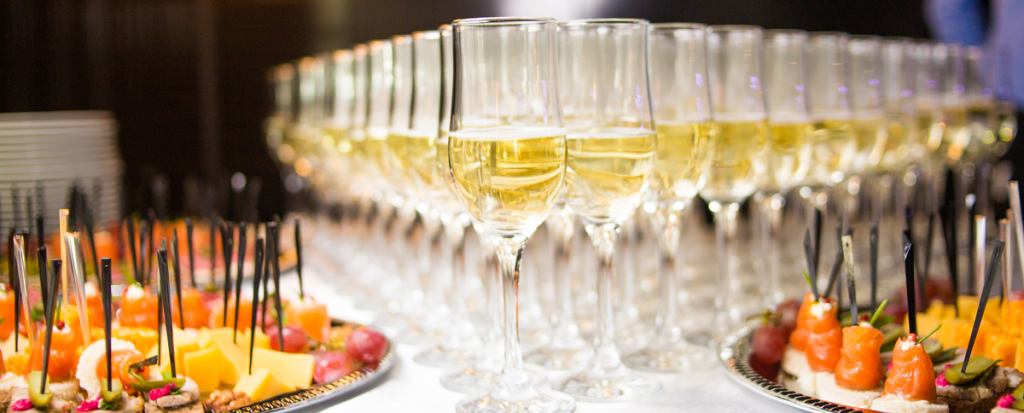 It wouldn't be talk of FundForum without mentioning – besides the smörgåsbord of talks and seminars – the networking drinks events and parties.

Whilst this year's edition of the conference is taking place in Denmark (the first time in the Nordics), traditionally the event saw Monaco as its home. With its beautiful beaches and enclosed nature, it's the perfect place for socialising and building on the connections you've made once the official sessions have closed.

Monaco had its final outing as the FundForum epicentre in 2015, with many speculating its less-than-clean financial reputation as the reason for looking to find a new location. Hence, FundForum has since moved to Berlin, and now to its slightly Northern neighbour Copenhagen – both world-renowned cities for excellent European business, and an even better nightlife.

With the latter here as the new spiritual home of networking, FundForum's more casual events are just as essential to the attendees' experience, making for a full-on social calendar. With this in mind, here are the main events to take part in besides the aforementioned Women in Funds drink evening, open to all:

Tuesday Drinks Reception
Hosted by ETFs by JP Morgan Asset Management, the first day of FundForum concludes with a drinks and canapes event; the perfect opportunity to mix and mingle with new faces or to further discussions with acquaintances you've met during the day.
Where? The Tree House, Bella Centre (Center Blvd. 5, 2300 København)
When? 18.00 to 20.00, Tuesday 25 June

The Wednesday Party
The following day, it's time for the larger-scale closer, The Wednesday Party. This time hosted by Caceis, it's the main event to celebrate a few days of talks and networking by letting your hair down by the site of Copenhagen's famous Little Mermaid (Den lille Havfrue) by Edvard Eriksen.
Where? The Langelinie Pavilion (Langelinie 10, 2100 København)
When? 21.00 to 1.00, Wednesday 26 June

Tips and Tricks: Brella App
In order to best take advantage of the huge networking opportunity at FundForum, we'd recommend downloading the Brella app.

This excellent software allows you to choose your skills, and find those that may share your business interests, allowing for simple conversations straight at your fingertips, and the ability to book face-to-face meeting then and there in the app.

Meeting schedules can sync with your personal event agenda for easy organisation, and can even integrate with CRMs including Salesforce or HubSpot. It is available on iOS, Android and Web, with more information over at the website.
Our Kurtosys representatives will be available on the app, so feel free to have a chat or book a meeting today!

If you need any help with the app, you can speak to a member of staff, over at the Digital Networking Help Desk: Brella stand 114.

Social Feeds
It wouldn't be an event without a wealth of information finding its way onto social media channels. Whether you need to keep track of particular seminars, or to find out the main points in those that you've missed, check out FundForum's official social media pages: they're on Twitter and LinkedIn.
We'll also be posting our findings, so be sure to give us a follow on Twitter, LinkedIn or Instagram!

About Us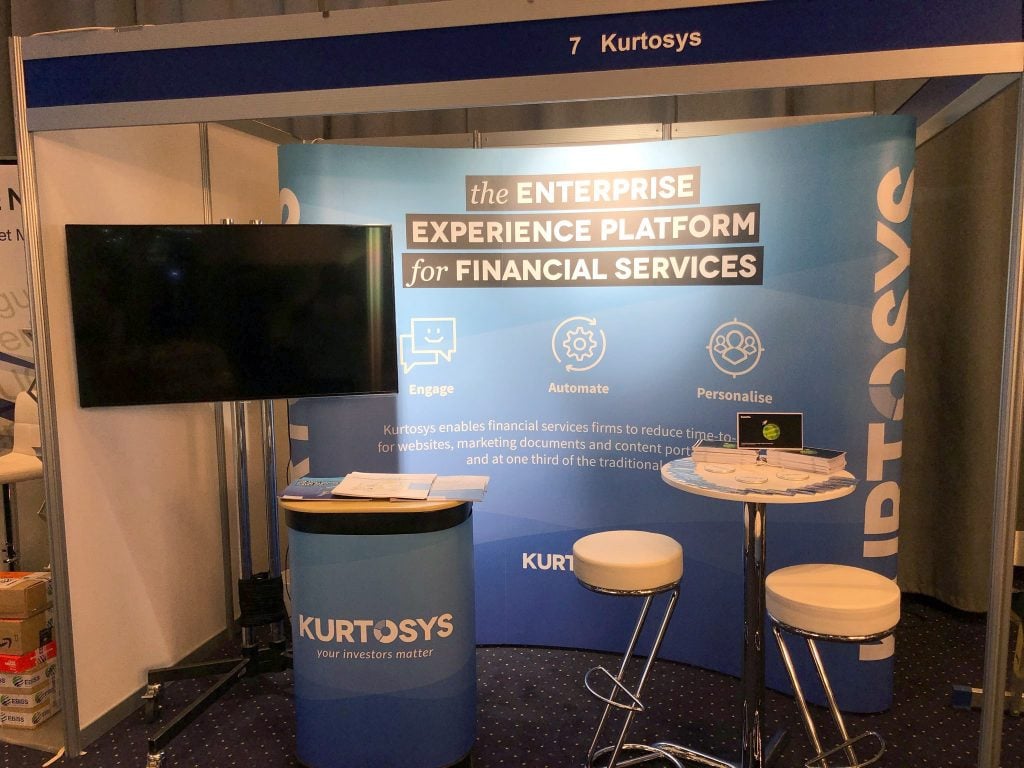 Our representatives from Kurtosys will be around for the whole event, and we are exhibiting at Stand 7. Come and say hi; you can check out our location on the map below!
FundForum International 2019 – map

If you'd like to connect with Mash Patel, Paul Fawcett, Patrick McKenna or Ray Aso, please check out their LinkedIn pages by following the links.