New tool allows you to design compliant, data-rich, templated documents within Office
Generating reports outside of familiar Office tools can be a pain point for any asset manager.
Whether you use your report for requests for proposals (RFP), sales presentations, or regular reporting, there are many ways you can come unstuck.
What should be a simple process is often slowed down unnecessarily or over-complicated by complex ownership models; and lack of access or ability to use the right software or platform. Choosing reliable sources for your data and relevant disclaimers are compliance risks if you get it wrong and can stop a document in its tracks.
After listening to our customers across the asset management sector, Kurtosys has developed Kurtosys Studio for Office. This allows any of your teams to create compliant, data-rich, templated fund documents, client reports and sales presentations using familiar Microsoft Office tools.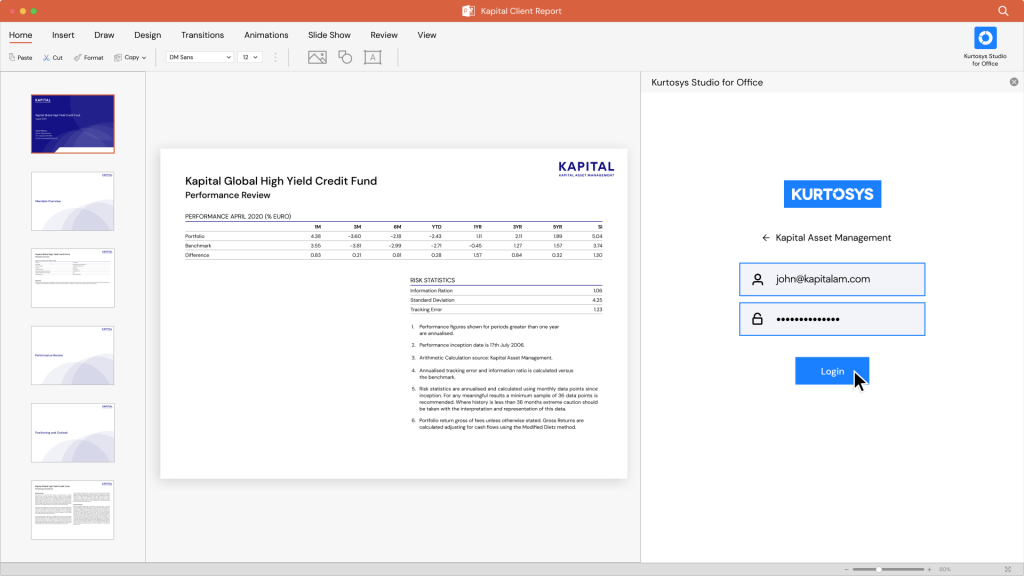 The application works as an add-on in Office, which means users can access the Kurtosys for Studio tool from within PowerPoint or Word (see above).
From here, they can access a series of pre-defined widgets and simply drag and drop them into the interface. These widgets include fund performance charts, fund commentary or relevant country or regional disclaimers.
Users can manipulate the dragged-in widgets or modules as if they were created in a Microsoft tool. They can expand, contract, reposition or layer them as they would do when making a PowerPoint presentation, for example. This negates the need for skilled layout specialists to create in-document reports. Marketing and sales teams do not need to learn new platforms to create attractive presentations with reliable data.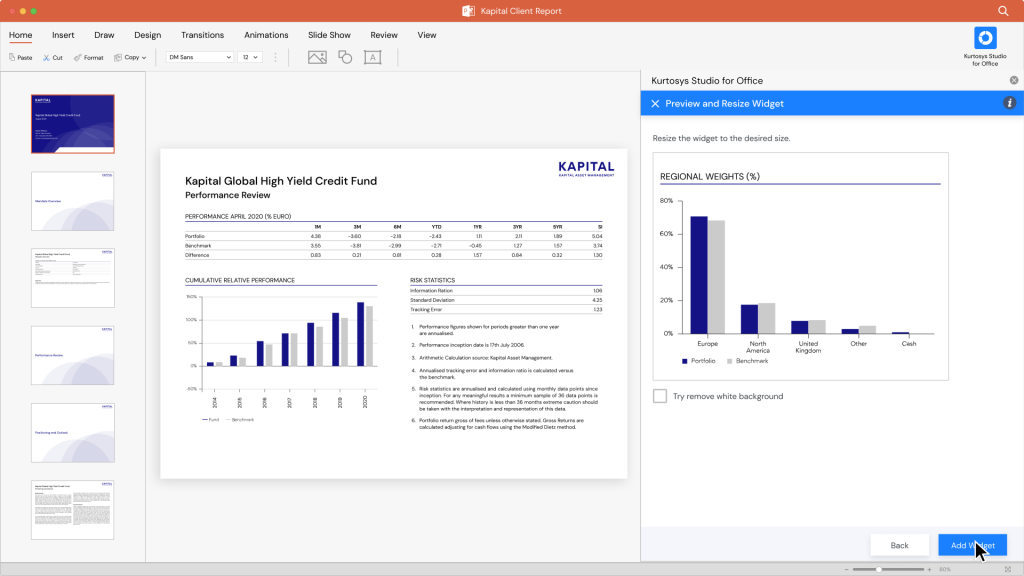 It also saves teams from taking the dreaded screenshot of a chart or graph from the website to use in a PowerPoint or Word document. This could leave you vulnerable to compliance issues if they may miss off the right disclaimers or references. It may also be out of date.
Your teams can save presentations as templates and re-run them with new data when needed – including for weekly, monthly or quarterly reporting cycles. The same user or other teams can also do that for specific clients. This breaks down the barriers between accurate web data and manual reporting creation processes or inflexible templates.
At Kurtosys, we are constantly looking for ways to create efficiency, automate cumbersome processes and allow you to provide your customers with the best possible experience.
If you would like to discuss any of the above, or talk about your website, reporting and client data solutions, get in touch with our team today.