This article will discuss the benefits of an investor portal, a few key factors to consider before choosing a service provider to assist in building your platform and the information that any good investor portal should contain:
The investment management industry is going through major shifts like never before. Digital transformation has changed the way business is done in the industry, and the way that investment managers interact with their clients. A culture of continuous innovation is becoming a necessity within the industry to stay competitive and client's expectations of seamless experiences via online portals are rising. Understanding your clients' pain points will best assist any investment management firm in meeting their goals.
Investor Portals are designed to provide clients with secure online access to fund data and/or documents. This is not hugely different to the typical website experience that can already aid in personalizing the experience by providing the user with the most relevant content depending on their role and geographical location. Whereas a public-facing website uses the attestation filter to profile the user, a portal is more secure and personalized, and the user will log in securely to access any content that typically includes marketing material, documents or fund portfolio performance data and insights. This is an elegant way to provide secure, restricted, and custom-filtered dynamic content to entitled users.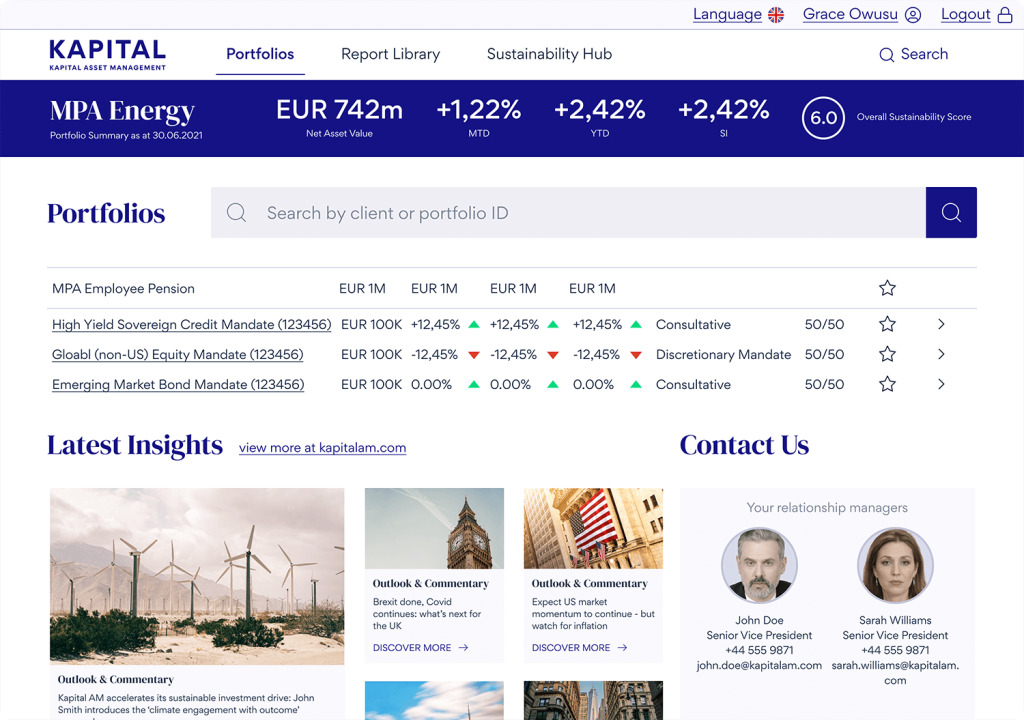 Key benefits of an up to date and streamlined investor portal
Transparency

The last thing you want in the investment industry is to have your clients feel disconnected from their investments and your organization. Providing clients with an easy-to-use portal allows free access to not only secure documentation and marketing material, but also the latest portfolio performance figures and any key information on a monthly, weekly, or even daily basis.



Centralized location for information

Having a portal doesn't only provide transparency to your clients, but for the internal team as well. All documents can be stored and accessed via one place, securely in the cloud, making life a lot easier when more people in your team will be working remotely than ever before.



Digital content available anytime/anywhere

As life becomes increasingly digitized, people expect real-time information at their fingertips, no matter where they may be. The same goes for their investments.
A portal set up allows users to drill down into the detail, a big advantage over the legacy static report formats.
They can easily see account activity, fund data, investment related news and updates simply by clicking a few buttons.



Less room for error

Portals allow you to be extremely specific in terms of the level of information accessible by each user. This leaves less room for error, which can happen easily when documents are emailed or posted. At Kurtosys, using user-friendly Document and Data Entitlement features, we ensure that users only see content that is relevant and applicable to that specific user. These can be set at a fund or class specific level or customized according to specific needs.



Works as a marketing tool

When your current clients experience great service, they are more likely to refer you through word of mouth and online. Furthermore, an existing client-facing website can be easily transformed to a secure access, gated website using secure logins, SSO or Two-Factor Authentication giving clients a seamless transition from one to the other, while your organization is able to draw insights from the analytics of your web user behavior.

What to look for when choosing a SaaS (Software as a Service) company to build your investor portal
Client service

Once you have decided to outsource the building of your company's investor portal, it is important to choose a company that puts you and your clients' needs first.



Quality of portal

Your clients expect a seamless experience, and that's exactly what your service provider should be able to build. Sharing information on the portal should be easy, simple, and easy to access.



Integration ease

Your portal needs to live within your entire online structure, not separately. Your chosen service provider should provide usable solutions to make sure that your reporting, website, and portal solutions all work together seamlessly.



Security and compliant as a priority

When working with sensitive information, your service provider needs to place compliance and security at the forefront of everything they do.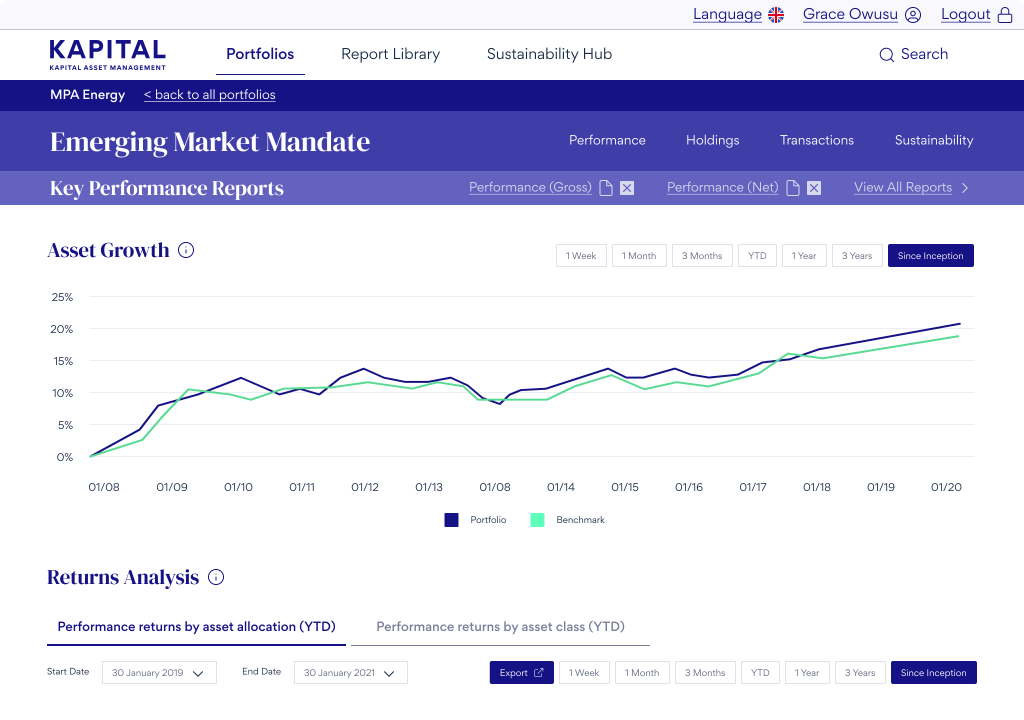 What the best investor portals in the industry include
First off, any starter investor portal should at minimum include and highlight financial performance, contact details of the investment management team, be compliant according to the laws of the country you operate in and an overview of the company's investment strategy.
Once your portal is ready to be taken to the next level, your portal should include usage analytics, digital factsheets, review of similar funds, and should act as a digital library of other thought leadership content that you publish. Finally, your investor portal should act as a storage solution for all data and legal information required by your fund.
At Kurtosys, we take all things portals to the next level, and offer the below features as a standard to our portals:
An investor portal is more than a software or a technology. It is an evolution within the investment management industry. With increased competition within the industry, your firm needs to deliver excellent digital user experience to your clients. If you are ready to consider taking the next step, request a demo with our team today.

Urooj Obaid
Brand and Product Marketing Manager at Kurtosys