We're excited to announce a new feature in the Kurtosys platform called Snapshots.
Kurtosys users are now able to comply with aspects of record-keeping regulations in their geographic locations (such as MiFID II), by saving 'snapshots' of their fund tools or marketing web pages. This function also helps asset managers become more transparent both internally and with their clients.
Watch this short screencast to see Snapshots in action
Snapshots are taken at regular intervals and are stored in a 'compliance vault' for a period of up to ten years. Files are saved in a read-only format so that they can never be overwritten.
Snapshots is not a feature users are likely to use on a daily basis, but if for example a complaint is made to a regulator, and a fund manager needs to quickly find data that was displayed on their website on a specific date, then Kurtosys makes this quick and simple.
Users can quickly locate the web page they need using the intuitive search function. Snapshot records items based on URLs, but users can search using filters such as ISIN code and then narrow that search by adding a language.
Snapshots are recorded in both PDF and HTML formats. Whilst the PDF captures a visual representation of the web page, the underlying HTML is also accessible which can be critical if the page has hidden areas such as tabs or collapsible panels.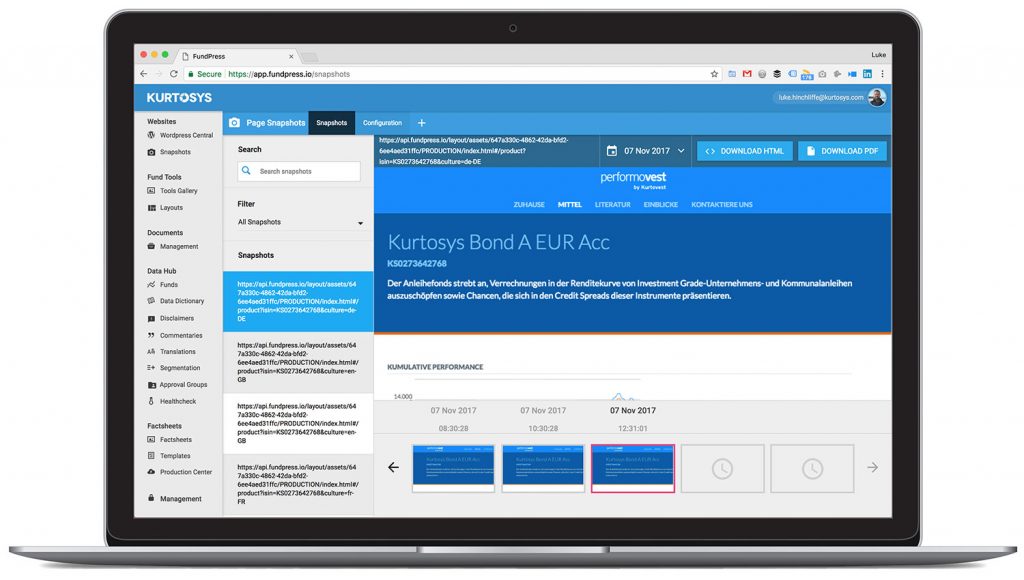 A simple date filter makes for quick access, and users can browse Snapshots across the time slots using the selector at the bottom of the screen.
Whilst we assist our customers setting up their Snapshots, users can also easily configure their own. Snapshots are taken from a base URL, which can also be parameterised to record a range of fund pages for example. Variables can be added into a URL string such as ISIN code, language and country. Built-in validation tells users if the URL is correct or not.
So, if you're a Kurtosys customer and haven't started using Snapshots yet, please contact your customer success manager to find out more. If you'd like to request a demo of FundPress and Snapshots, please use the form on this page.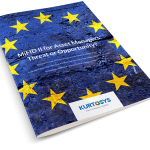 The European Union (EU) MiFID II regulations, which come into effect in January 2018, will have a huge impact on the asset management industry. But many managers do not yet have the technological solutions to comply and thrive in the new regime and software providers expect a capacity crunch as investment houses rush to prepare. We look at some of the issues and opportunities.