After about 10 years in existence, the concept of a Secure Portal in the asset management industry is reaching it's first cycle. Many firms are now considering the next generation portals and their portal strategy; here at Kurtosys we are at the forefront of this change: We plan to ensure that our clients not only save a great deal of  time and money, but also achieve the higher goals of providing client stickiness, brand affiliation and a culture of transparency through a beautiful digital experience.
In this post, I've outlined what I think are 10 (of many) essential factors you should consider when selecting technology for your next gen portal.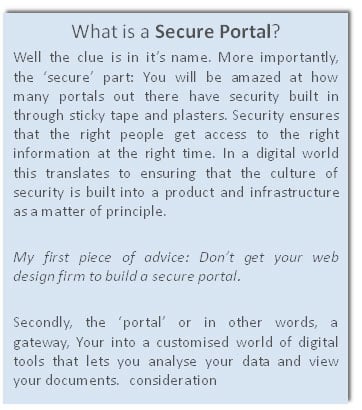 OK. In no particular order:

1. Define the consumer:
Before you even begin, write down on the whiteboard who the consumer is. In a Retail portal the consumer is typically the individual on the street. But have you considered that they may be investing on behalf of family members or through an IFA who may also be entitled to access the portal. In an Institutional portal, have you considered that people within the institution have different roles and responsibilities and may want information presented differently?

2. Design. Design. Design:
Have you got the user experience right? Is your portal intuitive to the audience? Have you put in  some tools that will keep your clients coming back? The old portals came with extensive H
elp Guides
and documents. The next generation shouldn't need anything. Did you read a book before you fired up your iPad?
3. Entitlement and permissioning:
What mechanisms have you got in place to ensure the "right person, right time, right information" philosophy?


4. Single sign-on: Make sure your solution allows different types of users to log on through the same login page. There are far too many portals out there that ask you to go to different logins (say if you are an Advisor or an Investor). At best this is inelegant. At worst it is very cumbersome and expensive to manage. Also, make the login experience nice. 90% of asset management portals fill you dread even before you are authenticated. 



5. Data, documents and tools: Irrespective of whether you are an institution that requires drill down to position level attribution or a retail client who wants to see their fund holdings valued and "their" performance as opposed to the funds performance, you need the right data model in your portal. If you don't, beautiful navigation and transparency become an uphill task. This applies to your document wallet and your tools. All of them should run off flexible data structures to make the consumer experience awesome.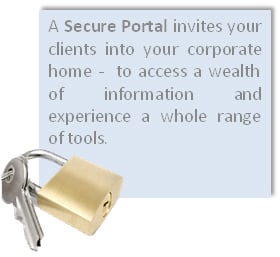 6. Two-way sync with your CRM: Your portal strategy is going to provide you with a digital lens into your clients. Make sure that you are directly integrated to your CRM in both directions. Every significant interaction your client makes within the portal should be directly recorded in your CRM. The greeting you give your client when they log on should be tailored within the CRM.

7. Give clients choice: Let the client customize their portal experience. Give them much more than being able to set their Home Page. Let them interact with the portal and make it a safe personalised space for them. Make it incredibly functional.
8. Make documents accessible: Little PDF icons are ugly and turn off the consumer. Make documents inviting to open. Integrate cool "reader" technologies into your portal and give the client an iPad experience that we are all so familiar with in other areas of our lives.

9. Community:  You may have read online community articles by Hazel McHugh on the Sponge blog so you will understand the advantages of your own brand community. Your portal is simply the best way of building a community. Don't waste another second thinking about it.

10. Browser and device: Your portal – the tools, charts, navigation within it, all need to work on modern browsers (there are many) and all devices. Within three years over 60% of your consumers will be accessing data through a tablet, it's a here and now issue.
The above points are what I consider to be the key factors, and there are many more. We're always delighted to engage with our clients and prospects to discuss these, plus the plethora of other issues that arise when embarking on a Secure Portal process. In essence, we've taken into account all the issues within our product framework, making portals an easier, cheaper and exciting experience. Use your budgets wisely. At the end of the day a good Secure Portal will reduce your costs but more importantly will grow your AUM.
Photo credits:'Key people' by
HikingArtist.com
 | 'Design'  by Guido S | 'Target' by Mr T in DC | 'Keys'  by Richard G | 'Magnifyglass' by alternativemeans | 'Customise'  by London College of Fashion short courses | 'Mobile on keyboard' by  Johan Larsson | 'Lego men' by Casey Fleser | 'Tablet' by IntelFreePRess