If you've got a pretty nifty financial website but you're not driving enough traffic, long-tail keywords could be the answer. Long-tail keywords usually contain 3 or more words, they're super specific, and they're not too competitive. Moreover, they zone in on particular customers who have a particular need they want satisfying.

For example, "where can I find a home loan in Houston?" is a long-tail keyword that's zoning in on a particular need.

If you can use these bad boys to optimize your website in 2019, you're onto a winner.
Wanna know how to do just that? Let's take a look.

Nail the user intent
Understanding user intent will help you find more of the right keywords, and it will also help you to build better content that provides more value to your audience.

Each time a user enters a long-tail into Google, they have a certain intent behind that keyword. There are two main types of user intent:

Informational intent is when the user is looking for information. For example, "where can I find a home loan in Houston?" is informational. Informational intent keywords will also often start with "how to." For example, "how to apply for a loan?" is another informational intent keyword.

To get the most out of informational-intent keywords, you have to build top-notch content around them that satisfies the end users need. If you've got an article called "How To Apply for a Loan" you need to then produce high value, in-depth content that satisfies that query.

The snag with informational intent keywords is that, although you've driven the traffic and provided the valuable content, the end user might still shop with a rival. This is why it's a good idea to use a lead magnet — such as a free gift — to get a prospect to make a small commitment to you.

Commercial intent keywords, on the other hand, are keywords that have what we call high shopping intent. Basically, anyone who uses a commercial intent keyword is at the bottom of your sales funnel and is almost ready to do business with you. Perhaps, for example, they want to take out a loan right now.

Commercial intent keywords typically contain these words:
Deal

Discount

Buy

Comparison

Best price

You might, for example, use a long-tail commercial intent keyword such as "best price for home insurance near me."

To optimize your website with commercial intent keywords, you need to add them to your call to action, and to your meta description and title tags. Your metadata is especially important because keywords such as "best price for home insurance near me" will help with your click-through rate, thus driving more traffic to your website.

This is all well and good so far. You understand user intent a bit more now. But how to find and properly use long-tail keywords?

How to find long-tail keywords
Long-tail keywords are actually really easy to find and there are a few tools and hacks to help you out:

1. Google's autocomplete
Let's say a user types "financial advice" into Google. As per the image below, Google will suggest a few related long-tail phrases.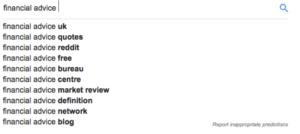 These are targeted keywords that your audience is looking for, and which you can use to build more content around.
2. Google's related searches
When autocomplete isn't enough, you can scroll down to the bottom of the search results and get more ideas from Google's Related Searches:



3. Google's Keyword Planner
Another free tool, Keyword Planner shows you important data for your long-tail keyword ideas, such as search volume and competition, so that you know which ones are worth going with. It also generates more keyword ideas, too.
4. Answer the Public
When the above suggestions aren't enough, it's time to turn to Answer the Public.
Answer the Public is really easy to use. All you need to do is slot a keyword phrase into the search bar and generate some results.
The results look like this: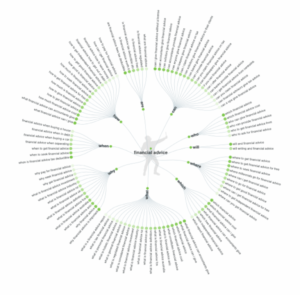 That's a grand total of 97 prepositions from one head keyword.
And as you can see, Answer the Public handily segments them according to the 'what's', 'why's', 'when's and 'where's.' This is pretty cool for helping you gauge user intent (see above).
If we zone in on the 'where' section, we've got a pile of new long-tail keyword ideas: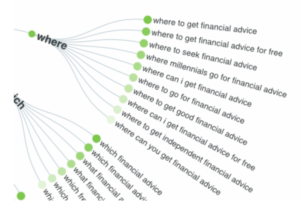 Once you've got your long-tail keywords, it's time to …
Use long-tail keywords to drive traffic
1. Shift the focus to keyword themes
"Home loans" is what we call a head keyword that won't drive much traffic by itself. It's way too generic and competitive, and there's no clear user intent behind it. However, if we extend it to "Home loans strategies" we're on our way.
This is still a head keyword, though, but at least now we can create keyword themes out of it.
For example, our article on home loans strategies could include sections about the fastest way to pay off mortgages and sections on financial budgeting. All of a sudden, we have more long-tail keyword opportunities and will drive different kinds of traffic. We'll drive people who are looking for financial budgeting advice, mortgage advice, and so on. And because our content is so in-depth and valuable, we'll satisfy them all.
Don't stop there, though. Create topic clusters, too. "Home loans strategies" could be your pillar page, for example, and you can then create a series of subtopic pages, such as "home loans strategies for single moms" and "home loans strategies for first time buyers" that all link back to your pillar page — and which all include targeted long-tail keywords.
2. Implement your keywords naturally
You have to work your long-tails into your content naturally, otherwise, things just work out. Your long-tails mustn't be a distraction to your reader but instead should help with the flow of words.
It's a good idea to add your main long-tail keyword to your headlines and title tags, as this tells both Google and the end user what your content is all about. Remember, it's the headline that draws people in, so optimize it with your main long-tail.
From there, add it to your paragraph, at least one sub-header, and then once or twice throughout the content.
It's absolutely imperative, though, that your long-tail keywords are contextually relevant to the actual content. For example, if you're using a long-tail like "financial advice for single moms" the article must deliver the goods on this particular topic. If it doesn't, you simply won't rank.
3. Finesse your meta descriptions
The meta description is the two or three lines of grey text that you see beneath a pages title tag on Google. It looks like this:



Its purpose is to persuade the end user to click on a particular piece of content. To that end, it must be compelling and it needs to be optimized with your long-tail keyword.
Meta descriptions by themselves aren't a ranking factor, but click through rate is. And it's often a compelling meta description that boosts click-through rate. By adding your main long-tail to your meta description, you can entice people and boost your visibility in the SERPs.
Final thoughts
This is how to use long-tail keywords to drive traffic to your financial site in 2019. Understand user intent behind search queries, find the right keywords and build top quality content around them, and then optimize your pages. If you do all this, you've got a great chance of beating the competition.