At Kurtosys,  we have many years of experience in supporting asset managers with global content distribution.  Our ready-to-use tools and DXM platform can help you save significant time and money,  especially when you hit some of the trickier elements of global site management and content distribution,  such as translations.   
Our DXM (Digital Experience Manager) platform sits at the center of multiple content workflows,  both digital and analogue for our clients.  Translation of that content is an area where we consistently see organizations managing through challenges or living with high effort / waste and resource intensive processes.  Often we see skilled sales,  marketing or distribution team members tied up qualifying,  checking or managing a lengthy and complex translations process.  
Cloudwords and SDL integration into DXM 
Recently,  Kurtosys have released some great new product enhancements that allow full integration with two translation services,  namely Cloudwords and SDL.  We couldn't be more pleased with the ease of day-to-day use as we align our platform to provide our clients with even more options for driving efficiency through automation of resource heavy processes. 
Both Cloudwords and SDL allow users to centrally manage global translation efforts and get multi-language campaigns and assets in market faster with a single shared workflow for the entire localization process.  
Kurtosys Translation Process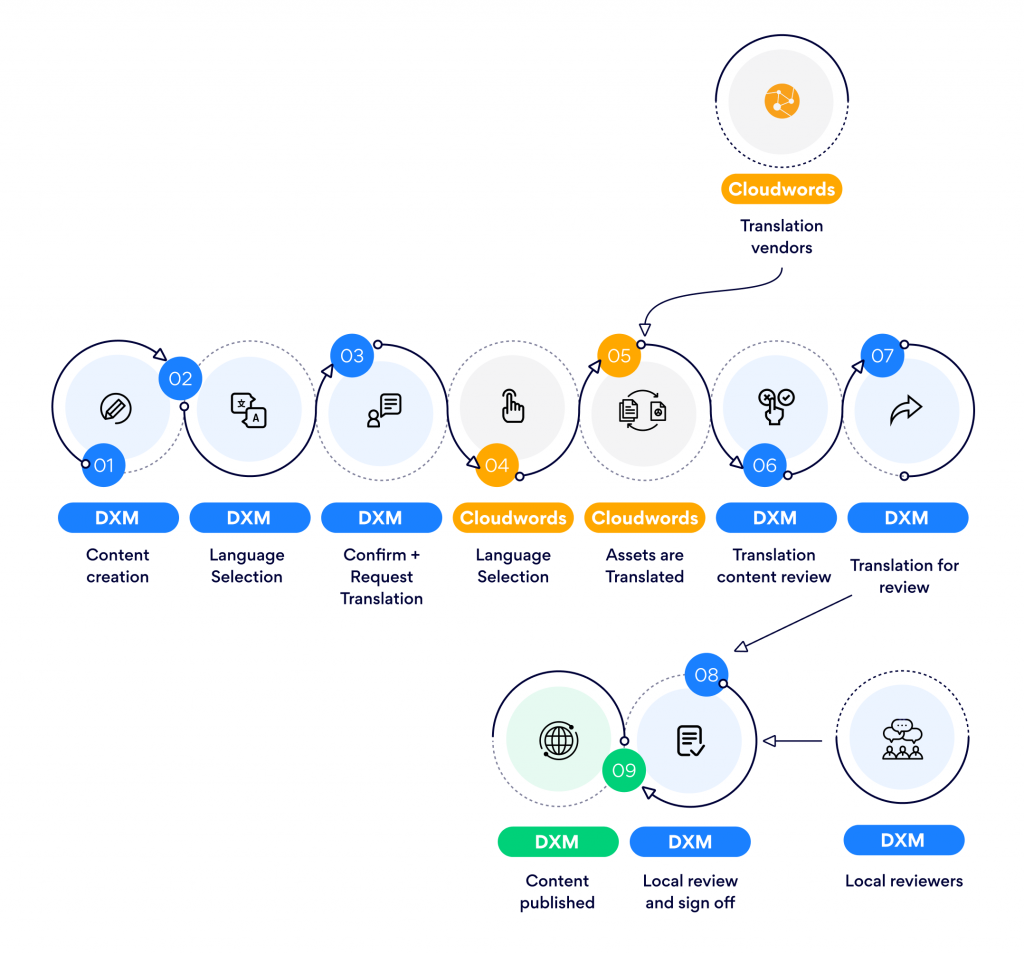 The platforms can also combine to provide visibility over costs and turnaround times allowing businesses to identify pain points / areas that need attention. 
Single process – multiple contributors
Automating processes are the key to cost effective and faster translation distribution.  This straightforward process that is accessible at various points by multiple contributors now gives you scalability across your business (both from a regional and partnership/contributor perspective). 
Our DXM platform,  now integrated with Cloudwords and SDL allows a remarkably simple,  single linear automated process to track and manage assets through creation,  review,  approval,  and publishing (using on sites).  The simplicity of the process allows you to effectively eliminate team / resource frustration (and wasted skills),  errors,  unnecessary delays and mounting (or in fact hidden) costs. 


Multiple contributors at key points can give you the flexibility to adapt based on price,  speed to market and accuracy / tone of voice.  
Multiple regional reviewers / sign off points also ensure pages can go live when they are ready,  rather than trying to bulk publish and chasing individuals down to hit deadlines. 
Another useful reference on the topic can be found here: In 5 tips for automating website translations,  we covered some guiding principles around some often-forgotten elements and areas to avoid when looking across your translation capability. 
Feature update:  The approval process has been streamlined even further by assigning specific users to handle the approval of a language before translated content can be shared. 
Email notifications,  warning pop-ups,  simplified editing and viewing experience on the manual translations screen are some of the recently released additional features that will make your translation process even more intuitive.
At Kurtosys,  we are proud of our fast,  scalable and easy-to-use technology.  We love solving our clients' problems with smart applications of technology and creativity.  Where it makes sense, we partner for the long run,  and that's often where the magic happens.
Are you struggling to keep up with changing trends?  Do you need to automate difficult and costly processes; deliver critical data at pace; or update your user interfaces and website design?  If so, get in touch today.  Talk to our team and arrange a demonstration of how our tools and services can add value to your digital transformation.