Investment manager heads of digital are often tasked with reimagining a fund buying experience. One major dilemma is whether to build it with an internal development team or use a vendor solution such as Kurtosys.
Common drivers behind a new fund experience project include costs, time to value and customization. Over the last few years, we've worked hard to build a platform that exceeds benchmarks in all these areas. But for each decision point, it's important to consider carefully the pros and cons of self-build versus a digital experience platform with fully customizable features and powerful automation capabilities.  
Customization – achieve more with Kurtosys Studio
It is easy to presume nothing beats custom development when building a bespoke fund buying user experience.  As with any tailored engagement, you define the requirements and, in theory, bring that exact vision to life. 
A few years ago, a custom build was the only way to achieve the 'fit and finish of custom'.  But now our Kurtosys Studio fund tools come exceedingly close, equipped with thousands of configurable options and all the styling capabilities you could wish for.
Most of our clients can achieve far more with our Studio modules than they ever could with a custom solution.
The first reason is that our apps are constantly evolving.  The available feature set is huge, so to custom develop them would take far more money than most managers want to spend on their fund center or product pages.  Being able to choose from this wide array of best-in-class features consistently results in better outcomes for the investment manager.
Second, through our 'configuration over code' approach, you can create the various parts of the fund buying experience much more quickly.  For example, you can configure a fund center in just days using Kurtosys Studio — it could take up to 12 months to custom develop and test one from scratch. In this time, a Kurtosys client will have launched their new site and realized the benefits of the new experience with their investors. 
Thirdly, because we partner with our clients, we are constantly adding new features and pushing forward the state-of-the-art, each of which becomes available to all our clients.  For example, in the next few months, we plan to add LinkedIn-based personalization to our fund tools, allowing advisers to create accounts on your website using their LinkedIn profile.  They can then favorite products, subscribe to collateral updates, and more. 
Accelerate your time to value
For initiatives that support the distribution team, time is money.  So configuring Kurtosys Studio in a fraction of the time of a custom build helps accelerate your project significantly. 
But what about the steps before the build, such as understanding your data; integrating that data; and establishing appropriate business rules?
While most managers maintain a well-stocked stable of business analysts, our consulting team at Kurtosys works on fund data reporting and digital projects every day.  They are trained specifically to deal with the challenges relating to compliant display.
This intersection of expertise in investment management and digital means we can help shortcut the potential pitfalls in such an endeavor, further speeding you to the shortest possible delivery time. 
Get peace of mind on cost
Cost is a subjective area, but we provide cost analysis that is as factual and objective as possible.
To support their fund buying experience, most managers will, at a minimum, need to build:
A database: the store of data to power the website. This must be kept up to date; store all supporting data, such as translations and disclaimers; and perform well enough to sustain significant web traffic from your clients. 
A data application program interface (API): the digital plumbing that provides the data to the website. It must be secure, fast, and flexible to support creation of your digital experiences. 
Fund tools: including your fund center, product pages, mini fund finders, featured fund cards — and all the front-end components of your investor journey. These components are built using Javascript by creative front-end developers — the most in-demand of all technical skillsets. The tools must be compliant, work cross-browser, and feel ultra-premium to support your brand image. 
Compliance tools: all these elements are subject to record-keeping regulations. You must be able to evidence the data in use, the content on your product pages, and even the contents of your documents.
To deliver all this as a custom-built solution requires a significant team of engineers.  A bare-bones team would need a single database developer, two back-end developers, and three front-end developers.  Add to this a scrum-master, a project manager, a product owner and other assorted roles, and it is easy to see how costs for a self-built solution can soar. 
It is not unusual for the fully-budgeted cost of even a modest project to stretch into the millions, and that is before the long-tail of maintenance. 
Contrast this to the Kurtosys Platform solution.  Our transparent cost model allows for peace of mind and comprises only two elements.
Your license fee, which is fixed, understood and includes all hosting, APIs, backups, disaster recovery, bandwidth fees, and more. 
Your implementation fee, which again is fixed and understood.  We provide the business analysis and project management capabilities as part of this.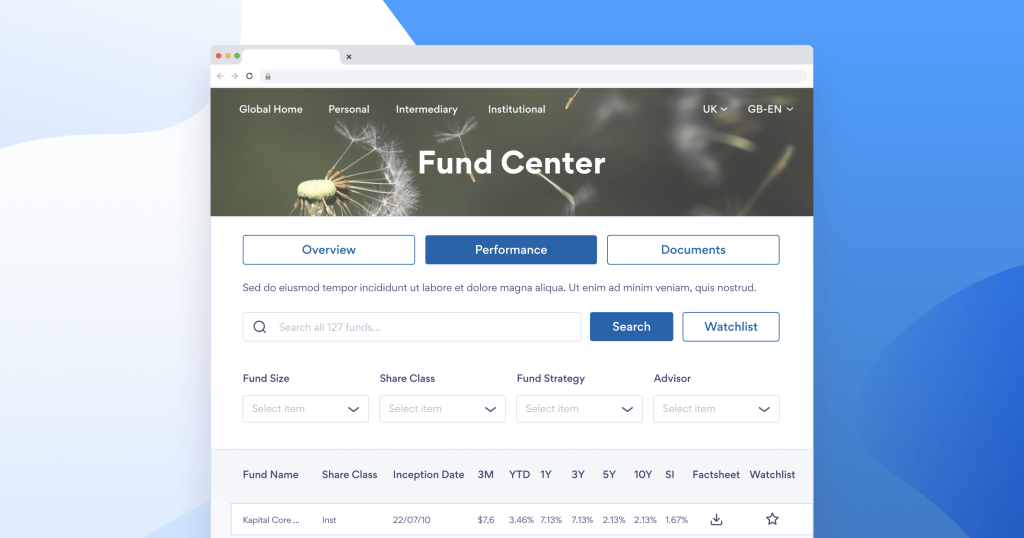 Avoid the struggle beyond go-live
We have found the most significant pain investment managers feel in a custom-built solution is after the go-live.  They need to keep the solution always running and secure.  They need to keep software libraries updated and free from security flaws.
Managers need to add new disclaimers and incorporate new requirements such as sustainable finance disclosure regulation (SFDR), into advanced data displays.
They must deliver all this work promptly in line with the business's requirements, so the self-build becomes self-maintain – a laborious and endless task that requires significant investment.
The ongoing need to be responsive to regulatory change, distribution expansion, and new fund launches can be difficult to grasp for the uninitiated.  All these factors are being demanded at a faster rate, which invariably results in a struggle for capacity with in-house teams who, in most cases, have already committed developers to other projects.
Furthermore, digital and regulatory changes move the goalposts every few months.  For instance, we have spent the last year enhancing the accessibility capabilities in our platform.
To see how complex this can become, consider a simple performance line chart.  To achieve web content accessibility guidelines (WCAG) 2.1 compliance, a screen reader must be able to navigate every data point, so that a visually impaired visitor can extract the latest performance
It is a challenging feature to add but one that all our clients can now benefit from.  Our engineers are working on issues like this every day.
The push for ever-faster page load speed is also an important consideration that digital teams often forget in the frenzy of a go-live.  We have done considerable work on making our fund tools load quickly and consistently, wherever your site visitor is in the world.
We've done this by building a globally distributed cache that can deliver data to a web browser in milliseconds, and clear instantly when new data enters our database.  
Keep up with best-in-class
With budgets under more pressure than ever, the prospect of projects that overrun in cost and timeline are as unpalatable as ever.  The best-in-class benchmark for fund buying journeys has moved on considerably in the last few years, and at Kurtosys, our clients remain on the cutting edge thanks to our ongoing investment in our platform.
If you are thinking of rebuilding your site or just your fund buyer tools, drop us a line and talk to one of our product specailsts.