Content management system projects – we've all done them (and if you haven't,  maybe we should talk.)
We all bear the scars from the losses of these projects and the kudos from the wins.  But once the new websites have launched and the fanfare subsided,  the reality of maintaining the volume of content on your new sites starts to bite.
The stress can hit hardest after your global site structure and regional and country subsites go live.  At various points,  you will want to search your CMS to review,  re-certify content and make multiple changes to certain sites,  as part of your content audit processes.
Doing this without an easy and intuitive way to sort and group your websites can add significant strain to your content managers' and marketers' workload.  They may have to scroll through tens or even hundreds of sites to select the right ones to review and update,  which can be incredibly tedious.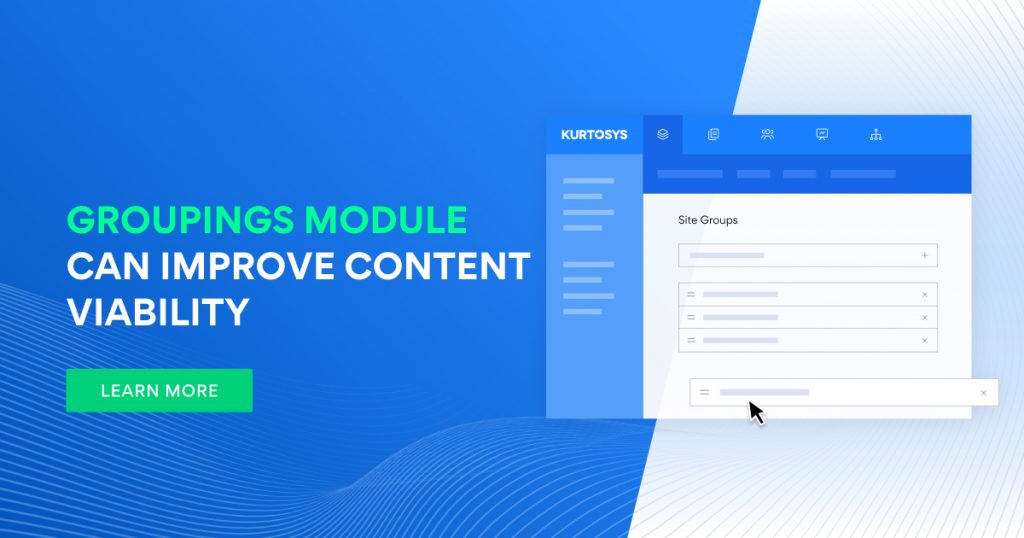 Easing the strain
At Kurtosys,  we recognize that small but significant features can dramatically impact your content's long-term sustainability – and the sanity of those looking after it.  Our DXM platform's recently launched site groupings feature makes sorting and grouping sites for changes,  reviews,  and re-certifications much easier.
The feature allows users to group various subsites without affecting any previously defined page-sharing relationships or hierarchy between sites.  This allows you to maintain content consistency without needing to administer the sites within those groupings,  as they rarely reflect organizational structures.
It means content managers can access sites much faster in the CMS;  and share content and or update sections across site groupings with the click of a button.  It avoids the lengthy and repetitive process of scrolling through lines of subsites,  selecting and unselecting them to change.
This is valuable in general site maintenance,  updates,  and routine audits and governance;  and when creating and editing campaigns.
This feature was released earlier this year. This short video shows how it works.
At Kurtosys, we are proud of our fast, scalable and easy-to-use technology.  We love solving our clients' problems with smart applications of technology and creativity.
Do you have a need to automate difficult and costly processes; deliver critical data at pace; or update your user interfaces and website design?  If so,  get in touch today.  Talk to our team and arrange a demonstration of how our tools and services can add value to your digital transformation.