There have been many areas of our day to day / BAU work that have been affected with new hybrid or home working conditions.  As we move to these approaches becoming the norm,  many businesses are starting to focus on key areas they believe they need to change as a result.  
One area that's largely overlooked – until regulations dictate changes – is accessibility.  The impact on those among us that require accessible content has been significant,  but have the tactics for companies distributing content and trying to engage with users changed to allow for this?  With the loss of face-to-face interactions and events,  with new digital channels being created at fast pace and adapting to digitally distributed content to customers, where has accessibility featured?  In a recent article we examined this from an end-user perspective. 
What are we doing about it as a digital service provider? How are we helping to support our clients provide accessible solutions?  Talking with Julia Quickfall and Natalie Kennedy, Senior Product Managers here at Kurtosys,  we take a closer look at some of the steps taken to ensure our clients' sites and applications are taken care of from an accessibility perspective.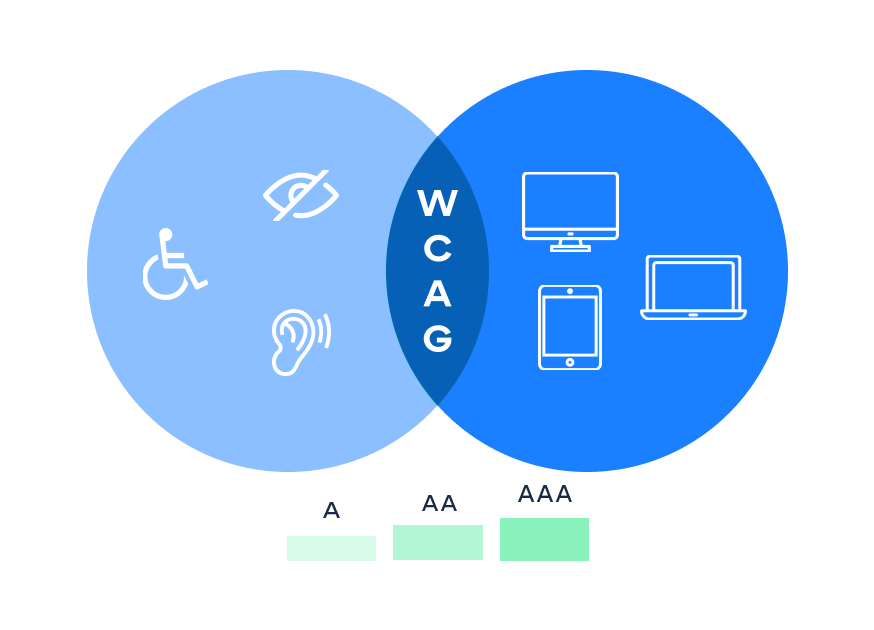 First off, let's be clear,  what do we mean when talking about accessibility in the digital space?  Web Accessibility orientates around principles that ensure users can perceive,  operate,  understand,  interact and contribute to the web using different tools and technologies.  
Perceivable 

– Information and user interfaces must be presented to users in ways they can perceive. 

 

Operable 

– User interface components and navigation must be operable. 

 

Understandable 

– Information and operation of user interface must be understandable. 

 

Robust 

– Content must be robust enough that it can be interpreted by a wide variety of user agents,  including assistive technologies.

 
Under each of these categories,  WCAG have listed a set of requirements that contribute to 3 distinct levels of conformance:  
Level A is the minimum level of conformance 

 

Level AA satisfies both Level A and Level AA 

 

Level AAA satisfies Levels A, AA and AAA. 

 
However,  often it is not feasible to apply Level AAA to an entire site because for certain content types it is not possible to satisfy all the Success Criteria.
Kurtosys will therefore be conforming to Level AA in the latest,  stable,  referenceable technical standards.  
WCAG 2.1
WCAG standards are open to interpretation.  They show the desired result,  not the implementation approach.  This is why we are continuously defining and refining our implementation approach and the persona combinations used to achieve WCAG 2.1 AA standards for our clients.  
Any testing will adhere to our developed test plans,  irrespective of whether testing is conducted by our internal QA teams or a client's external QA services,  thus ensuring a consistent interpretation and quality application of the standards. 
But at Kurtosys we don't stop at simply meeting applicable standards.  Our teams of product specialists and digital strategy experts are always on hand to provide advice and guidance on the best ways to apply accessible tools and user journeys to your client solutions.  
"We're learning as we go,  as customer needs and regulations evolve,  we are constantly evaluating and adapting our technology and solutions for our clients"  said Julia. "This is represented in our focus on the modular approach to accessibility."
"We believe that you cannot treat accessibility across a page as a single testing exercise"  Natalie Kennedy adds.  "Our component modules that construct the pages on our platform are specifically built to meet user experience needs,  so each of our 131 widgets have a different application of functionality.  These accessible features need to be relevant to the module purpose applied across them,  then be tested against user experience needs and functional application".  
Likewise,  you cannot bucket users with accessibility needs into single or minority groups.  The range of needs is so broad that you need to approach the task through the lens of different personas with accessibility needs.  So,  at Kurtosys we have developed a range of personas that highlight accessibility needs,  to ensure we meet and exceed guidelines to provide exceptional client experiences across our products. 
As a digital service provider,  we are committed to help our clients provide accessible solutions.  We pay close attention to applicable standards and our teams of product specialists and digital strategy experts are always on hand to provide advice and guidance on the best ways to apply accessible tools and user journeys to your client solutions. 
If you'd like to find out more,  get in touch today for further insight into the topic of accessibility.  Or feel free to request a demonstration of how our tools and services can add value to your digital transformation.