Digital & Reporting
Solutions

for Asset Managers
Engage your customers
Effective "CX" – create incredible customer experiences, across sales, marketing and client reporting channels that underwrites your ability to reach your investors in whatever medium they most prefer.
High quality, publication ready data and content
The Kurtosys data and content publication platform seamlessly enables the construction and distribution of critical sales, marketing, and client reporting materials for asset and wealth managers and a multitude of other financial service's needs.  
Our flexible data model allows your organization to transcend the complexities of managing an expansive set of data from a myriad of disparate sources. In a world where the data needs to support responsible investing continues to grow, the Kurtosys solution makes it easy for asset managers to adapt to reporting requirements as they evolve.  
Find out More
Find out how a partnership with Kurtosys can improve your service. We can make data management more accessible, especially for small and medium-sized companies.
The Kurtosys Proposition at a glance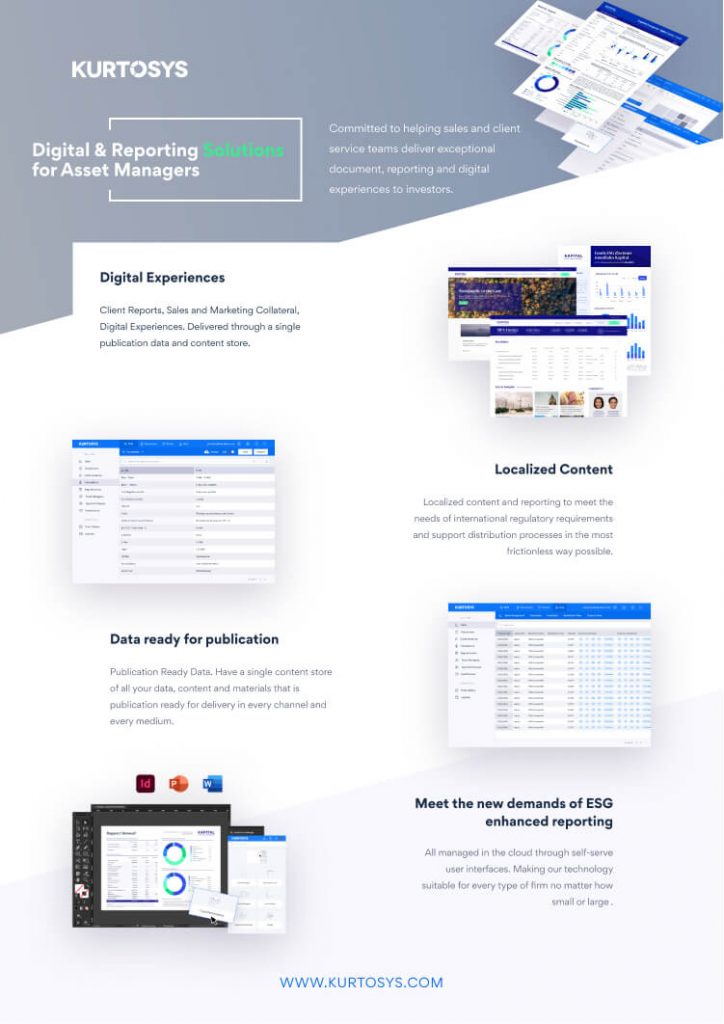 Founded in 2002, Kurtosys operates across three global offices. The Kurtosys Digital Experience Platform (DXP) works with some of the world's largest financial brands, including banks, wealth managers, mutual fund providers and alternative investments.
Underpinned by global ISO-27001 certification in information security management, the Kurtosys team has a deep understanding of working at scale with data, information design, industry regulations and compliance issues.