Inspiring, motivating, purposeful.
Well-known names from Freshdesk tickets, countless project emails and Teams calls became real and walked into the venue in quick succession for our client day. It was quite surreal. I got to meet all these people face-to-face that I have been talking to for years, what an experience. I was placed on table 1 with our CEO, and 4 Heads of Marketing/Distribution/Insights from our largest clients (Columbia Threadneedle, Federated Hermes Limited, AXA Investment Managers (AXA IM), Jupiter). No pressure.
As Harry Thompson, Kurtosys's Chief Information Security Officer put it, the day started with "three giants from the Investment Management industry". Brian from AXA IM, Marcus from Jupiter and Stewart from Columbia Threadneedle had a lively discussion about Marketing Automation. It was such an eye opener to hear them talking about the process pains they have internally. They need to keep their own firms working effectively (i.e. selling funds) but have limited resources to tally up all the figures and add them to presentation decks. They needed Marketing Automation to keep their own business efficient.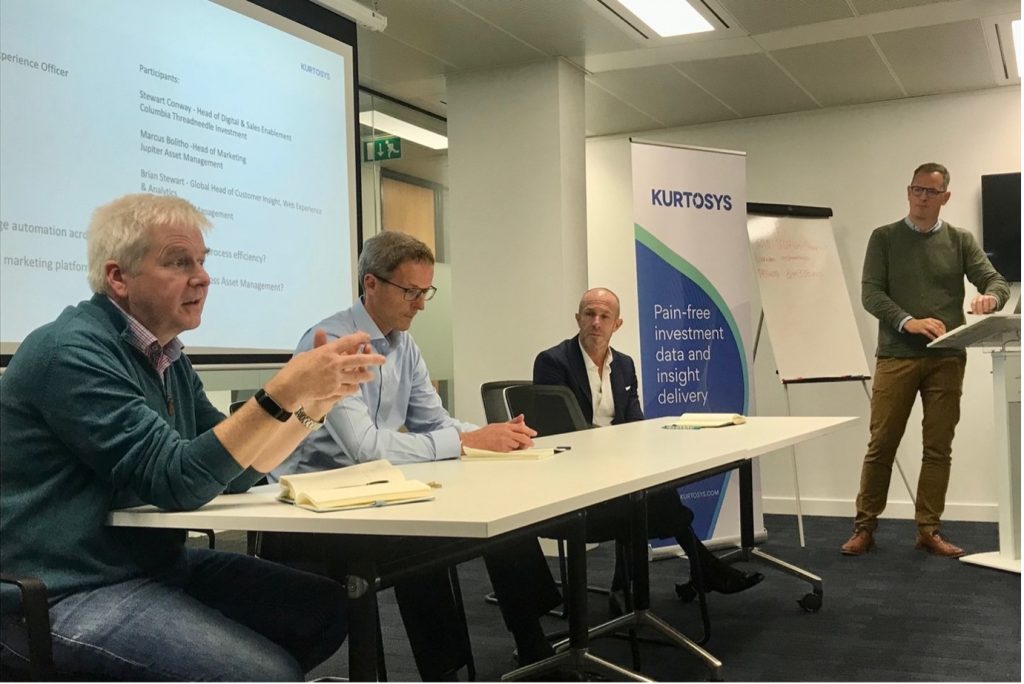 Each session was a focused discussion that was followed by table sessions to further elaborate on the topic. Regular coffee breaks and lunch made for great opportunities to catch up with the clients in the room. There were about 3-4 representatives from ± 10 clients in the room (Redwheel, Columbia Threadneedle, Jupiter, AXA IM, Osmosis, M&G, Mobius Life etc). Our clients really enjoyed being amongst like-minded peers with with whom they could share ideas and their run-of-the-mill processes with. No strange feelings of competition or rivalry, just a platform for our clients to share and collaborate amongst each other and us, their SaaS provider.
Were all clients happy with us? No. Are their expectations of us unrealistic? No. Are the levels of service they expect achievable? Absolutely. Do they want to be part of our process and help us succeed to grow? Definitely. Do they want to see more from Product? Yes, they are very excited about what we deliver.
What we took from our conversations is a strong future focus on collaborating with product development and communicating new features as they are released to ensure the value can be realized in their specific environments as soon as possible. Our clients want to be part of the process and provide input into the questions we discuss and decide upon internally. Our client base has reached size that allows us to engage with a good cross-section using the product and create a "client community". This way we can really put the client at the heart of what we do, listen and consider their needs as we build out our roadmaps.
We got some excellent feedback as well as compliments on much of our work which is always very motivating to hear. One such statement was regarding a recent site merge project that we worked on – well done to everyone that worked on this project!
The input from the room in the "Voice of the Customer" session gave us some positive feedback as well as some constructive elements to improve upon, all of which are realistic and achievable, reaffirming our short to mid-term approach focusing on improving our client experience.
The cocktails afterwards added a new dimension for me with some great social discussions and gave us all the opportunity to get to know them as individuals and people rather than business acquaintances / names on an email distribution list.