Wealth managers risk losing more than half their net income if they fail to deliver the digital experience clients now expect, a new report suggests.
Capgemini's World Wealth Report 2016 says firms offering poor digital experiences could put as much as 56% of their net income at risk as clients turn to other providers with a better grasp of digital tools. The money these firms stand to lose would more than outweigh any saving they make by avoiding investing in digital.
"Firms are missing the mark when it comes to preparing digital strategies, opening themselves up to a startlingly high risk of possible net income loss," the report says. 
Failure to grab HNWI assets
But there is even more at stake. Despite a favourable outlook for wealth managers, with high net worth individual wealth at record highs and improving trust in the industry, wealth managers are falling short in their ability to attract HNWI assets, the report claims.
It argues wealth firms' underachievement in digital means they may be unable to capture future wealth, especially from young people.
Capgemini's survey of 5,200 HNWIs globally in Q1 found wealth managers oversee less than a third of their wealth. A large chunk is tied up businesses and illiquid assets such as real estate, but around a third of the total is liquid, sitting on deposit in bank accounts, and potentially available to wealth managers.
This is especially true of the wealth of young HNWIs, who are more likely to hold their money in retail bank accounts or within their companies than to give it to an adviser.
However, the proportion of assets overseen by wealth managers is much lower for wealthy under-40s (28%) than for those over 60 years old (42%), and this could be a worrying trend for the industry if it continues, says Capgemini.
Problems retaining staff
Failure to embrace digital could mean wealth management firms struggle to attract and keep advisers, the report found. More than half of wealth managers said they were not fully satisfied with their firm's digital capabilities, causing almost 40% of them to even consider looking for employment elsewhere. More than half said digital capabilities are a key factor for them in deciding whether to join a new firm.
Fintech collaboration
Digital capability will be vital to profitability in the future, as clients embrace fintech solutions such as roboadvice platforms and peer to peer investing.
Global HNWI demand for automated advisory services has shot up from 49% in 2015 to 67% in 2016, while 48% of HNWIs use online peer-to-peer platforms at least weekly to find out about investment ideas.
Capgemini says wealth firms must be willing to collaborate with fintech players, following the lead of other players in the financial sector such as Santander, BlackRock and BNP Paribas.
"I do not see a strong competition from fintech in the next five years," said the head of wealth management at one leading European bank. "Rather, they require strong partners."
How do wealth managers use digital tools?
Wealth managers say digital tools save them time and paperwork, and help them work better with clients. They use them to access experts, create interactive presentations, engage with clients through social media, for prospecting, and for remote and real time access to client information.
Wealth managers aged under 40 are more likely than those over 60 to want to adopt digital, especially because they like to use it for managing risk for clients.
Factors Influencing Wealth Manager Digital Adoption, Q1 2016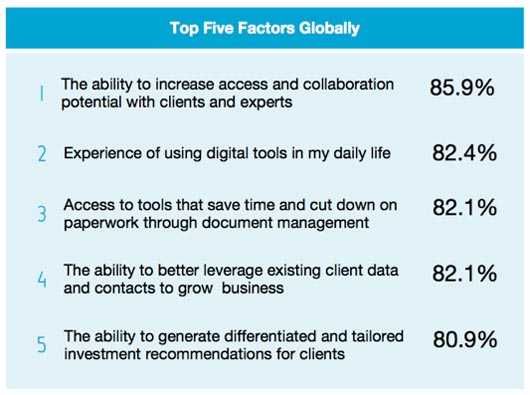 What makes a digital leader?
So why have some firms not managed to build digital strategies into their business models? For some, the answer is simply cost, while for others it is a conservative culture which inhibits change.
Capgemini gave the example of a small national wealth firm based in Europe which has no strategic plan for digital, but rather a series of disjointed business cases. "Operating with a short-term view and unwilling to experiment, this firm has created its own barriers to achieving transformation. While it does offer a mobile banking app for reporting information, it has yet to realize much overall advancement in digital," the report said.
By contrast, 'digital leaders' are truly committed to digital transformation. One example offers self-service banking, talks to its customers through social networks, and has a video platform giving clients information about products, services and events. It uses apps to facilitate experience, productivity, and cost management; and an advanced advisory platform using data and analytics.
As the COO of a global universal bank put it, when it comes to deciding on your digital goals, ask yourself "what will customers notice?"
The future
The correlation between digital maturity and asset gathering is only expected to increase in the coming years. Globally, 73% of HNWIs say digital maturity is very or somewhat significant in their decision to increase assets with their wealth management firm over the next 24 months, rising to 87% for HNWIs under 40.
Wealth Manager Satisfaction, Attitudes, and Preferences on Firms' Digital Capabilities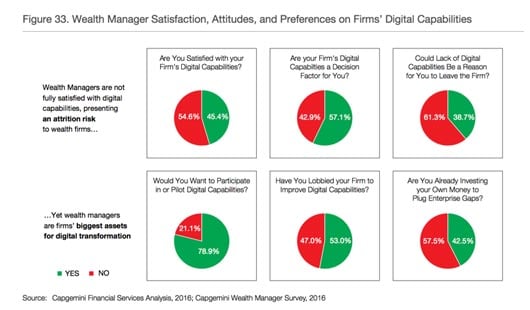 Capgemini warns firms need to be making progress on all aspects of digital technology if they to protect future profits in the face of digitally native competitors.