Perhaps the greatest challenge of fund marketing is figuring out how best to convey complex information to potential customers. The material produced needs to be clear, accurate, engaging, and compliant with current regulation. But it is fine balancing act to deliver what the customer wants as well as what the regulator requires.
Fund marketers are about to be tested once more as the deadline approaches for the creation of the Key Information Document (KID) for PRIIPs, which stands for Packaged Retail and Insurance-based Investment Products. PRIIPs are any investment vehicle where the amount the investor gets back may be lower than what they put in because they are exposed to market movements.
At the end of 2014, the European financial regulator said that, from 31 December 2016, it would require PRIIPs providers to create a KID, although the European Parliament has just rejected a set of regulatory technical standards (RTS), and the industry is lobbying for a delay to the deadline. Anyone selling or advising on PRIIPs will be caught by the rules, including fund houses, wealth managers, financial advisers, banks, stockbrokers, life companies and platforms.
A KID is a short, standalone document which should be no more than three sides of A4 paper. Fund marketers have to fit a lot of important information into this small space, because the regulator says KIDs must answer the following questions in a way consumers can understand:
What is this product?
What are the risks and what could I get in return?
What happens if [name of PRIIP manufacturer] is unable to pay out?
What are the costs?
How long should I hold it and can I take money out early?
How can I complain?
Other relevant information

In a recent survey of senior executives and compliance people from 60 financial services firms, financial reporting firm KNEIP found that PRIIPs documents were a major source of worry. Some 85% of those surveyed said the short time they have left to write their KIDs was a primary concern for their firms. Around 43% were worried that the content of KIDs could be misleading to retail investors, while the same proportion again were nervous about forecasting the future performance of their investment products.
These fears are borne out by consumers' reactions to prototype KIDs in tests carried out by the European Commission last year. In trying to work out how best to present key information, it found people often made incorrect assumptions, especially about how an investment product was likely to perform. The approaches shown in Figure 2 were suggested as the most effective ways to get the message across on performance which, confusingly, the regulator wants to be forward-looking, without reference to a fund's historic returns. Because of this, Members of European Parliament (MEPs) have just voted to reject the RTS which have been proposed, partly on the grounds of the way investment performance is explained to consumers. MEPs are worried that using future performance projections means investors might not realise they could lose money. Because MEPs also voted against allowing the legislation to pass without an approved set of RTS, a delay to the new rules looks increasingly likely.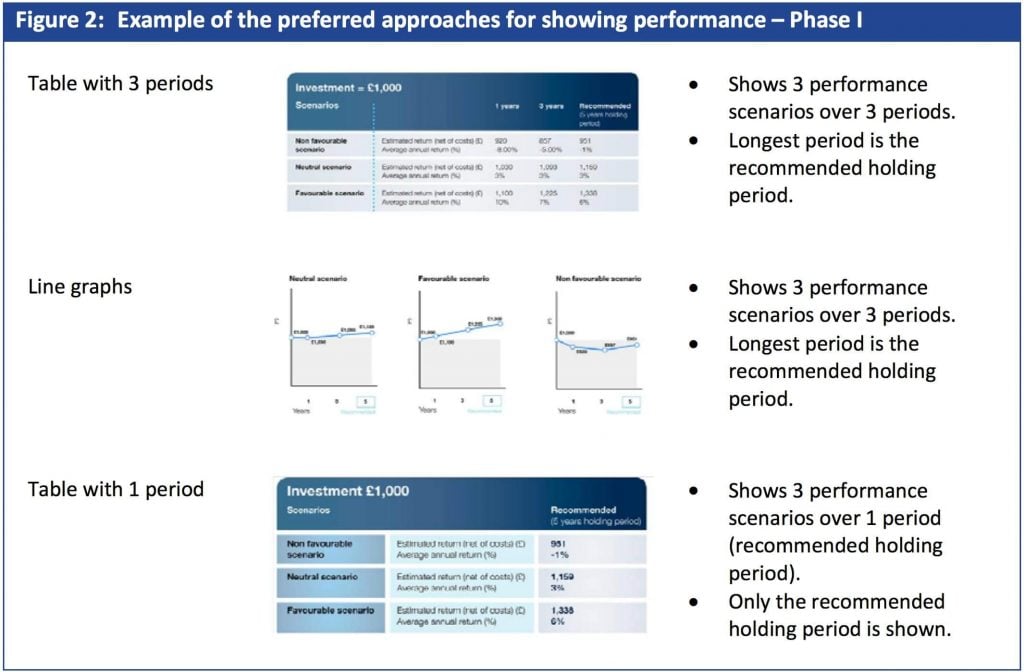 A lot of people also struggled to make sense of the information on cost, but this is perhaps not surprising given the complexity of charging structures on investment products. The researchers found that a combination of a simple graphic plus a table (as shown in Figure 3) gave better results than other approaches.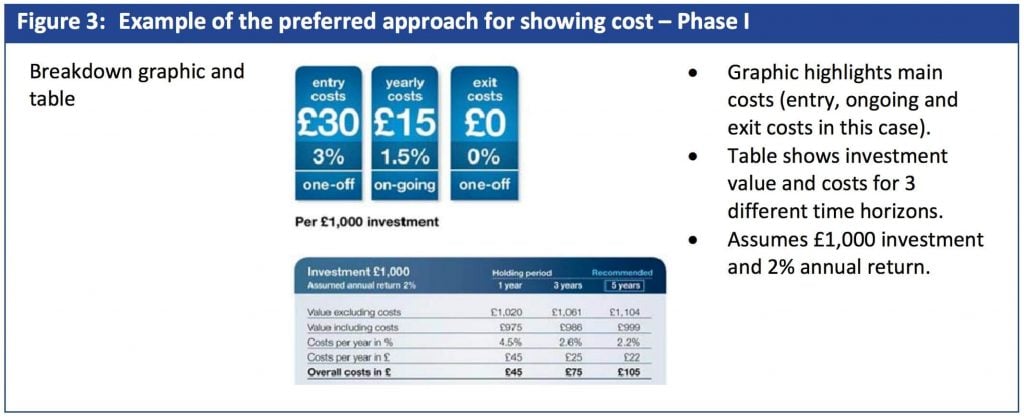 To illustrate product risk, researchers tested a traffic light colour scheme and something which looked like an energy efficiency scale, and found that the best option was a seven-point numerical scale (as shown in Figure 1). It said information about market, credit and liquidity risk, as well as maximum guarantees and maximum loss, should be included in the text.



But explaining these concepts using words is even harder than illustrating them graphically. Although the regulator will expect providers to follow mandatory templates and texts for some aspects of KIDs, they will have to come up with their own wording for other aspects, and it won't be easy to get it right.
According to Technical Fund Marketing, one of the biggest problems is failing to use plain English, and the approach firms often take to drafting important documents makes things worse.
"Although much attention has focused on the challenges of data sourcing, risk and performance scenarios, one of the most problematic requirements of KIDs is drafting content in plain language that is accessible to the average retail investor. To be truly successful in meeting its objectives, a KID needs to feature content that is accurate, fair, clear and not misleading."
"Drafting 'by committee' is often the default – resulting in a 'belt and braces' disclaimer approach that will rarely produce an effective investor document," it said.
Copying and pasting from the prospectus or annual report won't work either, because wording tends to be opaque and ambiguous, text is too long to fit a three-page KID, and it is unlikely to get the message across in an engaging way.
It's not surprising then that a lot of firms are choosing to outsource this task to specialists – KNEIP's survey found that 46% of firms were using external consultants. The regulator's focus on clarity for end consumers is laudable, but in this case it has resulted in yet another compliance cost for FS firms.