MyPrivateBanking – an independent research firm based in Switzerland – analysed 15 secure online and mobile presences of 12 wealth managers worldwide, which are only accessible to clients. Using over 60 criteria, they evaluated areas such as Banking and Payments, Trading, Client experience and Personalization, Security and Authentication.
One of the key takeaways from the report is noted as:
Our analysis shows very clearly that there is presently no single wealth management institution that brings together state-of-the-art design, excellent customer experience and the full range of important functionality.
The report also finds that:
Most wealth managers are missing out on the vast opportunities to personalize, enrich and transform their secure spaces to achieve a truly engaging digital customer experience which takes into account the specific needs of their HNWI clientele.
We spoke to Senior Analyst, Emma Haffenden, to discuss the methodology behind the report and its findings.
What was the main objective or motivation for publishing a report like this?
We do extensive research into the public capabilities of wealth manager's websites and mobile apps, and we wanted to look deeper into the exclusive, client-only features. With the growth in digital interactions and increasing use of online investing platforms it is essential that wealth managers master the art of the digital conversation, to conduct successful relationships in these modern channels where their clients increasingly live. Digital is not all about efficiencies and transactional capabilities (albeit day to day banking is important), in fact it personifies an extended role for wealth managers in terms of educating and engaging clients.

It was also important for us to consider the confluence of forces shaping the client's perspective. These include current hot topics such as robo-advice and also consider other relevant advancements impacting HNWIs and, as a result, the set of online capabilities which will appeal to them today and in the future.

We strongly believe wealth managers should ensure they have – or plan to deliver – the capabilities described in the report as there is growing evidence of how urgent and important a mature digital offering has become to the industry's survival.
Can you explain some of the criteria you used when evaluating the websites and mobile apps?
Our framework was extensive and covered all possible capabilities, grouped into 8 functional areas. For example, under 'Account Maintenance' we looked for online on-boarding options and features which would allow the client to aggregate into one view all their assets including those held away and physical assets. An example in the 'Communication' area is a co-browsing capability to allow advisors and clients to share screens, more easily navigate information and reports and enable productive meetings to take place wherever the client is.
How quickly and easily did you manage to gain access to these secure platforms for research purposes?
The effective presentation of digital capabilities, and the ease of understanding how these are deployed to enhance the service received from a wealth manager (e.g. a demo of features) is something we consider essential to offer on the public website – as most prospective clients will be looking for this as part of their research into evaluating which firm to initiate a relationship with.

We did find some information more difficult to gather than others and definitely persisted longer than a curious-but-busy-HNWI would, and we were permitted some specific tours as part of our research.
One of the key survey questions was "How can the client experience be enhanced through personalization, interactivity and communication?" – how would you summarise your findings here?
There are some glimpses of an exciting, more immersive future for clients here, mainly in terms of personalization. There is huge opportunity for firms to achieve a personal touch via engaging and informative content and alerts based on what the client is invested in, interested in, and targeted examples from their peer group / selected by their Advisor. The key is that these are all delivered seamlessly without placing a burden on the client to self-customize.

We also found some excellent examples of communication, Citi Private Bank stands out for the quality of their implementation of chat and video call between the client and advisor, which integrates well with the features of the client document storage/vault.
Are you able to share any of your specific recommendations on how a winning client-only wealth manager's desktop and mobile app should look in terms of capabilities, design and usability?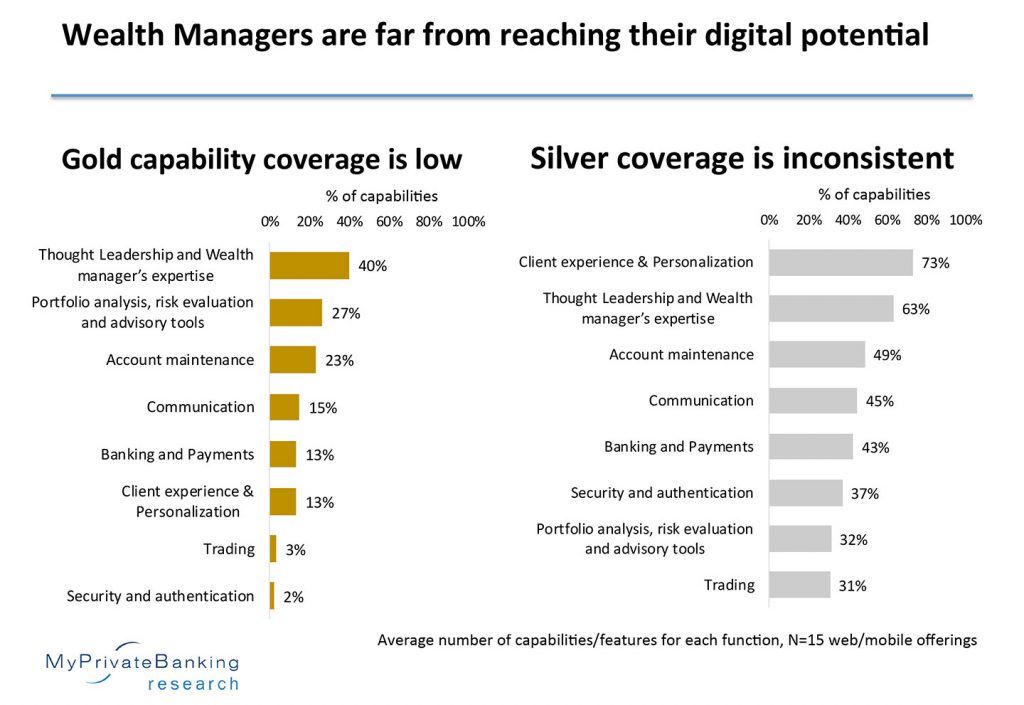 In terms of capabilities we outline in the report a hierarchy of digital wealth capabilities, the chart featured above highlights how there are still a number of gaps even in the most basic – we call it 'Silver' – layer, such as brokerage features and payment options. So a key point is that wealth managers need to ensure robust coverage of the basics, as wealth clients expect the same level of service as retail clients as a minimum requirement.

In terms of design and usability, the proposition should be no different to the exclusive, first class services which are hallmarks of the wealth and private banking offer and, importantly, differentiate it from retail banking. BNP Paribas Privée is a great example of a design which has been carefully tuned to the client audience from the photography chosen to the colour scheme – it doesn't feel like you are using a financial website. Also, Singapore based DBS have a strategy where certain exclusive features/offers can only be 'unlocked' as clients' wealth meets certain thresholds related to their business segmentation.
What is the #1 takeaway of this report for wealth managers?
Using over 60 criteria, in 8 key functional areas such as 'Portfolio Analysis & Advisory', the report contains a very rich assessment of the current state digital wealth experience based on 12 leading global wealth managers and private banks.

It also outlines 10 essential capabilities to include on the strategic roadmap for wealth managers, with a set of more specific recommendations for each functional area. Given the uneven picture we observed in our research, our recommendations act as a framework for firms to be able to meet the need for a truly differentiated online experience for wealthy clients.
The full report Wealth Management 'Behind the Login' – Decoding the Client Experience can be ordered from MyPrivateBanking Research.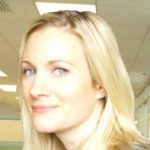 Emma Haffenden, Senior Analyst at MyPrivateBanking, has over 10 years of experience in wealth management and technology, mostly delivering analysis, business and technology strategy consulting and research services to C level Executives of the leading global financial institutions. Emma has a degree in IT and Criminology, and a Master's in Database Systems from the University of Westminster.