It has been almost two weeks now since one of the most surprising nights in political history, with Donald Trump beating Hillary Clinton to become the 45th President of the United States of America. It is a decision that will influence global opinion, and the worldwide economy, with the election causing an initial panic within the stock market and warning of "troubles" that lie ahead.
We have kept a close eye on how asset managers reacted to the news on election night, and their continual coverage of its aftermath. Whilst we still live in unpredictable times, the implications of such an important result have been predicted by strategists, in the hope of determining the future for asset managers and investors.
Many were quick to adapt their websites on 9 November with 'Election Night' themes, and prompt in uploading blog posts, analytical PDFs, charts, graphs and videos. Here at Kurtosys, we have drawn together six asset management websites which illustrate how the sector presented the news on the day that it happened, and how strategists have attempted to continually surmise the effects of Trump's rise to Presidency on the financial industry up to this point in time.
On just one page, Henderson has collated a multitude of information, from pre-election speculation to post-election implications. The header of said page is bold and straightforward: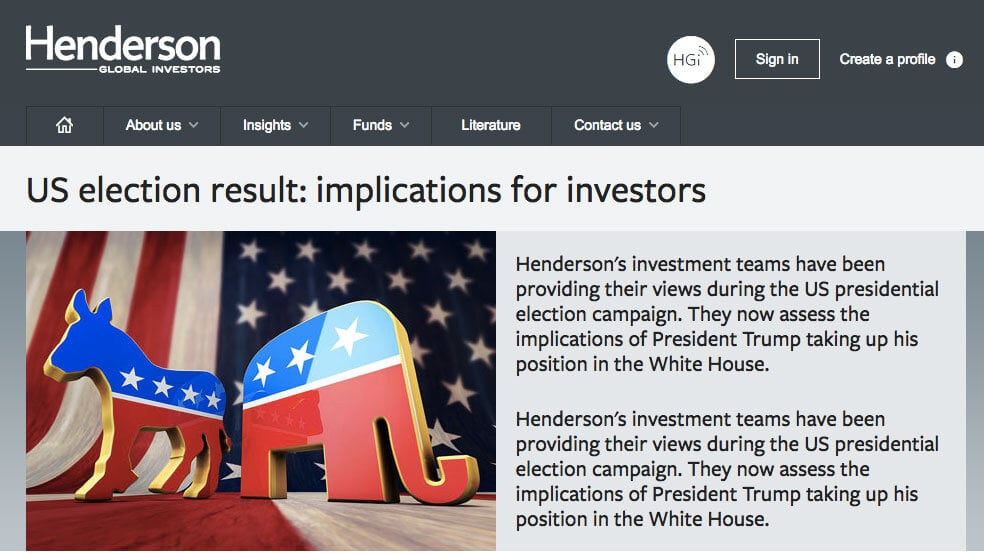 As you scroll down this main page, it is evident from this linear layout that there is a wealth of strategists that have contributed to Henderson's coverage: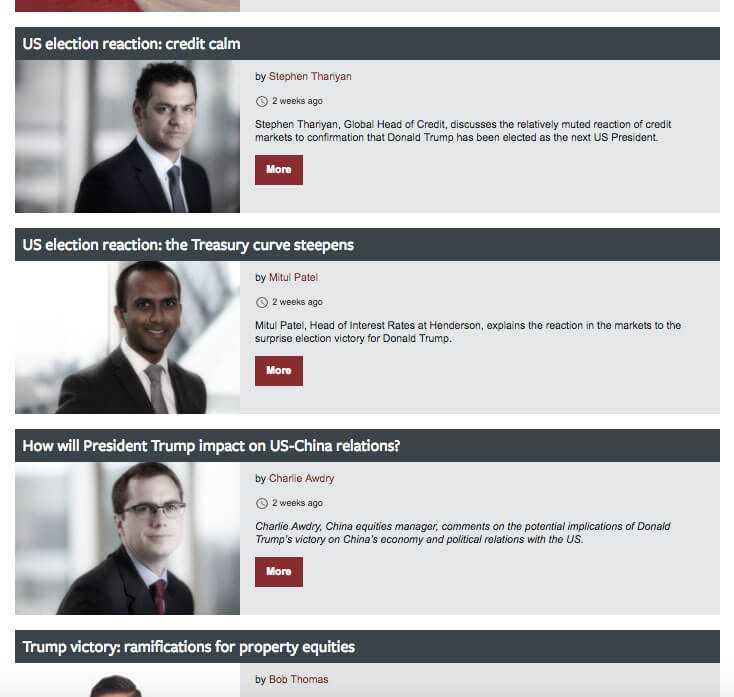 These lead the way for informative articles, each assessing each author's initial ideas about the Presidency's ramifications on various political and financial issues. This layout is almost identical to their coverage for Brexit.
You can still view articles from October, speculating the implications that either Presidential candidate would have had on the economy…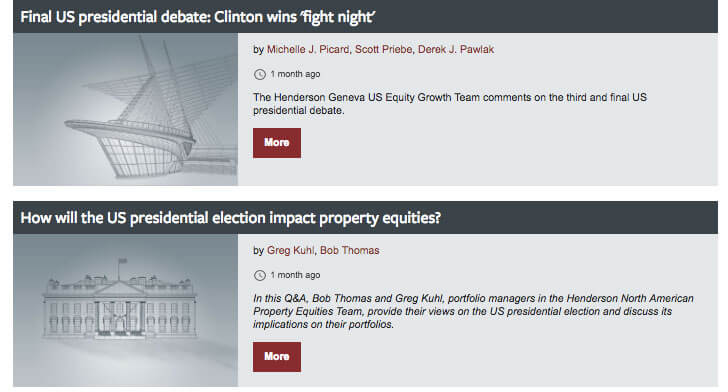 …as well as perspectives dating from last week.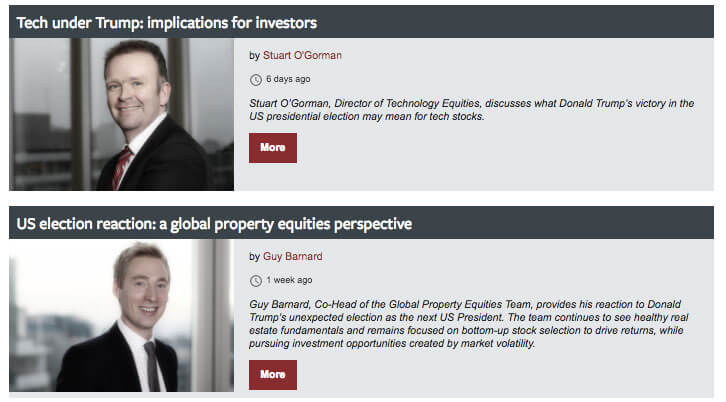 Clearly, Henderson continues to bring you reactions as the financial market similarly changes over time.
Likewise, J.P. Morgan have collated a large team of specialists to offer their unique insight into the election's potential impact. Whilst the home page is not as visually bold, there is still plenty of effective content.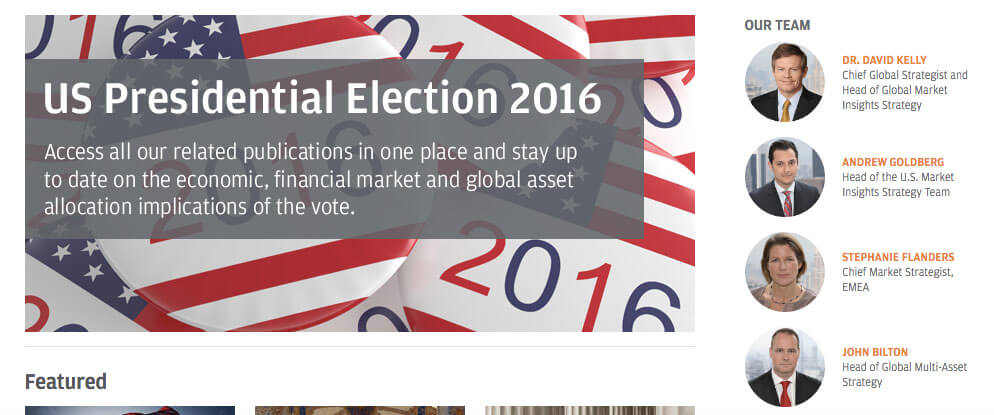 Most notably, there are 3 links to an article displaying an initial reaction, and 2 relevant hour-long 'webcasts', one of which was recorded on 9 November, the other only last week on 16 November, both offering different perspectives a week on from the other: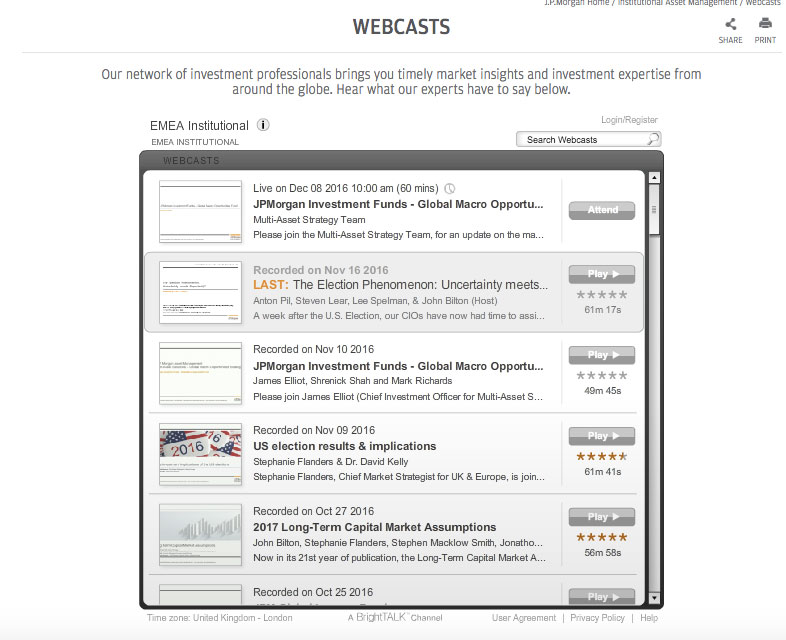 Furthermore, pre-election papers are available as PDFs on the same page, allowing for user-centric comparison to be easily accomplished. These also contain useful charts and infographics. One is particularly helpful in outlining how the US government works to those that are not familiar: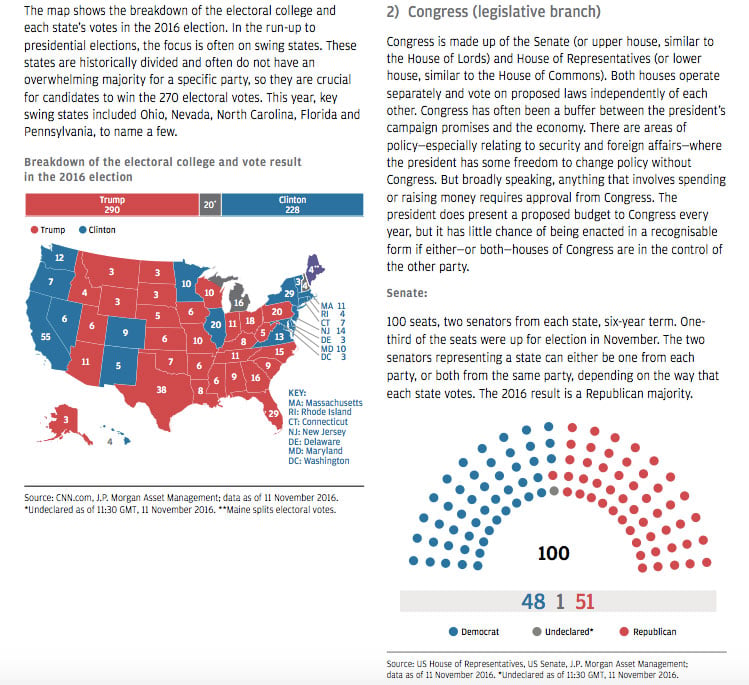 This is something which many asset management websites lack, but it is certainly incremental for financial companies that are influenced by such a powerful political event such as this year's election.
What we really like about the Lord Abbett coverage is that it is promoted and tabbed on its homepage. This page is also particularly striking in a visual sense, with a prominent image of the White House, making one want to read more of the articles, with all of these relevant pages neatly linked. It is clear that the site has a particular section dedicated only to reactions to the Election – not allowing the user to trawl through the website to find them (thankfully!):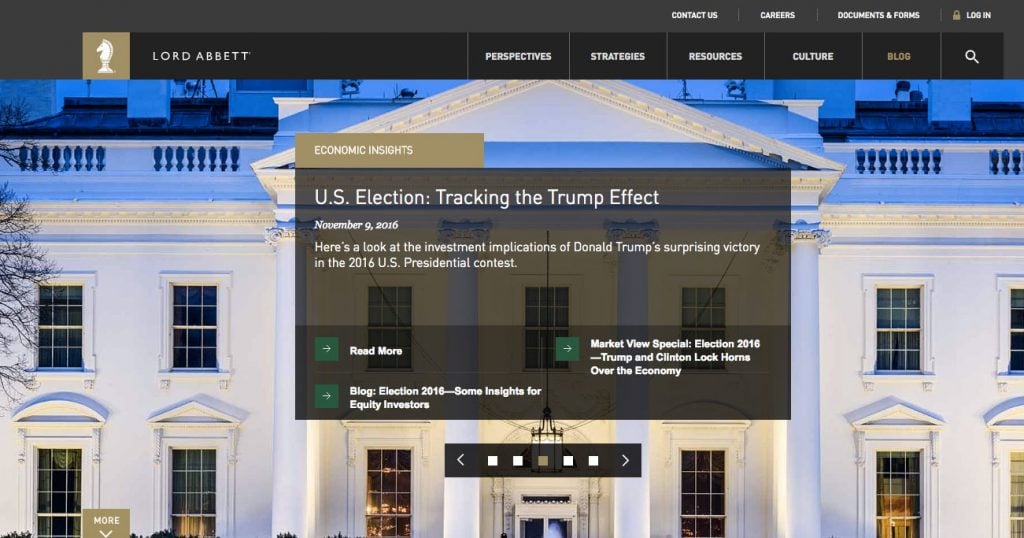 Whilst the resources are not as numerous as the past examples, to have all of the US Election-based content outlined here streamlines the information, stopping the site from becoming convoluted. The articles themselves have useful charts and graphs too to simplify their informative data.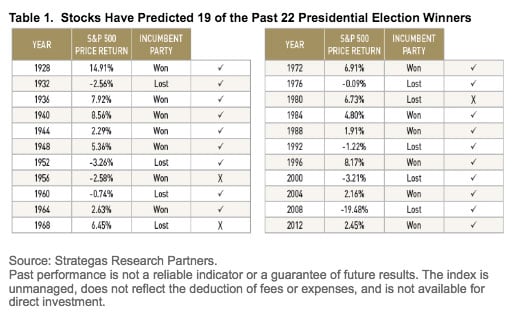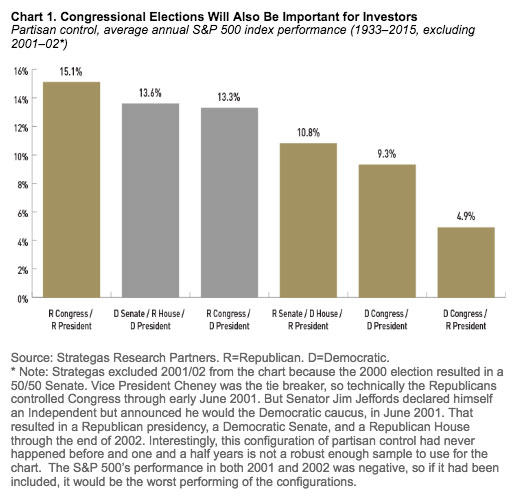 Simple and effective: Lord Abbett is a benchmark for strong UX.
The MFS website is certainly one of the best-looking sites on the shortlist, and its content matches for ingenuity. The US Election coverage is all compiled together, with the articles available to be downloaded by the user as PDF files within a neat set of tools, making for simple archiving:



The articles following the election are again quite limited, but do follow-through from pre- to post-election to offer a shift in view.
MFS also offers video reactions, hosted by James Swanson, who offers some valuable perspectives on the future for banks, businesses and investors in "the Post-Election Landscape". These appear in effective pop-up windows for easy navigation: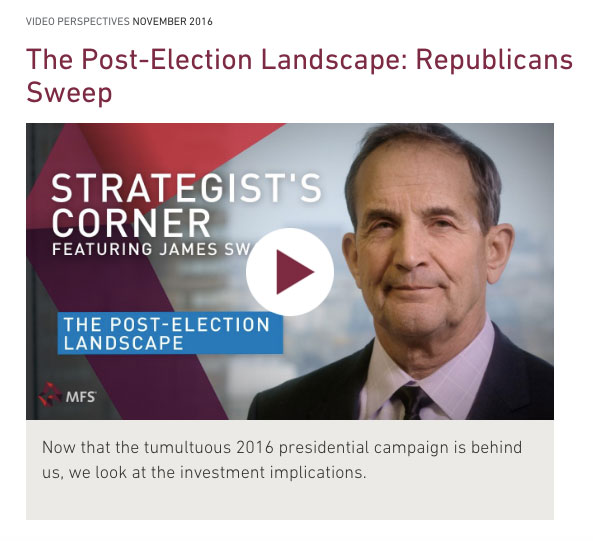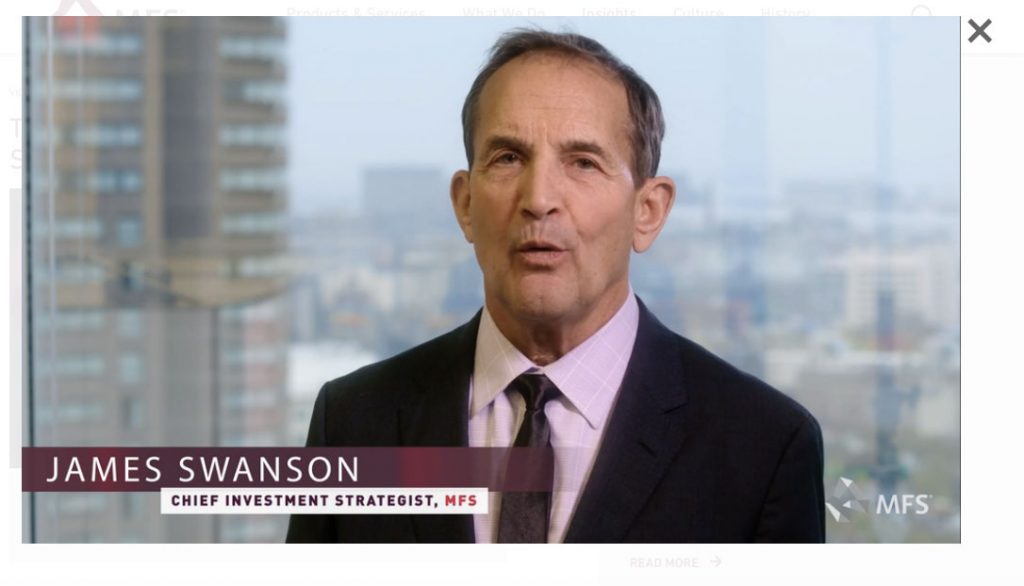 Usefully, Putnam Investors actually had their US election page linked at the top of their home page, and still do. Again, this means there is no need to search through the site for content that they consider high priority: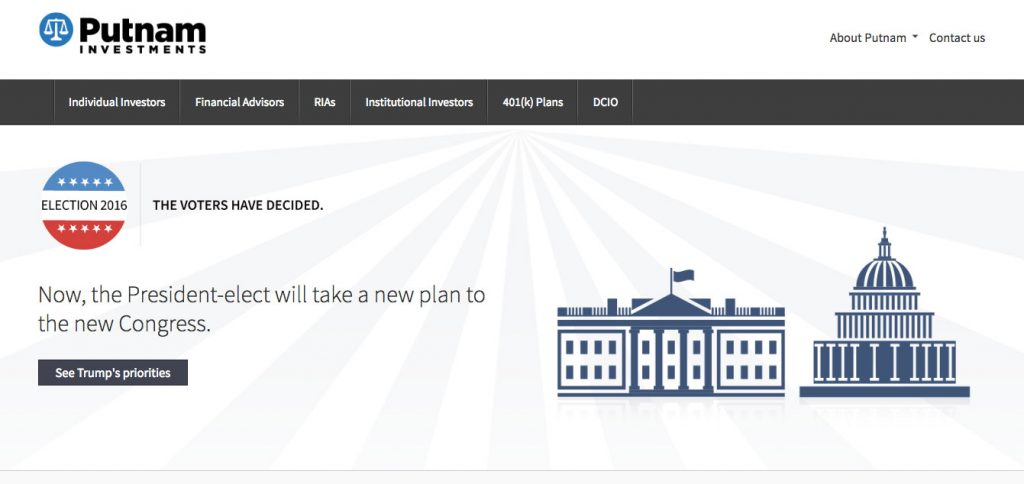 Once you click on this page, the site breaks down Trump's plans to change the United States' taxes and spending in a one-page, concise mixture of text and infographic which is a highly digestible visual: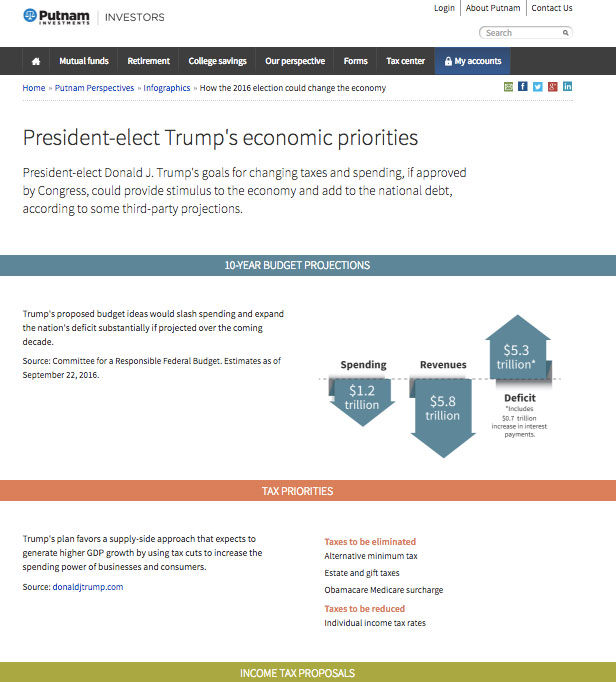 Rather than relying on multiple perspectives and opinions, Putnam has clearly gone straight for the facts to offer the reader a more objective view on how the economic state could change.
The Schroders US Presidential Election landing page encapsulates all of these elements into one. Every piece of content – articles, videos, interviews – are laid out onto two separate pages and dated vividly: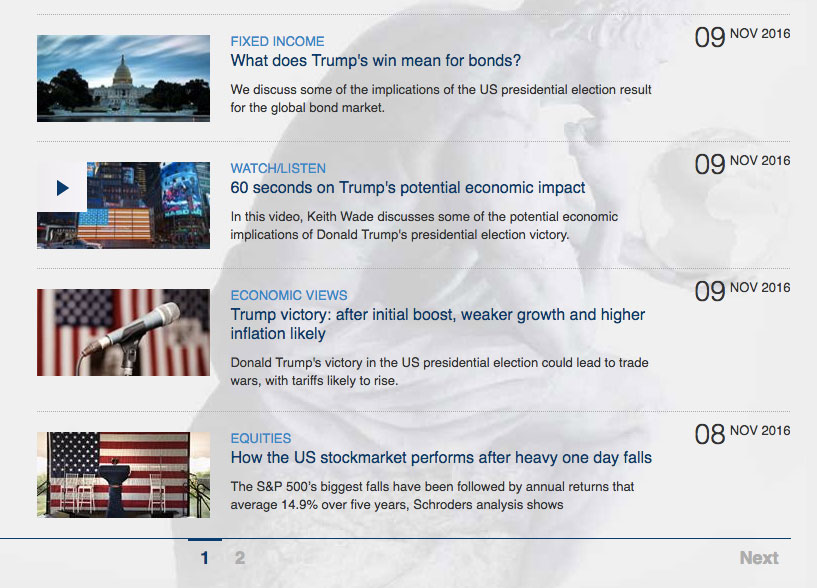 You don't have to go far to track their coverage of the Election from October through to the present day. Their latest post has used infographics – which Schroders excels in – to display how the market has changed in the week since the initial news of Trump's win: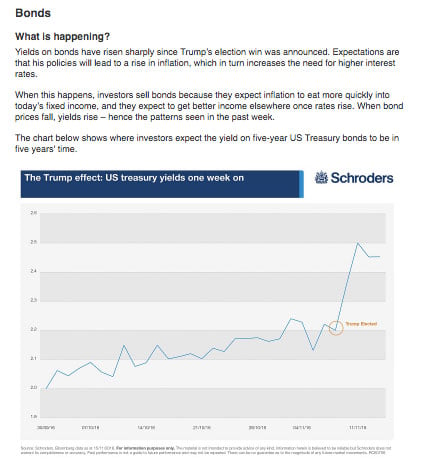 As the road to Trump's concrete role as President continues up until January, these asset managers will hopefully continue to bring more updates, opinions and data on how the market will continually fluctuate until that time. These sites are pivotal in outlining predictions for the economic future, and have to be adaptable in order to keep investors up to date.
Have you seen any other examples of how asset managers broke the US Election? Let us know in the comments below, or you can tweet us.