A global funds site focused on sustainability
"We've seen a steady growth in traffic across all of the Hermes regional sites of around 7% month on month."
- Pauline Bush, Director, Marketing
About
Hermes Investment Management, established in 1983, is a London-based asset manager with a difference. They believe that, while their primary purpose is helping beneficiaries retire better by providing world class active investment management and stewardship services, their role goes further. They believe they have a duty to deliver holistic returns – outcomes for their clients that go far beyond the financial and consider the impact their decisions have on society, the environment and the wider world.
Hermes was founded as the in-house manager for the BT Pension Scheme in the UK, but now manages investments for a growing range of external customers with £28.6 billion of assets under management and £236.8 billion in assets under advice (as of September 2016).
Hermes offer actively owned public and private market solutions to investors across the world and, in Hermes EOS, have one of the world's largest stewardship resources.
With a growing global footprint and diverse client base, Hermes places considerable emphasis on its digital marketing platforms as a means of improving the user experience for investors.
The Challenge
Hermes were looking to partner with a technology company that had a deep understanding of asset management and its associated regulations, compliance issues and processes to validate the marketing of fund data, as well as an advisor that could complement their strategy with a digital roadmap that implemented state-of-the-art web technologies.
Additionally, Hermes considered a partner that already had a proven track record in delivering digital projects to deadlines for a reasonable cost and an adaptability to scale.
Approaching Kurtosys in 2015, Hermes' main aim was to redevelop and update their website. Previously, the site was managed through a dot-net based CMS with limited support. Having to make changes through a development agency also posed restrictions for the marketing team and made life inflexible. Instead, with the assistance of Kurtosys, the new website could instead become a central repository to curate fund data and documents for use across multiple digital channels.
Hermes' digital strategy could be complemented using a single platform; less focus on development means that more freedom and power can be donated to their marketing team.
The Solution
Kurtosys created a fully responsive WordPress multi-site framework which encapsulated 20 country sites and 6 investor types. As Hermes wanted 70% of the website to be data-centric, particular attention was paid to the design and implementation of the investment product pages which outline Hermes' strategies and funds.
Hermes' fund data gets absorbed by the Kurtosys platform, and is then made available for use on the website fund tools and factsheets. The design of the product pages, aligned with the use of Kurtosys DocPortal, allows for relevant documents such as factsheets, prospectuses and KIIDs to be segmented via metadata tagging. Additionally, advanced search filters (e.g. share class or Morningstar rating), CSV export and interactive performance tools were added.
The development path was short; the main focus was to ensure that the framework was correct so that immediate reiterations were not needed after the go-live stage. The ongoing maintenance and improvement of the solution is the central point of the development partnership. Kurtosys looks to respond to digital evolution with SEO vendors, Eloqua integrations, video platforms and security around 2-factor authentication constantly adapting and improving.
Kurtosys' partnership with Cloudflare, and the use of their Content Delivery Network, improved the site performance by increasing its loading speed to Hermes' clients outside of Europe.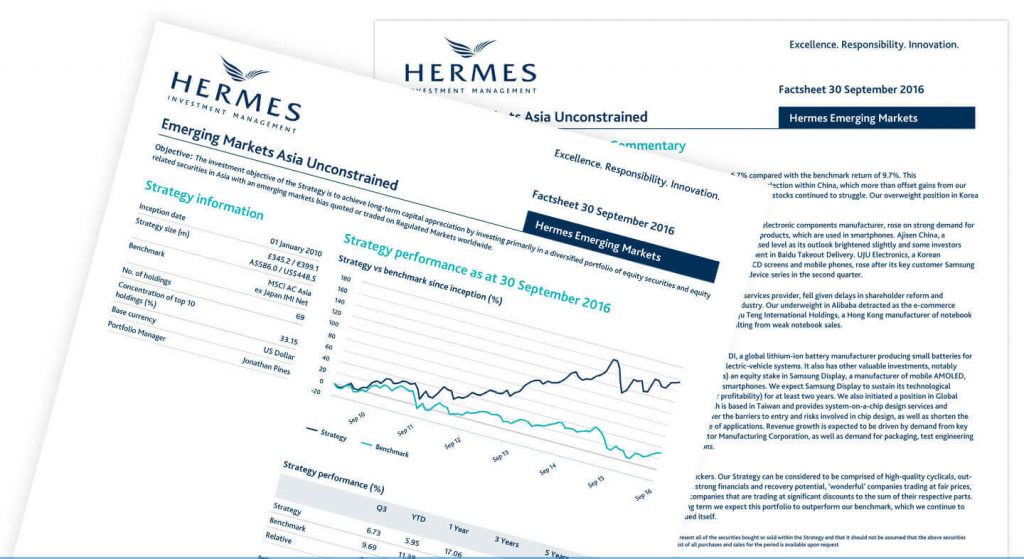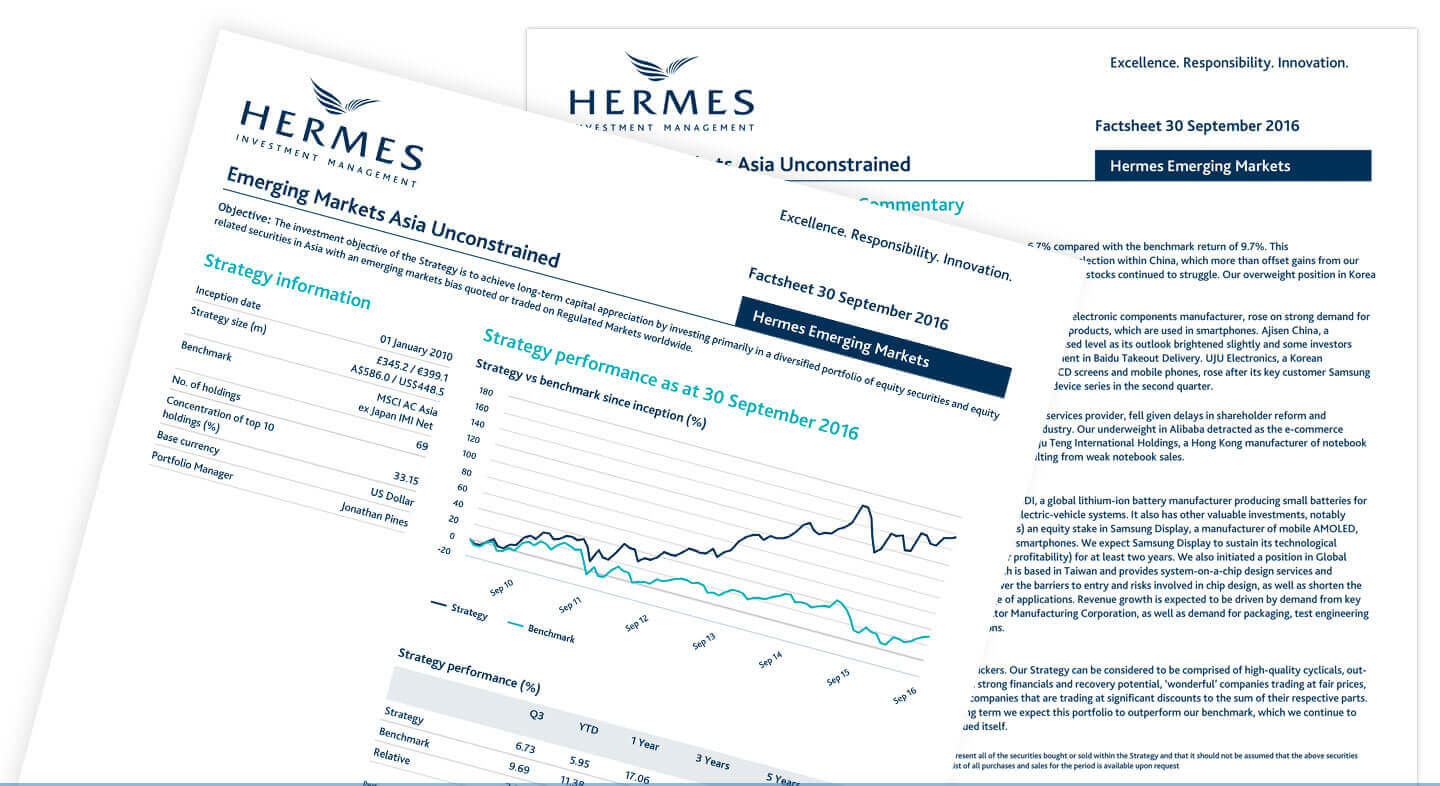 Kurtosys also generates hi-resolution PDFs using the latest web-to-PDF technology and uses a system that is scalable to match Hermes' investment range, as well as future language requirements. Hermes can schedule and publish over 200 monthly and quarterly factsheets using a secure admin console.
These documents are made available on the website in both product pages and a literature library, with the metadata tags (attributed using DocPortal) ensuring the distribution to the appropriate country sites, product pages and audiences.
Kurtosys considers the Hermes project to be one of the best industry examples of improving the effectiveness of an asset manager using technology. Not only are time issues and costs reduced, but the user experience for both investors and marketing teams are also improved.
The results
Here's a breakdown of some of the core elements of the Hermes project:
Fully integrated WordPress multi-site instance covering 20 country sites and six investor types
Multi-site administration and content sharing, allowing for less admin in the country marketing teams
2-Factor authentication is included for WordPress administration for improved security
Responsive website that adapts for all screen sizes down to mobile for a better user experience
Editors can create content easily using drag and drop CMS components and templates, making life easier for the marketing team with minimal training
Search Engine Optimisation tools at page-level allowing content authors to fine tune SEO settings, improving website traffic and reducing bounce rates
Interactive fund data is accessible via an intuitive Fund Explorer, providing investors with key information on various Hermes funds and strategies
Single database for fund data utilised for both web pages and documents, allowing Hermes to create multiple marketing assets from one data source
Cloudflare CDN (Content Delivery Network), for improved web page speed and security
Audit snapshot functionality to maintain an audit trail of any content changes (via WordPress), helping Hermes with meeting compliance regulations
Digital fund factsheets, generated via a batch generation dashboard, allows Hermes to schedule production of 200+ monthly and quarterly hi-res PDFs, with multilingual capability
Document library, using metadata tagging controls, allows Hermes to manage and distribute hundreds of documents via a Hermes defined taxonomy that reflects their investment range & website requirements
Integrated video content via Qumu
Eloqua marketing automation integration enables Hermes to better understand the usage patterns of their customers and target their audience more effectively
Social sharing and print features included at page level