We like to consider ourselves experts in this field. In this infographic I'm hoping to provide a few best practices when creating online widgets (which we call Fund Tools).
If you're an asset manager, you need to give your advisors and investors access to fund data on your website. But that isn't easy. The data needs to be up-to-date, correct and automatically refreshed. And perhaps more importantly, your user interface has to be fast, flexible and super easy to use.
Putting a dynamic collection of fund information online may even mean expanding your internal development team or outsourcing.
Either way, presenting visitors with interactive, online fund data means careful planning — consider what constitutes the most helpful search: features and filters, portfolios and watchlists? You might include fund ratings, performance charting and fund comparison tools, and access to associated financial or investment literature like fact sheets and KIID documents. The combination of components vary wildly for different fund managers, but we think there is a perfect blend of components that make up the ideal fund data website.
What widgets and features make up the perfect fund data tools?
(Click on the image to view the full-size version.)[xyz-ihs snippet="Hide-Featured-Image"]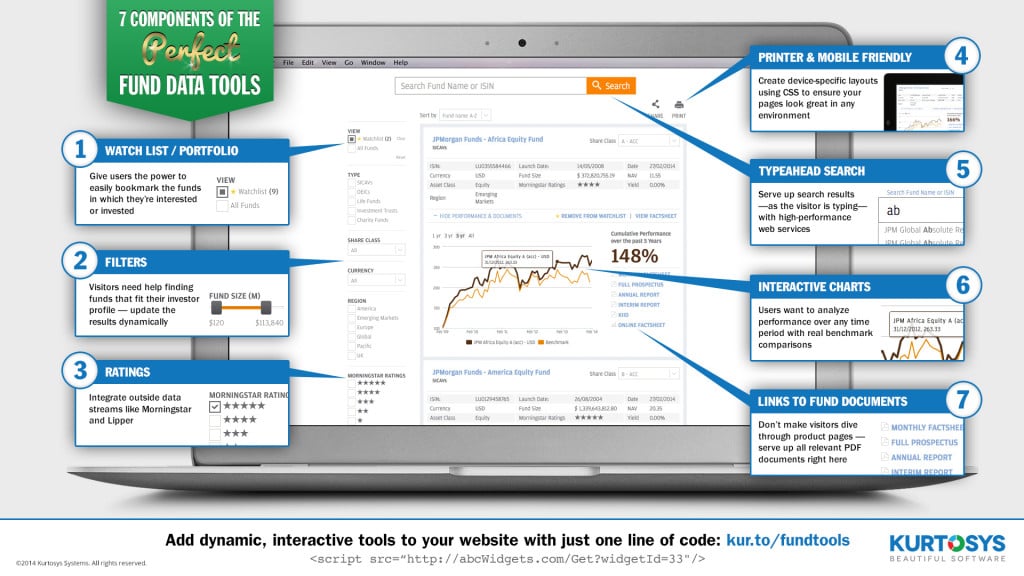 Whether your funds are open-ended, closed-ended, ETFs or private funds, Kurtosys helps asset managers embed accurate data and state-of-the-art charting and analytics into their own websites or apps.