All companies, including asset management firms, need a website. The type of Content Management System (CMS) the company chooses to build their website on depends on the organization's needs. There are two categories these platforms can be grouped in – open source and proprietary systems.
Enterprises such as large asset management firms typically use proprietary systems. They lock the site down and let it run in the background for a long period of time without making changes. Now, more and more investors want a fund manager that has an appealing and up-to-date website with functions they can use and learn from, such as engaging blog content and interactive performance charts. Open source CMSs tend to be the better solution for a firm looking for this type of website.
But, there are pros and cons to each of these type of CMSs. Before getting into those, let's start with the basic description of each of these type of systems:
What are closed source systems?
Proprietary or closed source systems are built and maintained by a single company and typically do not allow access to the source code. The software can be installed and managed on a client's own server, and is usually charged on a license basis. Great examples are Adobe Experience Manager, SharePoint and Sitecore.
What are open source systems?
Open source systems are a collaborative community effort to develop a software base that belongs to no one. The source code is available to all with relaxed or non-existent copyright restrictions. It can be hosted anywhere and the software itself is typically free. Successful examples of open source systems are Drupal, WordPress and Joomla.
Pros of proprietary CMS platforms
Everything is provided: When you say it's built for Enterprise, what you're really saying is that the system in place includes legal, technical, performance, training and organization issues.
Established relationships with third-party vendors: Enterprises develop a strategic partnership with the vendor and can explain their particular product and product roadmap. This is an advantage to the enterprise user – all of the necessary customization and support is in place.
Cons of proprietary CMS platforms
Expensive: Businesses will have to pay big bucks for all of the perks of proprietary systems.
Restrictive: There are constraints on how enterprises can integrate proprietary systems. Since enterprises are more concerned with stability and reducing operating costs, they can't provide an extensible platform. This can cause operational constraints down the line.
Pros of open source CMS platforms
Free: Open source licenses grant licensees the right to copy, modify and re-distribute source code (or content). And because there's such a large global third-party community providing advice, training and support, you don't have to hire a full cadre of technical specialists in house.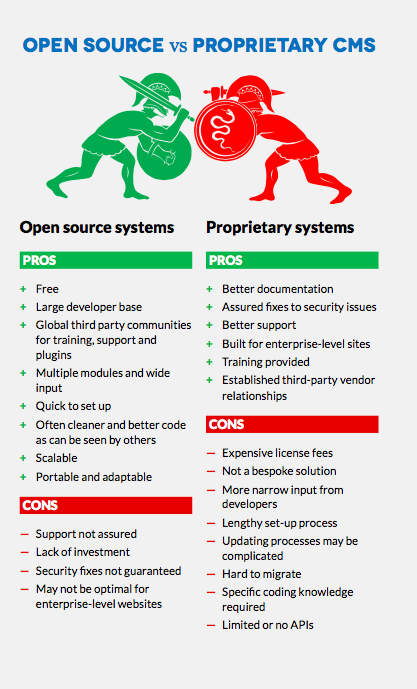 Large developer base: The advantage of open source software is the extremely large developer base. They have the intellectual effort to improve the package or add features to the package in a reliable way. Open source CMSs have manpower that's motivated, talented and energized. Any single organization on the planet would be hard pressed to match the scale of developers working on open source software projects.
Scalable: Most open source packages think about Internet scale. We're now scaling at higher levels than we ever thought possible even five years ago. As a result, open source packages are very suitable for firms in terms of all of the data they can handle.
Additionally, most software today offers site administrators a very simple way to add functionality through plugins. These widely available free and paid plugins offer a rich universe of features, including social media, SEO and lead capture forms. The extension of the software through a large plugin universe allows rapid adoption of new technologies. 


Cons of open source CMS platforms
High-rate of change: Open source system software is constantly changing – security flaw fixes, new integrations and available systems. Enterprises often look for stability in their organization when using software and don't want constant change. In order for an enterprise to keep up with the change of pace, they may need a partner or internal specialist.
Support not assured: The amount of investment that the enterprise needs to deal with open source software is under estimated. While the development base is reduced because you're counting on the wide development base of open source software, the Enterprise is not relieved of the responsibility of understanding the technical requirements and implications of using the open source software.
Our stance on the CMS debate
For us, it's a no-brainer. The pros of flexible open source CMS outweigh the pros of static proprietary CMS. Enterprises need to keep up with the change of pace. It's just the world we live in now.
Kurtosys implements a WordPress solution for the biggest (and smallest) asset managers. With a proactive approach to site security and management, it is possible to tightly protect WordPress sites from online attacks. We advocate a hybrid approach and provide security attaining bank-grade quality.